Deadly cocktail of poison and Diwali rule breakers
Burst of lawlessness in parts of the country, as Diwali revellers blow up court limits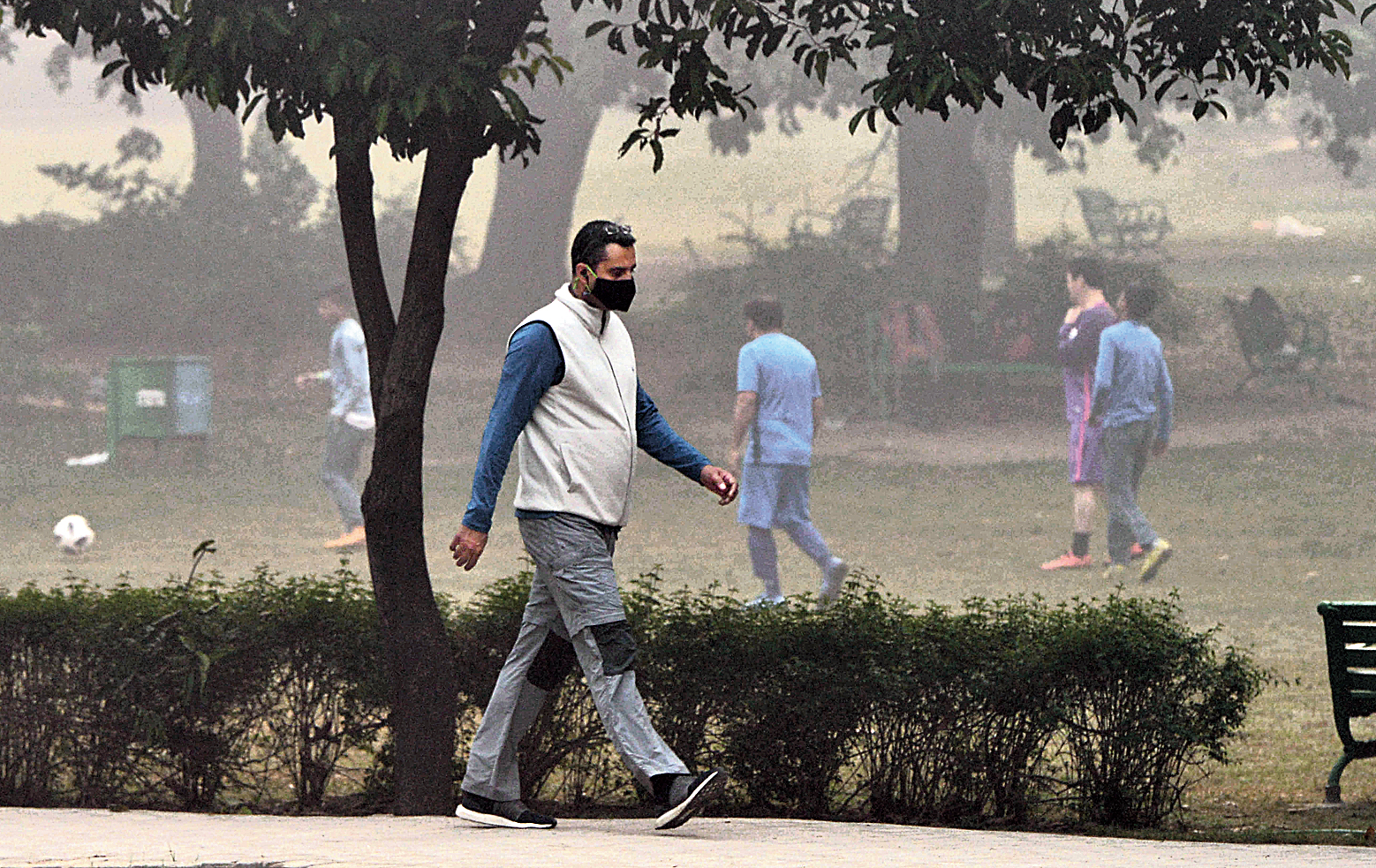 A morning walker wears a mask at Lodhi Garden in Delhi on Thursday.
Prem Singh
---
New Delhi
|
Published 08.11.18, 10:33 PM
|
---
Air quality steadily worsened across the National Capital Region on Wednesday night while Diwali revellers played hide-and-seek with a police force struggling to implement the restrictions on firecrackers the Supreme Court had imposed two weeks earlier.
Scientists tracking air quality said the volumes of firecrackers burst in the NCR on Wednesday was about half what was burst during Diwali last year. But air quality worsened from "very poor" to the "severe" category shortly after Wednesday midnight.
Air pollution over Delhi, measured through tiny particulate matter (PM) of size 2.5 microns, spiked on Thursday to 492 micrograms per cubic metre — more than eight times the safe limits — from less than 240 on Wednesday. Firecrackers would have contributed significantly to this rise, scientists say.
The police registered cases of "disobedience" against 562 people, including 24 children, who were caught bursting firecrackers outside the 8pm-to-10pm window fixed by the apex court. An officer said 396 people had been arrested.
Disobeying a public servant's order is an offence that can be punished with up to six months' imprisonment.
Some 2,776kg of firecrackers was seized on Wednesday, which officers said could be the biggest single-day haul of the stuff.
Senior officers said the police lacked the resources necessary to enforce the court-ordered restrictions across the NCR.
"The police can't station vans at every corner of the city," an officer said. "We responded to as many calls of violations as we could. But at many places, people would stop bursting crackers when our vans approached. It was a hide-and-seek game that continued past midnight."
Violations were recorded mainly in east Delhi, central Delhi, southwest Delhi, and parts of Ghaziabad and Noida. Loud bangs, from the rampant bursting of firecrackers, were heard even past midnight.
The Supreme Court, responding to a petition expressing concern about air pollution over the NCR, had banned firecrackers containing barium, arsenic or antimony and directed the police to ensure that only "reduced-emission firecrackers" were sold.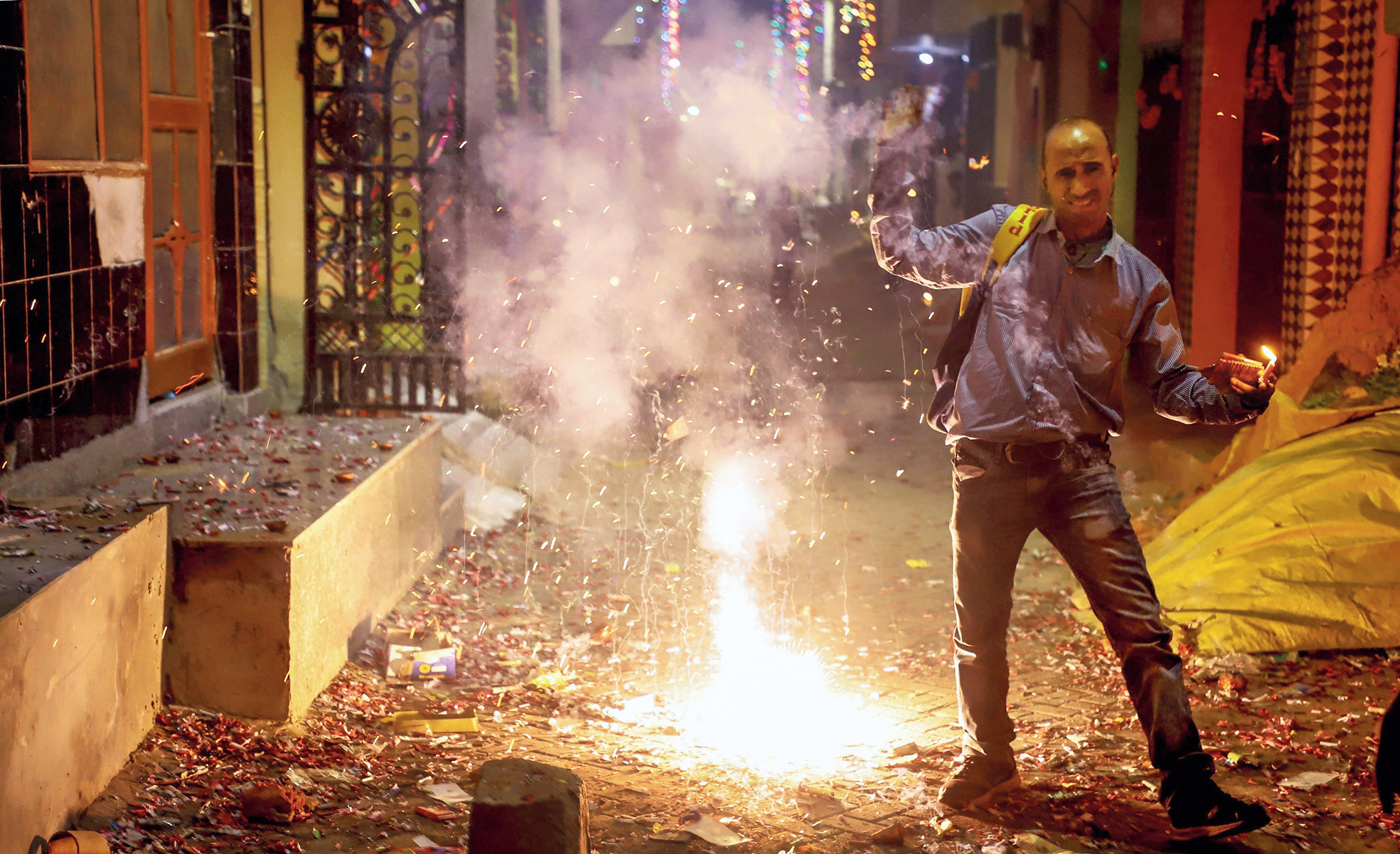 The police have registered 72 cases of explosives violations, including the sale and bursting of banned firecrackers. An officer, however, said many vendors had home-delivered such firecrackers to the public before the court order came.
Requesting not to be named, he described the Supreme Court restrictions as "unrealistic and un-implementable", not only because they were difficult to enforce but also because equating merrymaking with crime was challenging.
At some sites, revellers invited police constables to join in the festivities. At one place, a man caught red-handed lighting a firecracker told the police he was bursting firecrackers bought last year and should therefore not be charged.
The System for Air Quality and Weather Forecasting Research, a unit under the Union earth science ministry, has predicted that air quality over the NCR will improve over the next three days under the influence of winds but will remain in the "very poor" category.
The Safar forecast said that average PM2.5 concentrations were expected to drop to 247 micrograms per cubic metre on Thursday and lower to 202 after three days. The safe limit for PM2.5 — particles that can slip deep inside the lungs to exacerbate respiratory disorders and raise the risk of cardiovascular diseases —is 60.
On the 10th-floor control room at Delhi police headquarters, which responds to emergency calls from the public, phone operators received hundreds of calls from across the city after 10pm, reporting violations of the two-hour window. "People have to understand the reasons for the restrictions. That understanding is unfortunately lacking even among well-educated households," a senior officer said.
The apex court had said the station house officers would be liable for contempt if its directives were not implemented. "We tried our best, but we're now worried whether the court will vent its anger on us," said a station house officer in a south Delhi district.