Pollution levels spike in NCR, likely to stay over the next three days
The average concentration of tiny particulate matter sized 2.5 microns (PM2.5) over Delhi on Friday was 349 microgram per cubic metre, or over five times the safe limit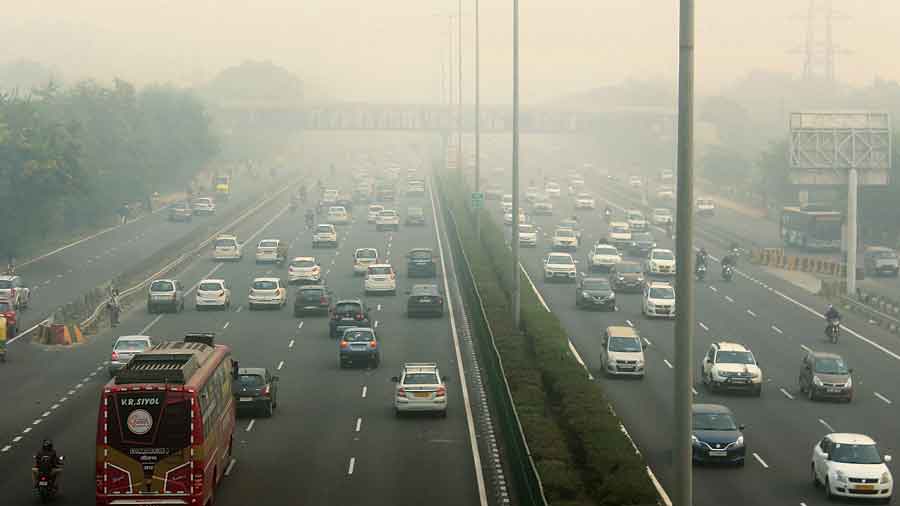 Vehicles ply amid low visibility on the Delhi-Gurgaon Expressway amid a thick layer of smog on Friday .
PTI
---
New Delhi
|
Published 13.11.21, 12:33 AM
|
---
India's air quality monitoring agency on Friday asked residents across the National Capital Region to avoid outdoor physical activity as pollution levels spiked into and are likely to remain in the severe category over the next three days.
The Union earth science ministry's System for Air Quality and Weather Forecasting and Research (SAFAR) attributed the severe pollution that blocked sunlight through the day to an increase in crop residue stubble burning across northwestern states.
The average concentration of tiny particulate matter sized 2.5 microns (PM2.5) — small enough to be inhaled deep into the lungs — over Delhi on Friday was 349 microgram per cubic metre, or over five times the safe limit of 60 microgram per cubic metre under guidelines set in 2009. But the PM2.5 counts are expected to rise to 375 on Saturday and touch 389 on Monday, SAFAR has predicted.
The agency has urged persons sensitive to air pollution to "avoid all physical activity outdoors" and "stop any activity" if they experience any unusual coughing, chest discomfort, wheezing, breathing difficulty or fatigue. It has also asked NCR residents to close windows and close the fresh air intake options on air-conditioners.
The air quality over the NCR had also turned severe last week, the day after Diwali, primarily from a mix of firecracker emissions and crop stubble burning in parts of Haryana and Punjab. Stubble burning is a farming practice that Central and state authorities have tried to curb by promoting alternative stubble management strategies.
But SAFAR has documented daily stubble fire counts ranging from 2,293 up to 5,450 between November 4 and November 11. The count increased to 4,056 on Friday from 3,914 on Thursday and stubble burning accounted for about 35 per cent of PM2.5 levels over the NCR on Friday.
A drop in the minimum temperature is likely over the next two days resulting in air quality to remain severe or improve into the upper end of very poor category, SAFAR said in a bulletin. However, increase in local surface winds could help disperse the pollutants.
SAFAR has also predicted a change in wind patterns from Saturday evening that is likely to reduce the transport of pollutants from upwind regions and reduce the amount of soot from stubble burning that is ferried across over the NCR.
The Central Pollution Control Board that monitors air quality in real-time across the country had on Friday afternoon labelled air pollution levels over 20 among 136 cities as "severe." Among them, Agra, Faridabad, Gurugram, Meerut, Noida, and Vrindavan are there.