Polls set to heat up, not just because of rhetoric
India's core heat wave zone ikely to experience above-normal heat wave conditions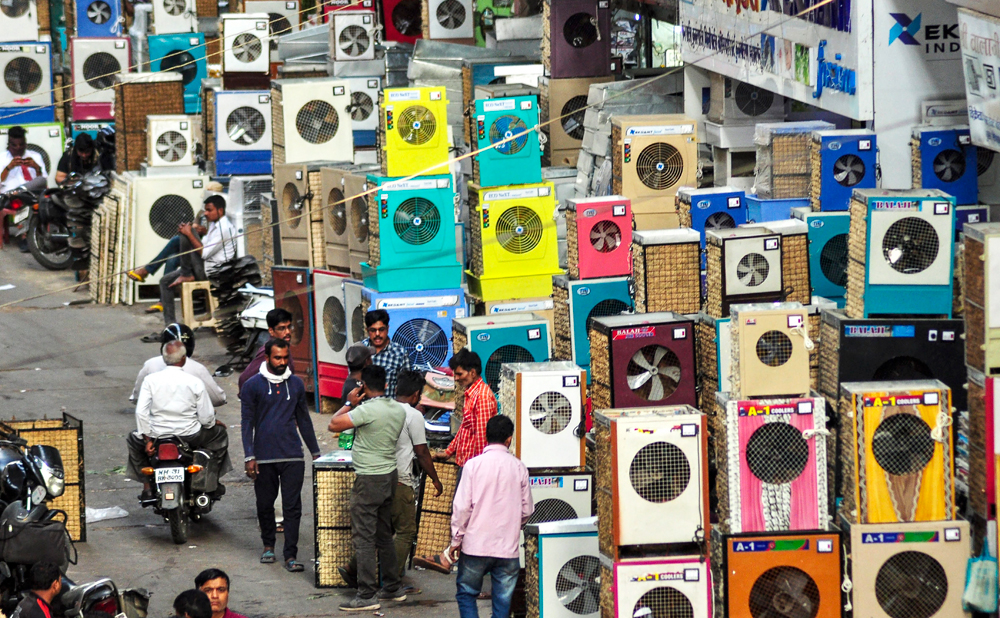 An air cooler market in Nagpur, Friday, March 29, 2019.
(PTI)
---
New Delhi
|
Published 01.04.19, 10:18 PM
|
---
The 2019 election season may be hotter than usual.
The national weather agency predicted on Monday that vast swathes of the country might experience warmer than average temperatures and above-normal heat wave conditions during the next three months.
The India Meteorological Department, in an outlook for temperatures from April through June 2019, predicted that average maximum temperatures in about half of India's 36 subdivisions would be 0.5°C to 1°C above the normal expected temperatures.
It also said that India's core heat wave zone, which stretches from the northwestern states across the Indo-Gangetic plains into Bengal, is likely to experience "above-normal heat wave conditions".
The core heat wave zone, defined through historical patterns of temperatures, extends across Punjab, Uttarakhand, Delhi, Haryana, Rajasthan, Gujarat, Uttar Pradesh, Madhya Pradesh, Chhattisgarh, Bihar, Jharkhand, Bengal, Odisha, Telangana and parts of Maharashtra and coastal Andhra Pradesh.
"We typically see 5 to 7 spells of heat waves scattered across this core heat wave zone, but this time we may see a few more, although it is difficult to say how many," Mrutyunjay Mohapatra, a senior meteorologist at the IMD, told The Telegraph.
The IMD declares a heat wave when maximum temperatures exceed the normal by 4.6°C and persist for two consecutive days.
How the predicted higher-than-average temperatures might impact voter behaviour during the April 11-to-May 19 elections is unknown, but exploratory early research suggests that temperatures can indeed influence voters.
A 2016 study by political science researcher Nick Obradovich, currently at the Massachusetts Institute of Technology Media Lab, had found that warmer-than-normal temperatures in the year prior to an election produce lower vote shares for the party in power. The study, published in the journal Climatic Change, had analysed 1.5 billion votes in 4,800 electoral contests in 19 countries between 1925 and 2011.
Another study that examined US presidential elections from 1960 through 2016 found that a rise in temperature motivated some citizens to vote for smaller parties or Independents or libertarians.
The IMD, in its seasonal outlook, also said that current observations suggested weak El Nino conditions over the equatorial Pacific Ocean. El Nino is a slight rise in sea surface temperatures in the Pacific, linked to poor monsoon rainfall.
The weak El Nino is likely to persist over the next three months, the IMD said. But scientists say it is too early to predict its impact on the 2019 monsoon.
"The IMD's long-range forecast division in Pune is working on the preliminary long-range forecast — we expect it within the next two weeks," K. Sathi Devi, a senior scientist at the IMD, New Delhi, said.
The weather agency will later this month issue a preliminary forecast for the 2019 monsoon rainfall based on its observations of weather conditions, including the El Nino factor, from across the world.
The IMD's seasonal temperature outlook has predicted that the average maximum temperatures are likely to range from 0.5 C to 1 C higher than normal over Haryana, Chandigarh, and Delhi, west and east Uttar Pradesh, west and east Rajasthan, west and east Madhya Pradesh, Chhattisgarh, Jharkhand, Odisha, Gujarat, Madhya Maharashtra, Vidharbha, Marathwada, coastal and north interior Karnataka, Rayalseema and Telangana.
India's remaining meteorological subdivisions, including Bihar and Bengal, are likely to experience maximum temperatures close – above or below 0.5 C – to the normal, the IMD said.
The seasonal temperature outlook is based on computer simulations of expected weather conditions over India through the IMD's Monsoon Mission Coupled Forecasting System that forecasts the weather over 38km grids.