Poll panel should record dissent: Former chief
Former EC chief said there had been at least 5 instances of dissent since the poll panel became a multi-member body in 1989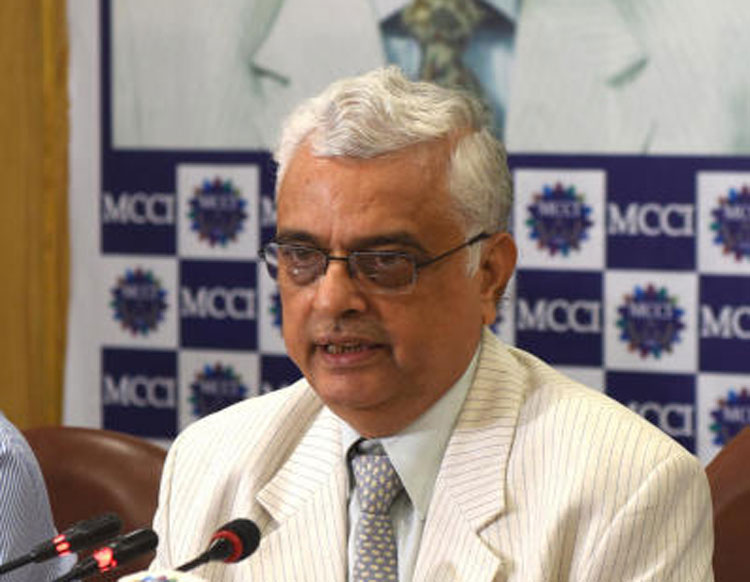 OP Rawat
The Telegraph file picture
---
New Delhi
|
Published 07.05.19, 02:30 AM
|
---
The Election Commission on Monday played down reports of internal dissent over the clean chits to Prime Minister Narendra Modi and BJP president Amit Shah, but one of its former chiefs insisted that dissent must be "put in the public domain".
"Dissent has to be mentioned, otherwise it is not dissent at all…. It has to be communicated in any order or reply in that matter," former chief election commissioner O.P. Rawat told The Telegraph over the phone from Bhopal.
Several publications have reported that election commissioner Ashok Lavasa had dissented with the commission's recent clean chits to Modi over several of his campaign speeches, and to Shah over one of his speeches.
According to NDTV 24x7, Lavasa has also written to chief election commissioner Sunil Arora asking why his opinion for a campaign ban and FIR against Rajasthan BJP leader Gulab Chand Kataria was not mentioned in an April 24 order that merely warned Kataria against further model code violations.
Rawat had retired on December 1 last year, to be replaced by Arora.
At a news conference on Monday, senior deputy election commissioner Sandeep Saxena admitted to "some cases where there may be difference of opinion" within the commission.
Asked if the dissent had been recorded, he said: "These are internal matters. I do not think it is appropriate for me to comment.… Most of the cases are the unanimous decisions, and there are some cases where there may be difference of opinion. But the majority view is what the decision of the commission (is), that is what I am communicating to you."
Section 10 of the Election Commission (Conditions of Service of Election Commissioners and Transaction of Business) Act, 1991, is silent about recording dissent.
Rawat, however, suggested that recording dissent was the convention.
"All kinds of views are expressed during discussions…. If an opinion is recorded that differs from the final decision, the differing opinion is recorded as dissent," he said.
"This needs to be in the public domain in the interest of transparency. The hon'ble Supreme Court does it, and the EC has also done the same so far."
Rawat recalled that in May 2009, the poll panel had given a split (2:1) opinion to then President Pratibha Patil against a plea that had sought then Congress president Sonia Gandhi's disqualification as MP for receiving a state honour from Belgium.
Then election commissioners S.Y. Quraishi and Navin Chawla had overruled the then chief election commissioner, N. Gopalaswami, who was in favour of further inquiry. The dissenting opinion too was communicated to Patil.
Quraishi, who retired as chief election commissioner, tweeted on Monday: "The dissenting note need not be included in the order but it should be a part of office proceedings. And be made public if the commissioner concerned wants it."
Rawat said there had been at least five instances of dissent since the poll panel became a multi-member body in 1989.
Lavasa reportedly opposed the clean chit to Modi for his "minority-majority" jibes against Rahul Gandhi in Wardha on April 1 and Nanded on April 5, and his invocation of Balakot in Ausa on April 4.
Modi had said that Rahul was afraid to contest from a Hindu-majority constituency and had therefore chosen the Kerala seat of Wayanad, where religious minorities outnumber Hindus. He had sought votes in the name of the soldiers who had carried out the Balakot air strikes.
A source said that Lavasa, a retired 1980-batch, Haryana-cadre IAS officer, "has moved a note" relating to his dissent not being recorded in the warning to Kataria.
Kataria had said on April 13 in Udaipur: "At the time of Partition, Hindustan had a 9 per cent Muslim population, which has risen to 19 per cent. In Pakistan there were 12 per cent Hindus, now reduced to a mere 2 per cent. Because Muslims have 12 kids and Hindus have just two. At this rate, another division may happen."
Contacted, Lavasa told this newspaper: "I will not be speaking on this matter."
Asked to specify the rule under which dissent has to be recorded and publicised, he said: "You may see the practices followed by other multi-member bodies in the country."