Nitin Gadkari: the man many reckon could emerge an alternative to Modi
The minister is consciously teasing himself into the centre stage by saying that government and party bosses should own up to failures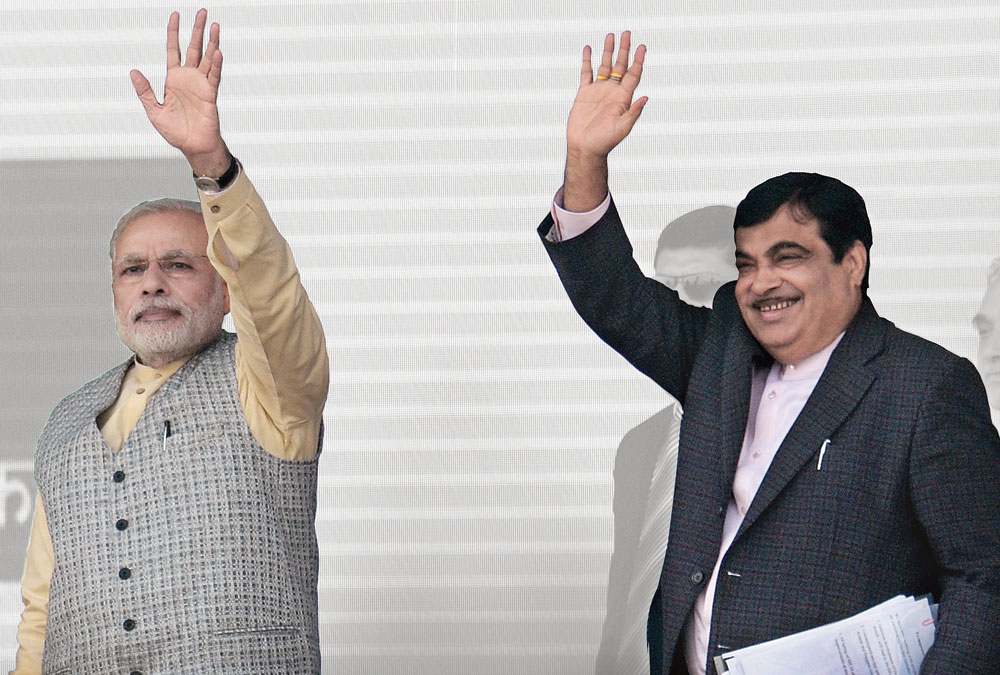 PM Narendra Modi with senior BJP minister Nitin Gadkari.
Telegraph picture
---
New Delhi
|
Published 13.01.19, 05:44 AM
|
---
Who is this Gadkari, asked Mamata Banerjee. It was the summer of 2009, and Banerjee, who was then rail minister, was meeting a delegation from Karnataka led by the late Ananth Kumar. It was time to elect a new BJP president and Gadkari had emerged a strong contender. Kumar, an informed member of the BJP hierarchy, patiently explained to Banerjee that Nitin Gadkari was a well-known leader of Maharashtra and a successful public works department (PWD) minister there. Banerjee didn't seem convinced. She said, "Why him, when there are such senior and capable leaders like Rajnath Singh, Sushma Swaraj and Arun Jaitley?" Kumar smiled, but didn't reply.
Only days later Gadkari was anointed BJP president, replacing Rajnath Singh. Gadkari, a Nagpur boy, had practically grown up in a shakha; he was Rashtriya Swayamsevak Sangh (RSS) chief Mohan Bhagwat's pick. Apart from the fact that he met Bhagwat's desire for a "generation change" in the BJP — he was 52 at the time — Gadkari was viewed as "not flashy or individualistic", good qualities in the Sangh ethic.
Now, a decade on, Gadkari has craftily tip-toed to the position the Sangh has probably always been nudging him towards — as the man who will be a credible alternative to Narendra Modi as the prime ministerial candidate should the BJP fall short of numbers and need to desperately rebuild the NDA in its bid to retain power. The Modi-Shah duo has ruffled feathers, not merely in the ranks of allies but within the BJP as well; nobody in the BJP will say it openly but the Modi-Shah dictatorial diarchy hasn't gone down well with party rank and hierarchy. Should the two fail to manage the magic tally, Gadkari could well emerge as a "more acceptable" consensus leader of a newly-constituted NDA.
Gadkari is far from an unknown entity; on the contrary, he is consciously teasing himself into the centrestage. Some of his recent comments, clearly a taunt to PM Modi and his worldview, have prompted the whole country to take notice of the lumbering tortoise from Nagpur and ask — Who is this Gadkari?
In the span of the last month and a little more, Gadkari has showered wholesome praise on Jawaharlal Nehru and Indira Gandhi, counselled party members should speak less, and conceded that unemployment is a major problem facing the country. None of this could have been music to Modi's ears. When BJP workers heckled Delhi chief minister Arvind Kejriwal at the launch of a campaign to clean the Yamuna, they earned a rap from the senior leader.
Gadkari has gone on to clarify that some of his statements had been "twisted", but that's just smart politics, no more. Kishore Tiwari, who is considered close to the RSS and knows Gadkari well, tells The Telegraph, "I would be surprised if Gadkari has said these things without thinking about the consequences within and outside the party."
Tiwari is the chairperson of Vasantrao Naik Sheti Swavalamban Mission, a task force of the Maharashtra government for crop loans in the farmer suicide-prone Marathwada and Vidarbha regions, and holds a ministerial rank. He recently wrote a letter to Bhagwat and the RSS general secretary, Suresh Bhaiyyaji Joshi, asking them to get rid of "arrogant leaders" and name Gadkari as the prime ministerial candidate ahead of the 2019 elections. Tiwari says that in doing so he was merely reflecting the views of BJP cadres who were "too scared to speak up".
Over phone from Amravati in Maharashtra, Tiwari said: "It was a confidential letter. But it was leaked to the press by the RSS brass in Nagpur. I was critical of Modi and Amit Shah for their autocratic ways of functioning and the way they wreaked havoc through their brainless policies. You are free to interpret as to why the RSS leaked the letter."
Of the sharper salvos Gadkari has fired on the Modi dispensation recently is that government and party bosses should own up to failures and defeats just as they grab credit for success. His exact words were: "If I am the party president and my MPs and MLAs are not doing well, then who is responsible? I am."
Former Union minister and member of the BJP, Sangh Priya Gautam, tells The Telegraph over phone from Bulandshahr that he is "aghast" at the party's remorselessness after the electoral losses in Madhya Pradesh, Rajasthan and Chhattisgarh. "It is the BJP's history to hold introspection meetings after every defeat to know the reasons and make amends. It was the Sangh's idea to do that. I am not aware of any such meeting so far. I think Gadkari has a reason if he says leadership should take responsibility for the defeat."
Gautam recently wrote an open letter to senior BJP functionaries with recommendations that included elevating Gadkari to the post of deputy prime minister. And could it be mere coincidence that calls have begun to be made for a prime minister from Maharashtra? Among those who have appeared to endorse this is Maharashtra chief minister Devendra Fadnavis himself.
But apart from the fact that he is dyed-in-the-wool saffron and not spewing or enabling socio-political toxicity, what else is there that makes Gadkari a viable alternative to Modi?
"He is the only central minister who is popular with the public and even the party people," says Gautam. According to Bal Kulkarni, a Nagpur-based political analyst and former editor of several Marathi dailies, Gadkari has modelled himself on Sharad Pawar — he displays no rough edges, he has cultivated friends across party and ideological lines and, critically, has very strong links with the corporate world. That, translated, means moneybags. He is himself a successful entrepreneur and once ran the controversial Purti group, which had interests in several sectors from real estate to power to sugar.
His many quirks are common knowledge — how he likes to employ cheesy Hindi film dialogues; how he had to have a bariatric surgery because he used to be obese; his enduring and foregrounded weakness for the Maharashtrian snack, bhel. But while once upon a time, people may have laughed at him for these, it is possible that the same things now make him appear more human, even endearing, especially compared to the carefully spin-doctored 56-inch chest persona.
There is, of course, no discounting his political savvy. Gadkari couldn't have arrived where he has from relative political obscurity in the time that he has. From the very start of his career as partyman in Maharashtra, Gadkari has known that navigating upwards in the BJP would be no easy thing; his 2009-13 stint as party president only confirmed that to him. If Maharashtra was tricky, Delhi was downright slippery. But Gadkari has not merely managed his balance, he has continued to push his career as well.
As party president, Gadkari, had inducted Sanjay Joshi, Modi's bête noire, into the BJP's national executive. While some say Gadkari was impressed by Joshi's hold on party workers, his opponents claim he was brought in to cut Modi, who was then chief minister of Gujarat, to size. Modi would, of course, hit back later and have Joshi humiliated and cast out. Gadkari himself was sidelined for causing affront to "rising star" Modi.
Joshi has maintained a low profile since, but Gadkari survived that storm and came back to Delhi as a minister in the Modi government. Says Ganesh Kanate, a former journalist and somebody who has tracked Gadkari's rise, "Gadkari is uncomfortable with the opponents within his party, but he is unlikely to join a camp or form a group of his own. The RSS, I know for sure, has instructed leaders in the BJP not to disturb him."
Apart from being a survivor, and an affable one, Gadkari is also said to be the best performing minister in the Modi government. He might have won his first Lok Sabha election in 2014 — from Nagpur, where else? — but he cut his teeth as a public servant during his stint in the PWD ministry in the Shiv Sena-BJP government in the mid-90s. The 55 flyovers in Mumbai and the Mumbai-Pune expressway built during his tenure are now stuff of legend.
And when he took charge as minister of roads, transport and highways in 2014 — he is also minister for shipping and waterways —he streamlined processes, ensured that only the deserving got projects with guarantees of on-time delivery, roped in foreign consultants to carry out feasibility studies and suggest changes to existing policies. The roads ministry claims that the speed of road building is now 40 kilometres a day from a mere 2 kilometres a day during the UPA II regime. "Resource mobilisation through the Build-Operate-Transfer scheme has been an innovative mechanism for raising much-needed funds in the road sector," says Rajaji Meshram, partner at consultancy firm Ernst & Young and an expert on railways, ports, logistics and other transport infrastructure sectors.
Gadkari doesn't mind amending schemes, even his pet ones, when it is obvious that they haven't and won't take off. It was he who introduced the engineering, procurement and construction or EPC arrangement, under which the government proffered funds to private companies to initiate new projects. The EPC scheme was an impetus to stalled projects but couldn't be sustained. Before that, the minister had junked public-private partnership in infrastructure projects and replaced it with the Build-Operate-Transfer model.
He has had his share of failed projects — amphibious buses that can ply on roads and sail on water and were supposed to be introduced across India; the Sagarmala project that was to link all ports in India; and the shifting deadline of the Ganga clean-up project.
Says Kanate, "He may claim that he has done 80 things but only 60 may have come to fruition in reality. But there are so many that people tend to ignore the ones he has failed in. He keeps saying mera naam badal dena if such and such thing is not done. He doesn't succeed every time but his strike rate is very high."
Sangha Priya Gautam points out, "Modi inaugurates completed projects of Gadkari, while he only lays foundation stones for other ministers." And Bal Kulkarni, who had earlier compared Gadkari to Pawar, says, "He has proved his mettle. While Sharad Pawar spent 25 to 30 years in Delhi to establish himself as a leader of some stature, Gadkari has earned that in only four-and-a-half years. He is also not into cow or temple politics. Now it is for him to decide what he does with the stature he has earned."
"It is Modi or none from the BJP" is the line that is being bandied around by the Modi-Shah establishment within the ruling party. But Tiwari says friends in high places in the RSS have told him that Gadkari should continue to speak his mind. He adds, "They have assured me that they have a plan in place. So should Gadkari."
There's no gainsaying politics is an unpredictable affair; Gadkari may only be counting upon it to be more so in the run-up to 2019.