KCR's astrologers see stars turning in Telangana
Confident of his horoscope and victory, Telangana CM Chandrasekhar Rao had announced early polls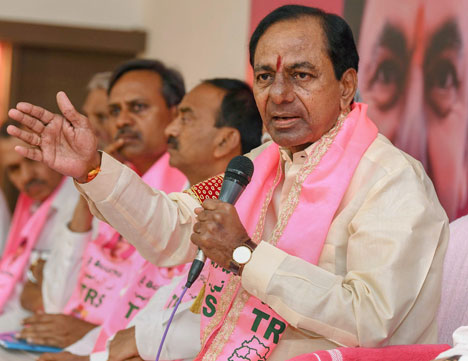 Until the dissolution of the Telangana Assembly, KCR did not do anything unless the stars were assuredly aligned in his favour
Image: The Telegraph
---
Published 10.11.18, 09:25 PM
|
---
Astrologers knew the date of dissolution of the Telangana Assembly long before anyone else. That's the kind of confidence they had going in Telangana chief minister K.C. Chandrasekhar Rao or KCR.
In the run-up to the date of announcement, September 6, 2018, the predictions got even more precise. From the exact time of the Cabinet meet to recommend the dissolution to the time the governor would be approached with the letter of request, KCR did not do anything unless the stars were assuredly aligned in his favour. KCR didn't disappoint the astrologers and everything went like clockwork.
Victory was a foregone conclusion, some predicted. "His horoscope is extremely strong. It is a one-in-a-crore horoscope," says Vijay Ananth, a popular astrologer and a prominent face on Telugu television. Some even equated his horoscope with that of King Vikramaditya.
But something has happened in recent weeks. The same astrologers who had predicted a cakewalk for KCR are not so sure now. "The horoscope may be strong, but it doesn't mean that his team's horoscope will be as good as his. It's a bit like predicting Team India's victory based on Virat Kohli's horoscope alone," says Ananth.
KCR, who was riding on his perceived popularity — puffed up by statewide surveys by various newspapers and TV channels — advanced the state elections by several months. But the spring in his step that was visible at the time of dissolution of the Assembly is missing now.
His initial confidence was understandable. Although his party, Telangana Rashtra Samithi (TRS), had won 63 seats in the 119-seat Assembly in 2014, he had brought it to an effective strength of 90 by engineering defections in opposition parties like the Congress and Telugu Desam Party the past four years. He had virtually decimated the Opposition in the state.
'We will win more than 100 seats," he predicted while announcing the advancement of elections. But he is not talking about the 100-seat victory any longer, though his colleagues continue to stick that figure on him. Says TRS senior leader K. Keshava Rao, "KCR did say that we can win 100 seats. Nothing has changed as far as we are concerned. We are confident of winning the elections."
KCR, who was known to be a fiery, rabble-rousing, foul-mouthed campaigner for Telangana, had mellowed and toned down his rhetoric after splitting Andhra and becoming the chief minister of Telangana. But now he is back to being his acerbic best. While he calls himself the mogudu (alpha male), he has termed Rahul Gandhi a "buffoon" and the Andhra chief minister and leader of TDP, Chandrababu Naidu a "lizard".
The change is palpable. "He started by asking the electorate to vote on his performance as chief minister but now he is saying the Opposition alliance would be a disaster to the fledgling state if it comes to power. That is not the language of a confident man," says Telakapalli Ravi, a Hyderabad-based political analyst.
"His abuse of the Opposition leaders is not lost on the masses. They will teach him a lesson. They don't like people who behave like egoistic emperors," says Sravan Dasoju, general-secretary of the state Congress and its chief spokesperson.
Sworn enemies Congress and TDP, putting aside their bitter past, have come together for the first time ever and with Telangana Jana Samithi (TJS) of veteran Telangana activist, M. Kodandaram, and the Communist Party of India tagging along, the mahakutami or prajakutami (the grand alliance) has caught KCR on the backfoot. The TRS candidates are facing tough questions from the electorate and KCR is said to be facing an uphill battle in his own constituency of Gajwel.
The fact that KCR has been promoting his son, K.T. Rama Rao, and his daughter, K. Kavitha, has not gone down well with party workers, say observers who also point to recent defections to the Congress.
Keshava Rao dismisses these allegations. He lists KCR's relations who are in politics, around seven, and claims they are all leaders in their own rights and KCR "happens to be" their "close relative". Rao says his party is banking on KCR's ability to organise people, his oratory skills and, of course, his sense of timing, which seemed to be in great form during the agitation for a separate state. "On top of all these, we have his work as the chief minister," he adds.
KCR's welfare schemes, even the government's opponents concede, have reached most sections of society and these could play a key role. "Power scarcity is no longer an issue. Water scarcity has been solved to a great extent in Hyderabad and development in our constituencies have been taken up on a priority," says Asaduddin Owaisi of the Hyderabad-based Majlis-e-Ittehadul Muslimeen (MIM) party.
KCR is probably the only leader of a major political party who has won praise from both Prime Minister Narendra Modi and Owaisi.
"He has been able to blaze a new trail as far his political leanings are concerned. He has kept Owaisi close to him and he has BJP guessing on the other hand. He will probably back BJP at the Centre in 2019 if it needs his support," predicts Ravi.
Owaisi says there is no reason to believe that KCR will side with BJP. According to him, KCR has a
Rs 2,100 crore budget for the minorities, whereas the central government earmarks only Rs 3,000 crore for the Union ministry for minority affairs. Besides, KCR talks of residential schools for 50,000 Muslims and overseas scholarships of up to Rs 20 lakh.
Muslims form around 13 per cent of the total population of Telangana. And they are considered a strong force with influence in one-third of the seats. "I will not be surprised if he wins the elections rather easily with the minorities backing him to the hilt," says Owaisi.
Dasoju of the Congress alleges that both the TRS and the MIM are B-teams of the BJP. "People of the state understand very well that MIM and TRS are closet supporters of the BJP. They will also be punished for siding with the communal party," he says.
Although BJP is fighting on its own and its popular vote is in single digits, the fight is very much between TRS and the alliance. MIM, which is virtually in an alliance with TRS, is likely to retain its stronghold in the twin cities of Hyderabad and Secunderabad.
KCR's critics point to how he had promised 12 per cent reservation for Muslims in government jobs in 2014, but failed. They also point to several other schemes like the two-BHK housing scheme and land for the landless, which failed to take off.
His opponents are crunching poll arithmetic hard. For instance, the Congress polled 25 per cent of the votes in 2014, while TDP garnered 15 per cent. TRS on the other hand got 35 per cent. Added to that, there is an anti-incumbency factor.
Popular figures such as balladeer Gaddar and one of the tallest leaders of the Telangana movement, Kodandaram, have also turned against KCR of late.
But not everything is hunky-dory with the mahakutami either. The alliance finally announced the seat-sharing arrangement on Thursday. Congress will contest from 93 seats; TDP, 14; TJS, eight and CPI, three. Telangana Inti Party, a new entrant in the fray, will contest from one seat.
The Congress, known for its factionalism in the state, may see rebel candidates and many in the TJS are unhappy about the seat count. "We are fighting like one big family against KCR. There are bound to be some disagreements. But we shall overcome all these and present a united fight," assures Dasoju.
With money likely to play an important role, opposition parties allege that KCR has distributed Rs 10 crore per candidate to fight and win.
KCR has been operating from his official residence which was built at a cost of Rs 50 crore following all the rules of vastushastra. He has not visited the state secretariat for more than three years, firm in his belief that it is an inauspicious building. He has promised to build a new secretariat during his next tenure. People of the state will decide whether he will get a chance to do that or not come December 7.