Political gag spreads across universities
Nudged by UGC, some are modifying service rules to bar teachers from criticizing govt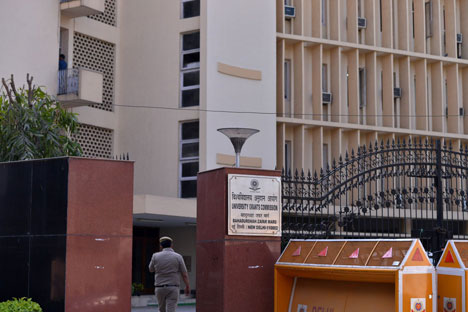 ---
New Delhi
|
Published 05.11.18, 09:41 PM
|
---
Rajiv Ray, president of the Delhi University Teachers Association and the Federation of Central Universities Teachers Associations slammed the government's "recent attempts to crush voices of dissent in the teaching community".
"This gagging of teachers will stifle the growth of students who would not have access to alternative views about the university system, higher education, policy and society in general, which is so critical to their intellectual growth," he said.
Ray said there were many instances of academics joining politics without being accused of violating service rules. Rajya Sabha members Rakesh Sinha (BJP) and Manoj Jha (RJD) are both Delhi University teachers.
Jha wrote to human resource development minister Prakash Javadekar against these rules last month.
Janak Pandey, former vice-chancellor of the Central University of Bihar, said the UGC diktat was "uncalled for", adding: "The core of academics is academic freedom; these rules will limit intellectual development and creative research."
The Amarkantak rules say that if any question arises whether a party is a political party or whether a particular movement or activity falls within the scope of sub-rule 5(2), the university's decision will be final.
"No employee shall join or continue to be member of an association, the object or the activities of which are prejudicial to the interest or the sovereignty of India, public order, decency or morality," the rules say.
No employee shall give any official document or information to any other employee or person to whom he is not authorised to give such a document, they add. No employee shall raise funds for political activities.
Delhi University executive member Rajesh Jha said restrictive service rules were fine for government employees who had to implement government decisions without questioning, but they were detrimental to universities.
"(Adopting) central government service rules will take away academic rigour. There will be no critical analysis of policies," he said.
A UGC official said: "Many universities lacked service rules. We have only advised them to adopt central government rules. It's not binding."
Several central universities are modifying their service rules to prevent teachers from criticising the government and even barring their families from taking part in "subversive" activities, nudged by a University Grants Commission (UGC) circular that has drawn protests.
Several academics have condemned the UGC circular, issued on May 1, as a government move to muzzle teachers that endangers the students' intellectual development and threatens to constrict research.
The Telegraph has learnt that the Central University of Gujarat has adopted the new rules pending a nod from its court, while Jawaharlal Nehru University (JNU) has passed them at its academic council and needs clearance from the executive council and the varsity court.
Maulana Azad National Urdu University, Hyderabad, and the Indira Gandhi National Tribal University, Amarkantak, Madhya Pradesh, have circulated similar rules among their officials.
A senior official at Maulana Azad said the institution had adopted the rules a decade ago and merely reiterated them after the May 1 circular.
S.A. Bari, vice-chancellor of the Central University of Gujarat, told this newspaper in an email: "There is a difference between having a political ideology (to which anybody and everybody is entitled) and getting involved in political activities, when your first commitment and duty is to be for academics."
He added: "What the employees' family members do is not the concern of the institution."
Calls and emails to two other vice-chancellors had evoked no response till Monday evening. A UGC official said the May 1 circular was recommendatory and not binding.
The circular asked the universities to "follow the government of India rules/ orders as applicable to central government civilian employees", which bar criticism of the government.
The rules of the Amarkantak varsity, very similar to those being adopted by Bari's institution, say: "No employee shall be member of or be otherwise associated with any political party or organisation… which takes part in politics."
Its sub-rule 5(2) says: "It shall be the duty of every employee to endeavour to prevent his family from taking part in subscribing in aid of or assisting in any other manner any movement or activity which is or tends directly or indirectly (to be) subversive of the government or the university."
Under these rules, employees' children, stepchildren and any of their dependent blood relations, and those of their spouses, count as family.