Pneumonia care falters
Research indicates gaps in children's treatment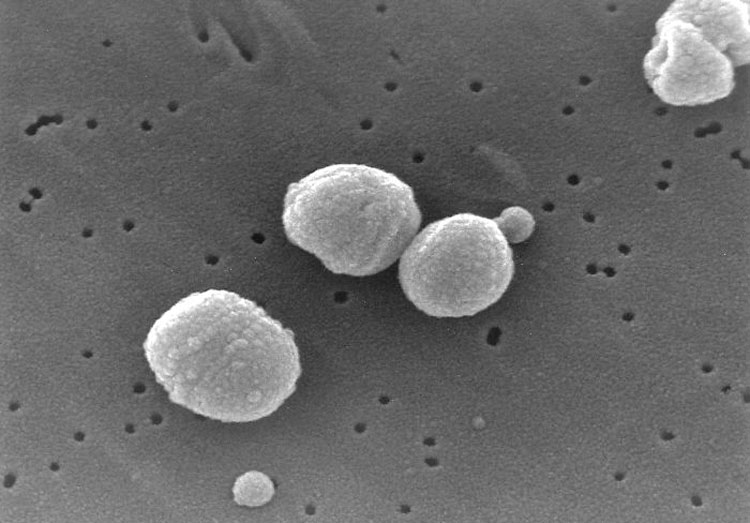 The bacterium Streptococcus pneumoniae, a common cause of pneumonia, imaged by an electron microscope
Source: Wikipedia
---
New Delhi
|
Published 24.03.19, 10:19 PM
|
---
More than half of children with severe pneumonia in Uttar Pradesh and Bihar do not receive required hospital care, suggests new research that points to treatment gaps in states with the highest childhood pneumonia mortality.
Health researchers have found through a sample community survey that only 4 per cent of children had been hospitalised, although earlier studies have indicated that 8 per cent to 11 per cent of such children need hospital care.
The difference between the predicted proportion of severe pneumonia and the observed proportion of children hospitalised suggests that half or more do not receive the hospital care they require, the researchers said, calling their findings "alarming".
"Lack of hospital care is likely to contribute to deaths from pneumonia," said Shally Awasthi, professor and paediatric pulmonologist at the King George Medical University, Lucknow, who led the research funded by the Bill and Melinda Gates Foundation.
Awasthi and her colleagues conducted a community survey through 2,400 households in 240 villages across Lucknow district that found 824 (25 per cent) of 3,351 children between two and 59 months of age had pneumonia but only 33 (4 per cent) had been hospitalised. Their research results were published this week in the journal PLOS One.
"It is unclear why the hospitalised proportion is only 4 per cent — is it because of lack of awareness or inability to recognise severity of symptoms or is it because of lack of access to hospital care — this could be an area for more research," Awasthi said.
They also analysed 5,172 kids admitted for pneumonia in four districts — Lucknow and Etawah in Uttar Pradesh and Patna and Darbhanga in Bihar — and found significant gender differences in health-seeking behaviour: in every district fewer proportions of girls were admitted to hospital.
The proportions of girls admitted for pneumonia ranged from 25 per cent in Darbhanga to 34 per cent in Lucknow. "This can only be attributed to bias against girls in seeking health care — there is no reason why more boys should get pneumonia than girls," Awasthi said.
The researchers say their findings underscore the need to enhance the protection of children from paediatric pneumonia, mainly caused by two bacteria — Streptococcus pneumonia (SP) and Haemophilus influenza type-B (HiB).
The Centre introduced HiB vaccination in the public immunisation programme in 2011 and began rolling out a vaccine against SP in select states, including Uttar Pradesh and Bihar, in 2017, but many children still do not receive the full schedules.
"There is need to enhance protection through vaccines against pneumococcal disease and through improvements in available hospital care," Awasthi said. Severe pneumonia may need to be treated through oxygen support in addition to antibiotics.