PM Modi divides Varanasi from Kedarnath
Many saw TV images of Modi at Kedarnath as an attempt to highlight the PM's religion amid the last round of voting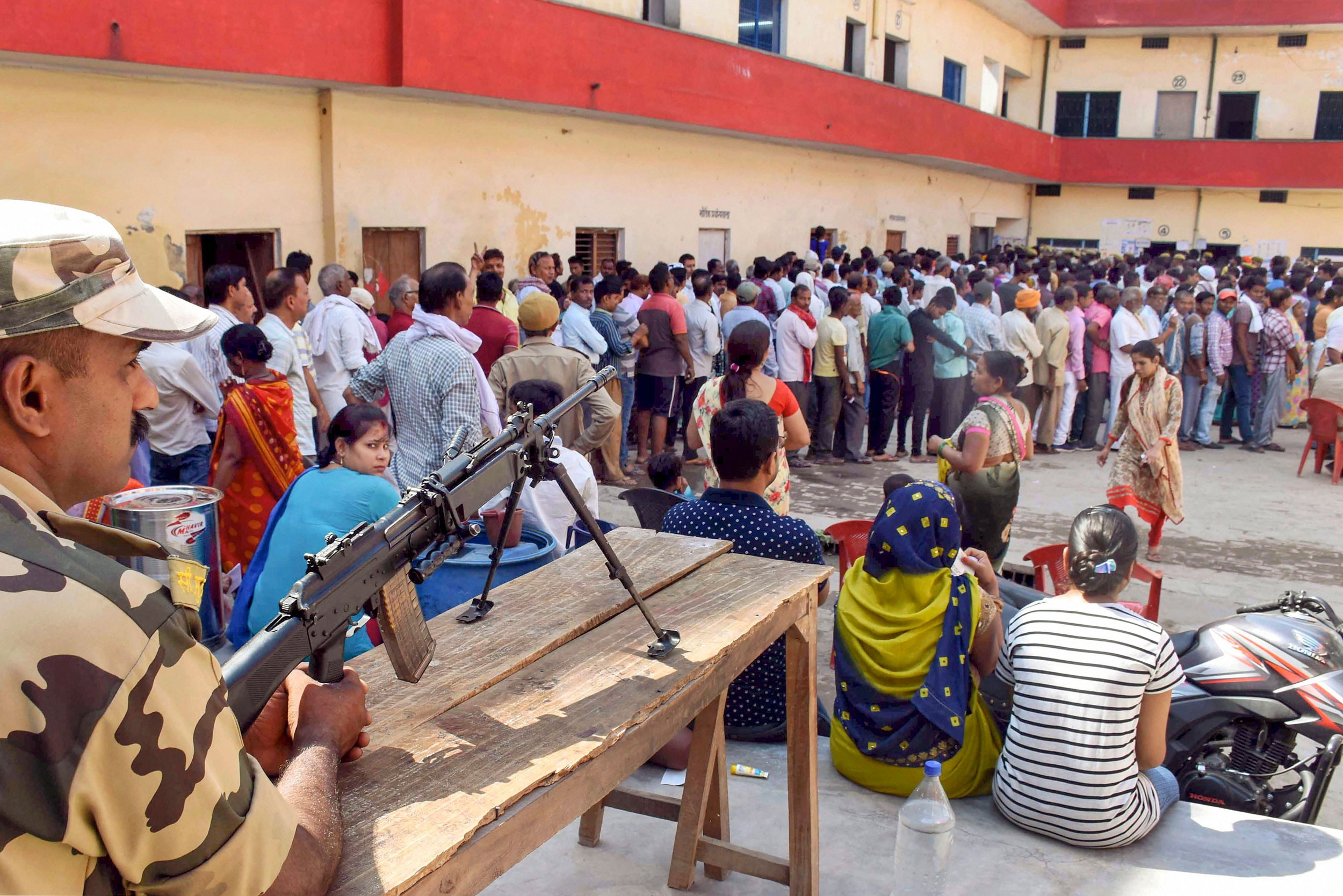 A security personnel stands guard outside a polling booth during the seventh and last phase of Lok Sabha elections, in Varanasi, on May 19, 2019.
(PTI)
---
Varanasi
|
Published 19.05.19, 10:42 PM
|
---
Varanasi went to the polls on Sunday with TV channels repeatedly flashing images of Narendra Modi at Kedarnath, which many saw as an attempt to highlight the Prime Minister's religion amid the last round of voting this general election.
Haji Mohammad Mohsin, 65, declined comment on Modi's alleged use of religion to secure votes on Sunday. "Modiji and his party have always used religion for political gain," was all he would say.
Mohsin had been among the first to vote at his polling station in the Shivala locality. Fasting during Ramazan, he wanted to vote before it got too hot. He agreed that Modi would win easily from Varanasi but was confident of a change at the Centre.
"Sarkar kisi ki nahi banegi, banani padegi (A government won't form by itself this time, it will have to be formed)," he said, implying a split verdict and rule by an Opposition coalition.
"This is not about Muslims alone; the entire country is suffering and this will reflect in the results," he added, highlighting how the demonetisation and the GST had hit Banarasi silk sari traders like him.
Satya Prakash, an RSS cadre manning a polling booth near the Dashashwamedh Ghat, flashed an angry look on being asked whether it was proper for the Prime Minister to publicise his religious identity on polling day.
"What's wrong with it? He is a Hindu," he said. "Why are no questions raised when fatwas are issued from mosques to vote for some or other party?"
Prakash claimed that Modi would win by a record margin from Varanasi, not because of his religion but because of the development he has brought to the city and the country.
He was confident about the BJP securing a majority on its own: "Everywhere, in every home, all you hear is 'Modi, Modi'. Even in Bengal, it's 'Modi, Modi'."
Prakash said that once Modi returned to power for five more years, even the Muslims would have to vote for him: "The Muslims will realise that they stand to lose by opposing the BJP. How long can you keep yourself out of the mainstream?"
Meraj, 42, like Mohsin a resident of Shivala, said that while it was wrong to assume that no Muslim voted for the BJP, how can the party expect support from the community when its leaders and workers openly abuse them?
He recalled how flowers were showered from Muslim homes in Shivala when the Prime Minister passed through the locality before filing his nomination papers.
"We may not vote for the BJP but welcomed Modi when he passed this way because he is the Prime Minister of the country," Meraj said.
"We had set up stalls to provide water to the people participating in his road show. But what did we get in return? The BJP workers taking part in the road show chanted abusive slogans against us that were so bad that I can't bring them to my lips."
His voice and expression betraying hurt, Meraj asked: "Would you vote for the BJP if you were in my shoes?"
"Shivala" means "the abode of Shiva". The neighbourhood, set along the Ganga's banks, has a mixed population of Hindus and Muslims and is held up as an exemplar of the "Ganga-Jamuni tehzeeb" — a regional fusion of both cultures.
"Both communities have been living here peacefully for decades. The abusive slogans were chanted by outsiders," Irshad, a political activist, said. "But there is an effort by vested groups to create a divide and paint Muslims as anti-nationals."
One could feel the divide bubbling under the surface at many areas in Varanasi. Asked how the voting was going, tea seller Sonu Jaiswal pointed towards the Muslim locality of Madanpura and said: "It's all 'Modi, Modi' barring that side."
He went on: "The Muslims are the first to grab the benefits of the (Modi) government's welfare schemes but will not vote for the BJP. It hardly makes any difference, though. Modiji will win by a record margin."
Jaiswal agreed with Prakash that the votes would be "for the never-before kind development Modiji has brought to this holy Hindu city".
The only question, Varanasi is agreed, is who will be the runner-up. The Congress has fielded local strongman Ajay Rai while the Samajwadi Party candidate representing the mahagathbandhan is Shalini Yadav.
"Most voters here seem to prefer the Congress," said Mohammad Iqbal in Madanpura, adding that the alliance candidate was too weak.