PM protecting Adani: Rahul
Modi targets Congress, says 2004-14 was a lost decade
Opposition MPs chant 'Adani, Adani' as Prime Minister lists government's achievements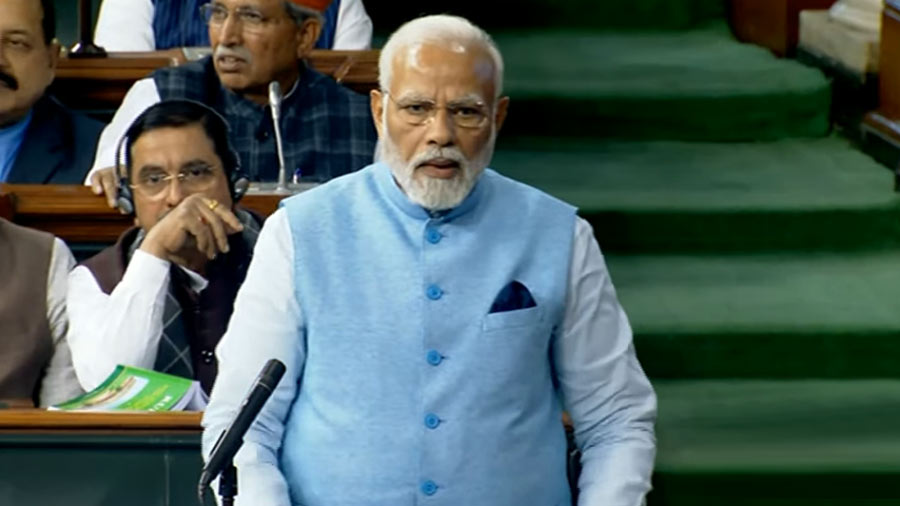 Prime Minister Narendra Modi
File picture
---
Published 08.02.23, 06:40 PM
|
---
Prime Minister Narendra Modi reeled off a long list of his government's achievements and blasted the Congress, saying "2004-2014 will be known as a lost decade," as he struck back against Rahul Gandhi's attack on him in Parliament yesterday.
Gandhi had launched a broadside against Modi accusing him of being the force behind the rise of billionaire Gautam Adani whose empire has been rocked by allegations of corporate wrongdoing. Gandhi's immediate response after the speech was that Modi was trying to protect Adani. In reply to a press question, he said: "No I am not satisfied (by the speech)". He added that the prime minister was trying to protect Adani. Large chunks of Gandhi's speech yesterday have been expunged from the parliamentary records. Gandhi repeated many of his allegations on Twitter today.
In defending his government's record, Modi pointed to the successful vaccination programme, the huge number of unicorns and other start-ups and the growth of the mobile phone manufacturing industry. India, he added, was fourth in renewable energy and the world was watching as it emerged as a manufacturing hub.
At another level, he praised his government's poverty alleviation schemes like low-cost housing and the provision of gas connections.  For the first time, he said, Dalits tribals and lower castes were getting the benefits of government schemes. "Electricity, water supply are being made available in their communities. Many of them are living in pucca houses for the first time." Significantly, Modi steered clear of mentioning Adani which had been the focus of Gandhi's attack on him yesterday in Parliament.Modi also launched a blistering attack on the Congress government's track record during the pre-2014 period, saying that, "India will also remember that the decade before 2014 will be known as the "lost decade". And the 2030 decade is 'India's decade' for the entire world."
The prime minister ripped into the Congress, claiming the party's decline had even resulted in a Harvard University study on the "rise and decline of India's Congress Party". He added caustically that the Congress had, "turned every opportunity into a calamity".
Like yesterday when Gandhi was speaking, the prime minister's speech was interrupted by opposition politicians shouting slogans ("Adani, Adani, Adani") and BJP matching them with cries of "Modi, Modi" and thumping on their tables. They also raised chants demanding a JPC. Modi added that India now had a "stable and decisive" government that could take actions to take actions to boost India's progress. Modi insisted that the Congress felt its road would only open if it attacked him. Gandhi was seen mouthing a chant: "Adani, Adani, Adani". Moving to a more personal level, Modi slammed into Rahul's Bharat Jodo Yatra and vowed that he would visit Srinagar's Lal Chowk, "without a bulletproof jacket". Slamming into the opposition, he claimed he had, "Waited for nine years, but instead of any constructive criticism, all we have seen in compulsive criticism."
Modi also took aim at Adhir Ranjan Chowdhury, saying he had insulted the president who was both a woman and a tribal. Modi called the president's speech, "visionary".
Analysts said Modi's speech had been one of his most aggressive ever and it was possibly his longest ever lasting for around 90 minutes. Rahul missed much of the attack. He appeared in Parliament 40 minutes into the prime minister's speech. Modi took a swipe at Gandhi's absence, saying, "some were so happy with the speech, they didn't come today."
Other analysts called it the launch of the 2024 election campaign which is slightly over one year away.