Plot that killed boy with flag
Conspiracy hatched to garner support for CAA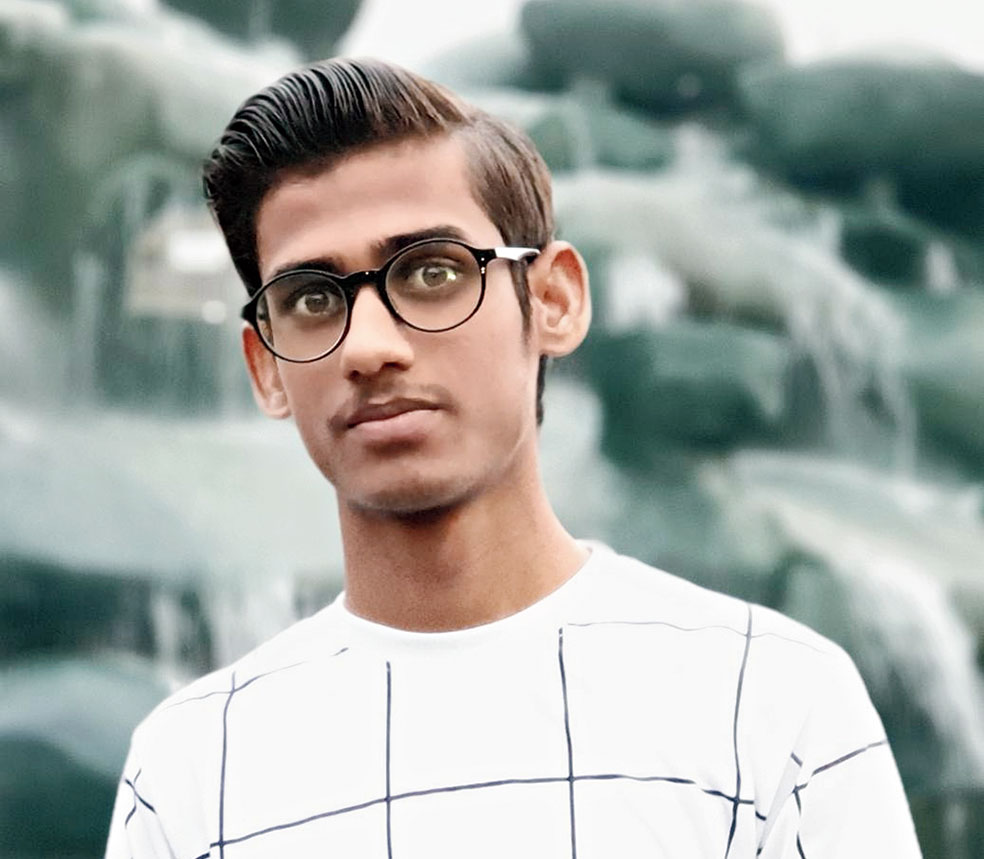 ---
|
Patna
|
Published 03.01.20, 10:04 PM
---
Tractor loads of broken bricks had been brought to Sangat Mohalla and carried to rooftops and firearms collected in the days leading to the December 21 clash with anti-citizenship-act protesters that killed teenaged Amir Hanjla, police say.
A brick hurled from a rooftop in the Mohalla — a known hub of Sangh parivar activists and supporters in Phulwarisharif, a town on Patna's outskirts — started the mayhem, they said.
"Provocative videos had been posted by the Hindu Putra Sangathan, an RSS affiliate, and members of the Hindu Samaj Party, a Right-wing group," an officer posted at Phulwarisharif police station told The Telegraph on the condition of anonymity.
"They had hatched a conspiracy to forcibly stop the Citizenship (Amendment) Act protesters at a spot in the neighbourhood close to a temple and a school run by the RSS, and trigger a full-scale Hindu-Muslim riot" to further polarise people and garner support for the citizenship amendment, he said.
It was into this vortex that an unsuspecting 18-year-old Amir had run, national flag in hand, seeking to escape the violence and losing his life instead. The police say he was captured and stabbed several times and his head was smashed before his body was thrown into a waterlogged compound.
"All the circumstantial evidence points to a larger conspiracy in which Amir lost his life. About a dozen people are accused of killing him, of whom six have been arrested," the officer said.
While Amir's family accuses Sangh and Bajrang Dal supporters from the Mohalla of killing him, RSS prant prachar pramukh Rajesh Kumar Pandey said: "Anybody can claim anything; the RSS and the Bajrang Dal never engage in violence."
Phulwarisharif station house officer Rafiqur Rahman said: "Those arrested have confessed a common intention to stop the protest march. They have shown no remorse about killing Amir and have claimed their motive was to save Hindus and strengthen their organisation. They seem to have been brainwashed."
He added: "Many of the accused had done live telecast of the violence with commentary on Facebook. They circulated the videos on WhatsApp too."
Eleven FIRs have been registered and 60 people arrested in connection with the violence. Of them, about 50 are Mohalla residents and about 10 were marchers against the amended citizenship act. Two of the FIRs relate to IT Act provisions against videos that incite violence.
The police said that among the six arrested on murder charges, Vikas Singh is the Patna district youth president of the Hindu Samaj Party. Santosh Kumar aka Dhelwa too is associated with the outfit.
Nagesh Samrat is district president of the Hindu Putra Sangathan. The other arrested suspects are Raees Paswan, Deepak Mahto and Chaintu Kumar aka Sikandar Kumar.
Raees, Chaintu and Santosh are accused in various murder cases, the police said. Deepak has been arrested on various charges, including liquor smuggling, and has been in and out of jail. Vikas and Nagesh too have been to jail in various cases, officers added.
Among those still evading arrest, Sanjeet Kumar aka Jonty was previously district president of the Bajrang Dal youth wing and was jailed in connection with a communal riot, while Vinod Mahto is district president of the Hindu Samaj Party, the police said.
Rafiqur, the SHO, said: "We also want to find out why Nagesh, who lives at Rupaspur, around 6km from the Mohalla, was present there on that day."
Police presence was thin in Phulwarisharif on December 21 "since deployment had to be spread widely because of the bandh that day", officers said.
The policemen on duty were having a tough time containing the protest, which had permission to march only till Tamtam Padao since the administration knew that parivar organisations planned a showdown at Sangat Mohalla.
"But the march had over 10,000 people and they kept pushing us back. We finally contained them at a bamboo barricade built near Sangat Mohalla and heaved a sigh of relief," an officer said.
"However, an ambulance came and the crowd gave it passage. We had to lift the barricade to let it pass and in that moment, a few hundred protesters also burst through it."
The officer added: "Suddenly, a woman threw a brick at the protesters from a rooftop in Sangat Mohalla and the situation went out of control. Our water cannons and tear gas proved useless, and heavy stoning began. Some people fired and a temple was attacked. We have arrested the woman and so far seized a 9mm pistol and a country-made pistol from the Mohalla."
A visit to the Mohalla on Friday afternoon revealed heavy police presence in the locality, which wore a deserted look.
Many families had locked their homes and fled to avoid arrest. Those who had remained complained about midnight arrests and insisted that the situation went out of control only after the temple was attacked.
"The police and the administration are being vindictive towards us, as though to compensate for their lack of presence on December 21. Nobody among us knew there would be such violence. The damage to the temple started it," said Rishu Kumar, a youth.
Somme residents, however, acknowledged that bricks had been stockpiled on rooftops.
A check of the damaged temple revealed that the unpainted idol of Hanuman kept in it was not being worshipped.
Around 15 yards from the temple, Muhammad Tamanna sat desolate in his shop of granite slabs and floor and wall tiles. His entire stock, kept outside the shop, had been damaged in the violence, causing him losses of Rs 1 lakh.
"Hindus and Muslims have lived together here for centuries, but the love is decreasing. Our rulers are not doing anything to address the situation. Instead, they make statements that divide society," Tamanna said.
The RSS-affiliated Saraswati Vidya Mandir school in the Mohalla refuses to even recognise the name Phulwarisharif. The school calls the town "Phulwari Shri" on its signage.