Plot against Dalits: Mayawati
BJP is conspiring against underprivileged people from the dalit class who have grown by doing their own businesses says Mayawati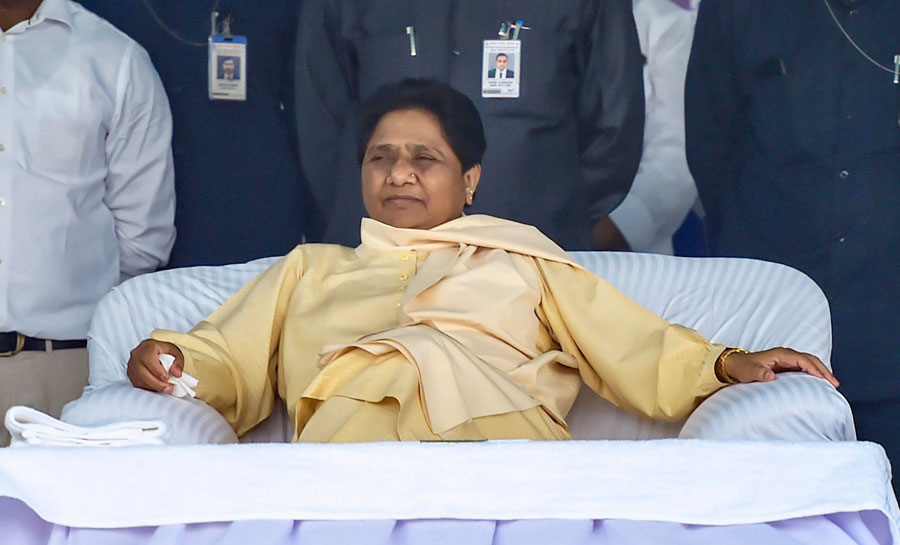 ---
Lucknow
|
Published 19.07.19, 09:48 PM
|
---
Mayawati on Friday accused the Narendra Modi government of plotting against Dalits "who have grown by doing their own businesses", a day after the income-tax department revealed its crackdown on her brother Anand Kumar in an assets case.
The Bahujan Samaj Party president did not name Kumar, who is a BSP vice-president, or try to answer the longstanding charge that she and her relatives had amassed huge wealth over the past two decades. She refused to take questions after issuing her statement to the media.
On Wednesday, the income-tax department had attached a seven-acre plot in Noida, apparently worth Rs 400 crore, and alleged that it was a benami property that Kumar and his wife Vichiter Lata had acquired through hawala operators.
"The BJP works for the capitalists. It is conspiring against underprivileged people from my class (Dalits) who have grown by doing their own businesses. It is misusing government machinery to harass those people," Mayawati said.
She then levelled tit-for-tat charges: "The BJP received Rs 2,000 crore during the last general election from unknown sources. It must explain this as well as the growth in the wealth of its own leaders over the past few years."
Kumar had joined the Noida Development Authority in 1996 as a junior assistant with a take-home pay of Rs 700 a month, government sources said. He resigned in 2003. But between 1997 and 2012, Kumar and his wife became major shareholders in 12 companies in the real estate and hospitality industries, the sources said.
Mayawati was chief minister from June 1995 to October 1995, March 1997 to September 1997, May 2002 to August 2003 and May 2007 to March 2012.
She faces two corruption cases relating to the sale of 20 government-run sugar mills and the construction of memorials to Dalit leaders, including herself, during her last stint as chief minister.
Mayawati had earlier been charged with embezzlement in the Rs 175-crore Taj Corridor case of 2003 but the court had closed the case. She had at the time argued that whatever money she had received was donation from supporters.
Her stock response to the charges of disproportionate assets against her and her family has been to label the critics "anti-Dalit" and accuse them of "being jealous of a poor person who becomes rich".
On Friday, she accused the "casteist" BJP and Sangh parivar of "trying to neutralise the constitutional system of reservation in government jobs and education and promoting privatisation to end the reservation policy".