Plea to CBI for Rafale FIR on Modi
They also demanded that an FIR be lodged against then defence minister Manohar Parrikar, Reliance Defence Ltd boss Anil Ambani and Rafale-maker Dassault Aviation's CEO Eric Trappier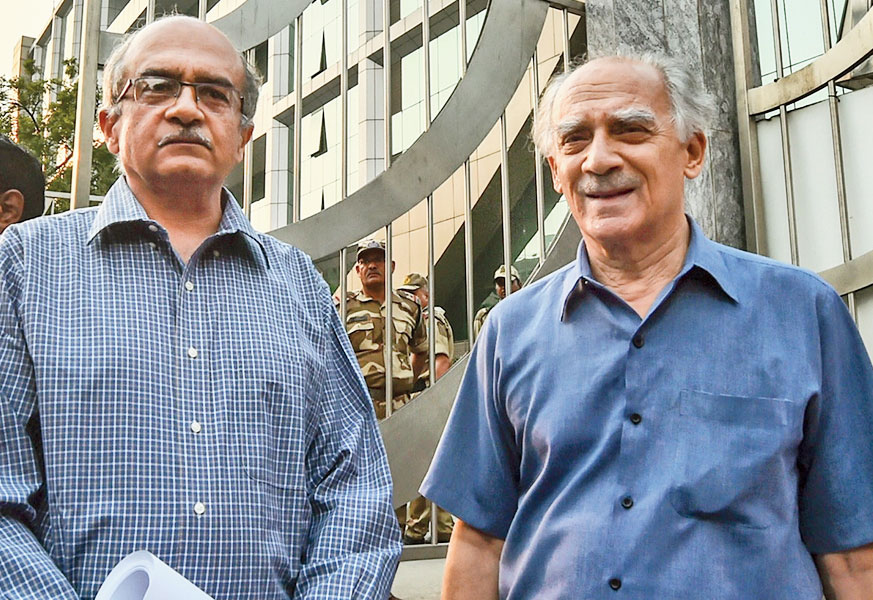 ---
---
Former BJP leader Arun Shourie and lawyer Prashant Bhushan met CBI director Alok Verma on Thursday to seek the registration of an FIR under the Prevention of Corruption Act against Prime Minister Narendra Modi for allegedly abusing his office in facilitating the Rafale deal.
They also demanded that an FIR be lodged against then defence minister Manohar Parrikar, Reliance Defence Ltd boss Anil Ambani and Rafale-maker Dassault Aviation's CEO Eric Trappier.
Shourie and Bhushan submitted a formal complaint to Verma, citing the clause on abuse of authority in the Prevention of Corruption Act, 1988, as reason enough to proceed against Modi and Parrikar.
"It is clear that Modi abused his position as a public servant in order to obtain a valuable thing in the nature of offset contracts for Ambani. Modi abused his office that resulted in increase in price of procurement and provided a pecuniary advantage to both Dassault as well as Ambani's RAL. This would amount to criminal misconduct, under Section 13 (1)(d) of the PC Act…" the complaint said.
It alleged that Modi had got the contract negotiation committee to increase the deal price of the 36 Rafale aircraft from Rs 715 crore per jet, as disclosed by Parrikar, to Rs 1,660 per plane.
"This resulted in pecuniary advantage to both Dassault Aviation and also Ambani's RAL. There was clearly no public interest involved in allowing such a huge increase in the price of the aircraft which were to be paid out of the public exchequer. In this offence other members of the contract negotiation committee as well as (then) defence minister would be complicit and would be abettors," the complaint said.
Accusing Modi of hatching a conspiracy with Ambani to secure an undue advantage for the industrialist, the complaint said the Prime Minister had abused his office "by doing his public duty dishonestly and improperly" and discarding the previous deal for 126 aircraft.
"To obtain an undue advantage to be received by Ambani, Modi unilaterally and without authority proposed a new deal for just 36 aircraft with no Make in India, with no transfer of technology…. Dassualt was singularly induced by Modi to accept Ambani as an offset partner in exchange for giving Dassault the 36-aircraft deal," the complaint said.
The complaint, signed by Bhushan, Shourie and former BJP leader Yashwant Sinha, also highlighted that under the amended Prevention of Corruption Act, an investigating agency needs to take prior permission from appropriate authorities while pursuing cases or an inquiry against public servants.
"We are aware that this will place you in the peculiar position of having to ask the accused himself for permission to investigate a case against him. We realised that your hands are tied in this matter but we request you to take the first step of seeking permission of the government under Section 17 (A) of the Prevention of Corruption Act for investigating the offence," the complaint said, addressing the CBI.
According to the Act, the concerned authority shall convey its decision under Section 17 (A) within three months, which may, for reasons to be recorded in writing by such authority, be extended by a further period of one month.
"Of course, prior permission is not necessary for registration of FIR and investigating the offences committed by Ambani and Trappier," the complaint said.
The CBI is under the administrative control of the department of personnel and training, which reports to the Prime Minister's Office.
Former CBI joint director Shantonu Sen said the agency office was like any police station and anyone could go there with complaints against public servants.
"If the CBI director thinks there is a prima facie case, he can write to the PMO seeking permission. But it is unlikely that he will do so. Even if he summons the courage and does so, it is unlikely that he will get the necessary permission for registration of an FIR against the Prime Minister," Sen told The Telegraph.
Senior CBI officers refused to comment on the agency's next course of action in light of the corruption complaint against the Prime Minister. "The Rafale issue is a hot potato. No comments," a CBI officer said.
Talking to reporters Bhushan claimed that the CBI director had assured him that the agency would examine the complaint carefully and see what appropriate action could be taken.