Plane with 233 on board hits ice mound at Srinagar
Incident reignites allegations that the J&K admin has been sluggish in clearing snow amid the Valley's harshest winter in over two decades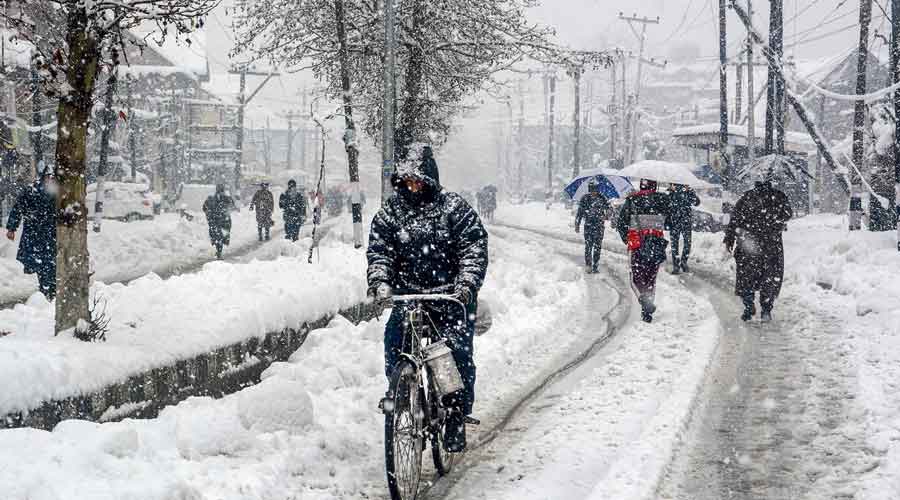 ---
|
Srinagar
|
Published 14.01.21, 12:46 AM
---
A Delhi-bound IndiGo flight with 233 passengers on board apparently skidded off the frozen runway at Srinagar and hit a mound of ice on Wednesday, reigniting allegations that the Jammu and Kashmir administration has been sluggish in clearing snow from roads and vital installations amid the Valley's harshest winter in over two decades.
Although all the passengers and crew members are safe and the flight was held back after the 12.30pm accident while taxiing, panic gripped the passengers.
The mercury had plunged to -7.8 degrees Celsius in Srinagar on Tuesday night, freezing its water bodies and turning roads into treacherous, slipper terrain.
IndiGo said the Srinagar-Delhi flight was held back at the airport after "it came in close contact with the snow accumulated adjacent to the taxiway".
"Aircraft is held at Srinagar for further inspections," the airline said in a statement. But pictures of the aircraft showed that its engine had hit a mound of accumulated snow. Airport staff were seen clearing the snow from underneath the aircraft.
A man from Srinagar who was apparently on board the aircraft wrote on Facebook that passengers were "much terrified" after it hit the snow. He said all the passengers were safe.
Srinagar airport was recently in the news after heavy snowfall lashed the Valley on January 3 and it took officials four days to clear the runways and make Kashmir's only civilian airport operational for flights. Fresh snowfall again on Saturday disrupted flights.
Many Netizens have complained that the airport authorities had not been fully clearing the snow, allegedly imperilling the lives of travellers. The airport authorities did not respond to calls from this newspaper.
Complaints have been galore against Lt Governor Manoj Sinha's administration after Kashmir witnessed heavy snowfall on January 3. The administration appeared to be slow in clearing snow from main roads, hospitals and other vital installations, not to talk of countless lanes and bylanes.
At many places, patients struggled to reach hospitals and ambulances found it difficult to make their way to homes, compelling families to pick up shovels themselves to clear the snow.
A delivery boy was seen riding a horse through snow-choked inner lanes of Srinagar's old city this week to carry parcels.
The problems have been accentuated this week with the Valley in the grip of intense cold. The reading of -7.8 degrees Celsius is the lowest in 26 years. Officials at the Srinagar meteorological department said the temperature on Tuesday night had matched that in January 2012, which was itself the lowest since 1995.
The Dal Lake and other water bodies have frozen and at some places children could be seen playing on the thick sheet of ice.