Piyush Goyal sees mischief
Not once did Goyal admit that he had wrongly mentioned Einstein when it was Isaac Newton who had discovered gravity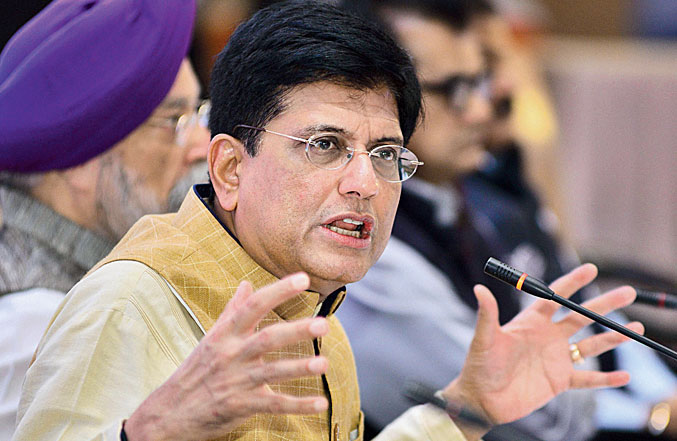 Piyush Goyal in Delhi on Thursday.
(PTI)
---
New Delhi
|
Published 12.09.19, 08:49 PM
|
---
Union minister Piyush Goyal, who was the butt of jokes on social media on Thursday after he said Albert Einstein had discovered gravity, issued two clarifications but did not once admit that he had made a mistake.
In the first clarification, Goyal said: "While maths helped Einstein discover gravity… it's because he had an open mind and the ability to think big that he could use maths to discover gravity…."
This caused more laughs, with Twitter users asking if no one had pointed out to the minister that it was Isaac Newton who had discovered gravity. Soon enough, there was a second clarification.
"There is a very mischievous and baseless narrative sought to be presented about my closing comments at the board of trade meeting this morning. I was making a comment about encouraging Indian industry/Indian business to aspire for a $1 trillion dollar export target within the next five years and to encourage and enthuse the exporter community," Goyal told ANI.
"The comment that I made had a certain context. Unfortunately, some friends have sought to remove the context, pick up one line and create a very mischievous narrative. I would like to share with people the exact context with which I made the comment.
"I said 'Let's work together collectively with new ideas, with a new spirit of engagement and with new ideas believing nothing is impossible and together we can achieve the $1 trillion target'. I said 'don't get into the calculation, don't get into maths, maths has not helped Einstein discover gravity'. This line has been sought to be misinterpreted."
He continued: "After this, I said 'if he had gone only by structured formula and what was past knowledge, I don't think there would have been any innovation...' This operative line has not been correctly projected. It is an effort to make the people confident, give them the spirit of positivity …."
Not once in the long explanation did Goyal admit that he had wrongly mentioned Einstein instead of Newton.
But more than the slip-up and the refusal to admit he had made one, what stood out was Goyal's call to ignore figures and calculations. As one Twitter user wrote: "More than the faux pas, the 'We don't need this MATHS and NUMBERS and DATA and STRUCTURE, we just need BELIEF and OPTIMISM'-ish answer was galling. That's how cults talk."