Phone triple talaq, day before bill passage
Since the talaq was allegedly pronounced before the bill criminalising the practice became law, the accused cannot be prosecuted under it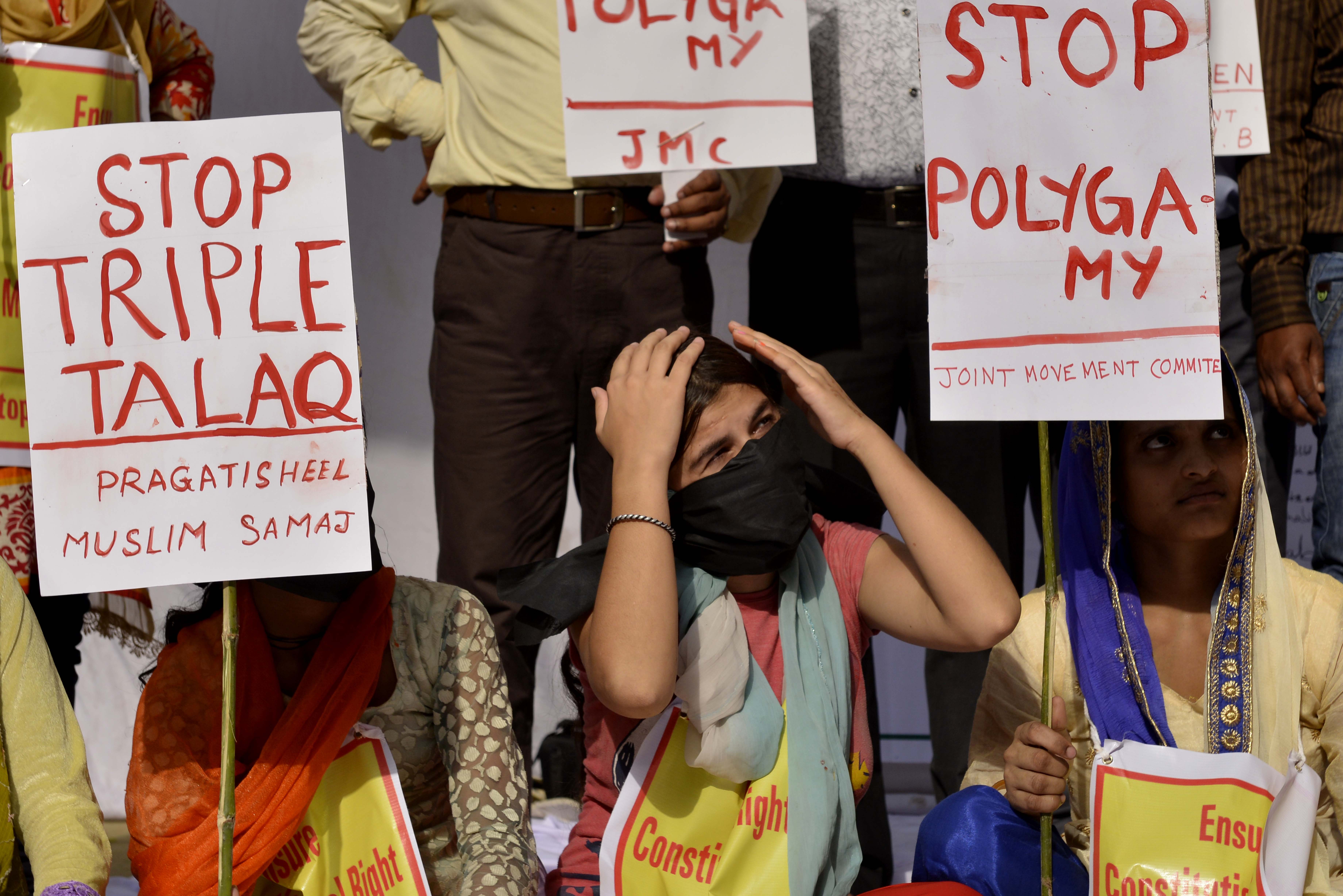 Women protest in Delhi against triple talaq in May 2017.
Telegraph file picture
---
Lucknow
|
Published 03.08.19, 08:42 PM
|
---
A man allegedly pronounced the triple talaq over the phone from Saudi Arabia on his Uttar Pradesh-based wife on Monday, one day before Parliament passed a bill that makes the practice a criminal offence punishable by up to three years in jail.
Fatima Khatun, 25, told reporters on Saturday that her father-in-law had handed her cheques for Rs 1.5 lakh as "compensation" at a village council in Shobha-Chapra village, Kushinagar district, on Friday before throwing her out of his home.
Since the instant talaq was allegedly pronounced before the bill criminalising the practice became law with the President's assent on Thursday, the accused, Mohammad Tarabuddin, cannot be prosecuted under it.
However, Fatima's father Ahmad Ali on Saturday lodged a police complaint alleging regular dowry torture on his daughter and seeking action against the kangaroo court. He also cited the Supreme Court judgment against the validity of the instant talaq and asked the police to ensure his daughter can return to her in-laws' home and be safe there.
Navin Kumar Nayak, circle officer for the area, said: "We have received a complaint of triple talaq and the illegal 'panchayat' meeting and are probing it."
"He said 'Talaq, talaq, talaq' to me over the phone on Monday and hung up," Fatima told local reporters on Saturday at her father's home at Jakhiniya village in Kushinagar.
"My father-in-law told me the same day that I should accept compensation from him and leave the house peacefully, else he would throw me out. On Friday, I was called to an informal village panchayat and the elders decided I should obey my father-in-law and leave the village with dignity."
She added: "My father-in-law asked his friends to take pictures and videos of the panchayat meeting and the handover of the two cheques for Rs 75,000 each, one of them post-dated. He said he was returning the money my father had spent on our wedding."
Tarabuddin's father Abdul Rahim confirmed the incident and said: "It was mutually agreed between my son and his wife that they would separate. I have her signature on a stamp paper saying she is no longer my daughter-in-law and will leave our house."
Fatima said Tarabuddin had gone off to Saudi Arabia to work as an electrician a few months after their marriage in 2014 and told her over the phone a few days later he would desert her and marry a woman from Jharkhand.
She alleged that whenever Tarabuddin returned home over these five years, he would show her a photo saying it was a picture of the woman from Jharkhand.
"His father, brothers and sisters would threaten to burn my face with acid if I opposed my husband's decision to leave me," she said.
She added that she wasn't sure whether Tarabuddin had indeed married the "woman from Jharkhand".