Risk evident in non-hospitalised patients too: study
People recovered from Covid have higher risk of heart attacks: Study
Researchers say the 12-month burden of cardiovascular diseases their study has documented could translate into large numbers of affected patients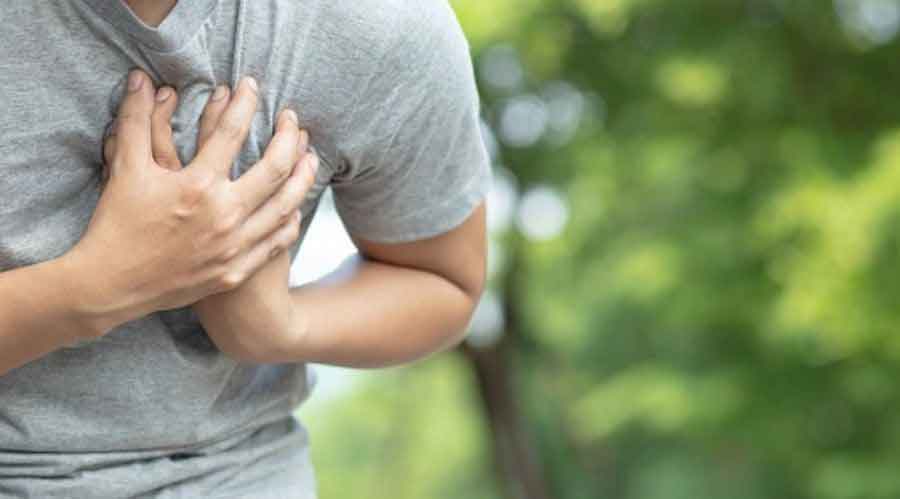 Representational image.
Shutterstock
---
New Delhi
|
Published 09.02.22, 01:41 AM
|
---
People who have recovered from Covid-19, including those who did not need hospitalisation, face increased risks of heart attacks, strokes, heart muscle inflammation, or heart failure, the most comprehensive assessment yet on post-Covid-19 health has suggested.
The study released on Monday has found that the risks of cardiovascular disorders were evident even in non-hospitalised patients but increased in a graded manner from patients at home to those in hospital to those who required intensive care support.
"The risk and the one-year burden of cardiovascular diseases among those who survive the acute phase of Covid-19 are substantial," Ziyad Al-Aly, director of the clinical epidemiology centre at the Washington University, St Louis, in the US and his colleagues said in their study.
Their findings challenge the assumption that Covid-19 patients with mild symptoms do not have any serious cardiovascular sequelae and add fresh evidence to anecdotal accounts of even asymptomatic patients developing cardiovascular complications long after the infection.
Given the large and growing counts of people with lab-confirmed prior Covid-19, the researchers said, the risks and the 12-month burden of cardiovascular diseases their study has documented could translate into large numbers of affected people.
Over 355 million people worldwide and over 40.8 million people in India have recovered from Covid-19.
"Governments and health systems around the world should be prepared to deal with the likely significant contribution of Covid-19 to a rise in the burden of cardiovascular diseases," Al-Aly and his colleagues said, describing their findings in the journal Nature Medicine on Monday.
India's Directorate General of Health Services, a unit of the Union health ministry, had in September 2021 cautioned that doctors managing post-Covid-19 complications "should be aware of symptoms and cardiovascular implications of Covid-19 sequelae".
K. Srinath Reddy, a cardiologist and director of the Public Health Foundation of India, New Delhi, who was not associated with the US study said the findings add to emerging evidence for cardiovascular manifestations weeks to months after the infection.
"We need data and large population-based studies to determine the actual incidence in India," Reddy said. Most studies in India have so far focussed on hospitalised Covid-19 patients.
The US researchers tracked for more than a year the health of 153,760 people with Covid-19 who survived the first 30 days of the infection and compared incidence of cardiovascular disease with over 5.6 million people who had no evidence of Covid-19.
Patients who survived the first 30 days of Covid-19 had 1.5-fold risk of stroke compared to the people without Covid-19. Patients also had a 1.6-fold risk of irregular heart rhythms, 1.6-fold risk of heart attacks, 2-fold risk of inflammatory heart disease, and 1.7-fold risk of heart failure.
The study also documented a 2-fold risk of deep vein thrombosis -- a clotting disorder -- and 1.7-fold risk of heart failure, in prior Covid-19 patients compared to people without Covid-19. It also noted a 1.5-fold risk of a major adverse cardiovascular event -- either a heart attack, stroke, or all-cause death.
The risks were evident regardless of age, sex, and other cardiovascular risk factors, including obesity, high blood pressure, diabetes, chronic kidney disease, and high cholesterol levels, implying that the risks manifest even in people at low risk of cardiovascular disease.
Sections of health experts said the lack of a similar large systematic analysis of the range of post-Covid-19 disorders in India is conspicuous because the health ministry had in July 2020 launched an exercise to probe long-term health problems among Covid-19 survivors.
"Given our large numbers, India had the opportunity to contribute to the understanding of post-Covid-19 disorders and risk factors. But research output has been scant," said Oommen John, a physician and research fellow at The George Institute for Global Health, New Delhi.
While many studies have shown that Covid-19 patients are at risk of cardiovascular disorders, the US study is the first to show that the risks extend well beyond the acute phase of Covid-19 and are attributable to the infection itself.
The risks and the 12-month burden of cardiovascular diseases among Covid-19 survivors increased according to the severity of the acute infection -- the lowest in non-hospitalised patients, the highest in those who needed intensive care support.
The biological mechanisms linking Covid-19 to the risk of cardiovascular disorders remain unclear, but scientists have speculated that possible mechanisms might include lingering damage to heart muscle cells due to viral invasion, inflammatory responses, or hyperactivated immune responses.
The chronic nature of cardiovascular disorders may have long-lasting consequences for patients and healthcare systems as well as on economic productivity and life-expectancy, the researchers said in their paper, flagging the need for strategies to address such challenges.