Pegasus may have been an attempt to collect personal information of judges, says NGO
'This would per se be an attack on the independence of the judiciary that requires a response from the highest court in order to get to the truth of the matter'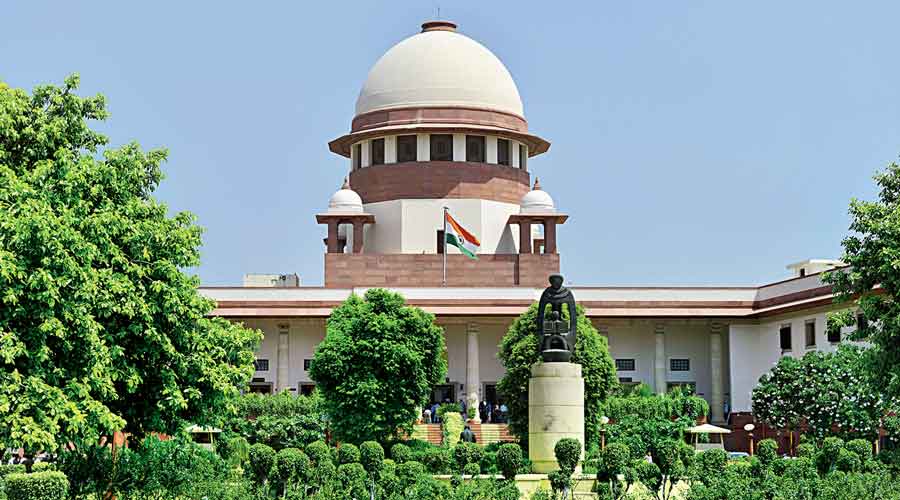 The Supreme Court.
File picture
---
New Delhi
|
Published 01.08.21, 02:18 AM
|
---
A non-government organisation, the Campaign for Judicial Accountability and Reforms (CJAR), on Saturday added its voice to the chorus for a Supreme Court-monitored probe into the Pegasus controversy, expressing fears that the alleged surveillance operation may have involved an attempt at blackmailing judges.
"Phone hacking via Pegasus could have been an attempt to collect personal information of judges without their knowledge, or like with the Bhima Koregaon activists and lawyers, an attempt at implanting compromising information on the phones of the judges, either of which might have been attempted with a view to blackmail such judges," the CJAR said.
The NGO said "this would per se be an attack on the independence of the judiciary that requires a response from the highest court in order to get to the truth of the matter and address the public's concerns about such illegal attempts to compromise its independence".
"With the Union government continuing to obfuscate the issue in the public domain, not allowing a debate in Parliament and showing no interest in investigating the criminal activities outlined in the revelations concerning the NSO Group (the Israeli firm that owns the Pegasus spyware), we repose our faith in the judiciary to help bring out the facts and fix responsibility for the illegal action of phone hacking," the CJAR added.
The NGO, which takes up issues related to legal and constitutional infirmities and whose patrons include former judges and senior advocates, appealed to the Supreme Court to take the following steps:
⚫ Set up a special investigation team of independent and credible investigators, headed by a retired Supreme Court judge, to inquire into the allegations of phone hacking.
⚫ Inquire into who authorised the use of Pegasus on phone numbers of a Supreme Court judge and those of a woman employee (and her family) who had complained of sexual harassment by then Chief Justice of India Ranjan Gogoi.
⚫ Inquire into whether there was improper collusion between Justice Ranjan Gogoi and the executive in respect of the sexual harassment allegations levelled against him.
⚫ Make public the report of the Justice A.K. Patnaik committee, which looked into the allegations of "conspiracy" in relation to the sexual harassment case against Justice Gogoi.
The NGO expressed deep concern about the possibility that Pegasus was used to hack into the phones of Indian citizens.
"Such large-scale intrusive surveillance of personal phones of political leaders, journalists and activists is a flagrant violation of the right to privacy as upheld by the Supreme Court and an affront to the civil liberties of citizens. That the Pegasus software was inserted in some of the target phones has been established by cyber forensic analysis of some of these phones…. That this was done at the behest of the Indian government is evident from the fact that NSO sells this software only to 'vetted governments'," it said.
Referring to allegations that the phone of a sitting judge of the Supreme Court and the family members of the woman staffer of the apex court were potential hacking targets, the NGO said: "These allegations, made by respected media organisations on the basis of worldwide collaborative investigative efforts, need to be taken with utmost seriousness, not only for the patent illegality of such actions but the potential threat to the independence of the judiciary that they represent."
The CJAR added: "While the name of a sitting judge of the Supreme Court whose phones were the target of hacks has not been made public yet, the very fact that phones belonging to a judge were targets of hacking, reportedly by the central government, is itself sufficiently serious to merit investigation and apportion responsibility."