Patna: Muslim employers pay homage to Hindu colleague
The 75-year-old who lived alone and had no relatives to cremate him received a royal funeral procession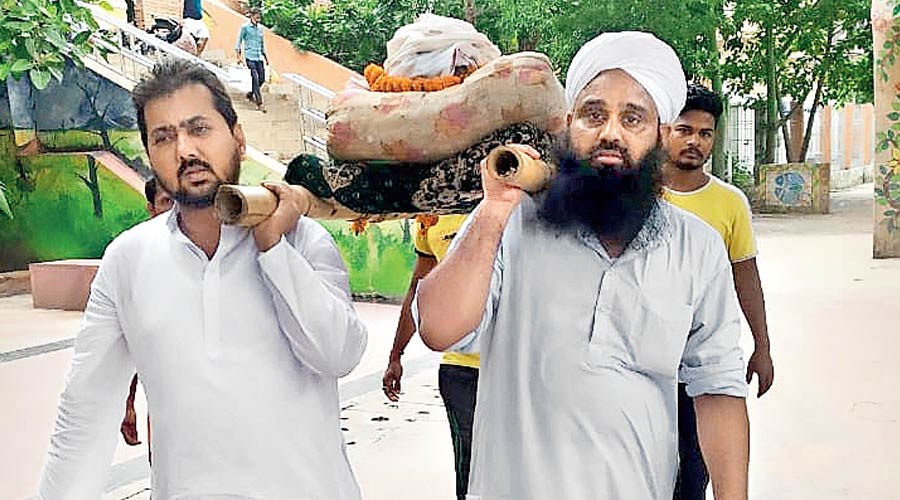 Rizwan Alam and his friends carry the bier with the body of Ram Deo Shah to the cremation ground in Patna
Telegraph picture
---
Patna
|
Published 04.07.22, 03:28 AM
|
---
The small group, carrying the bier on their shoulders, walked along chanting "Ram nam satya hai".
The mourners chanting "Ram nam" with all the solemnity the occasion deserved were Muslims.
Curiosity drew many to join the procession at Sabzibagh, a densely populated locality in Patna, on Friday evening. The procession kept swelling as it wound through Patna's streets for 3km from Sabzibagh to the Gulbi Ghat cremation ground on the Ganga's banks.
Ram Deo Shah, the 75-year-old who lived alone and had no relatives to cremate him, had received a royal's funeral procession. Thanks to his Muslim employers and colleagues whom he called "family".
To Muhammad Rizwan Alam, garment trader and Shah's employer, it's no big deal that he had taken care of the funeral of a beloved Hindu employee, observing the Hindu rituals under the guidance of a Hindu priest.
"It's the Ganga-Jamuni tradition," he said, referring to the syncretic Hindu-Muslim culture of the north Indian plains.
"Our country is an example to the world as one where all religions exist together, happily and peacefully. We participate in each other's important occasions from birth and festivals to death. We have a basic understanding of each other's rituals," Rizwan said.
What of the prevailing situation in the country — the lynchings in the name of religion and the controversies over open-air namaz and the hijab?
Rizwan dodged the question. "It's nation first for us. Anything else, including religion, comes afterwards. We are proud Indians," he said.
He said he had been to other countries and realised the value of being an Indian, "because there they don't ask about creed or caste, but about nationality".
Rizwan, his brother Arman Alam and their friends had learnt of Shah's death shortly after the Friday prayers, and immediately headed to the old man's one-room dwelling in Sabzibagh.
On Sunday, Rizwan recalled the day he had first met Shah 22 years ago when the elderly man dropped in at his shop in search of work and stuck with him, working as his accountant.
"He was a gentleman; we called him 'Chacha' (uncle). He was like family, but he never spoke a word about his family or native place," Rizwan told The Telegraph.
As Shah grew old and weak over the years, some of his colleagues would ask him for the addresses of relatives so they could be informed if "anything happened". But Shah would merely say they were his family and he expected them to take care of his last rites.
As Covid struck, Rizwan asked Shah to stay at home instead of travelling to the shop in Buddha Marg, 4km from Sabzibagh. Shah was paid his monthly salary and a part-time job at a medical shop in Sabzibagh was arranged to keep him occupied.
"He came to meet us a few days ago and said he had a kidney infection. He asked us for a bathtub, weighing machine, juicer and water heater so he could undertake some naturopathy and ayurvedic treatment," Rizwan said.
"We ordered the bathtub and purchased everything else, but he passed away on Friday."
At the dead man's home on Friday, Rizwan and the others spent a couple of hours making the arthi (bier) with bamboo poles and preparing the body with the help of a Hindu priest. Then they set off for the cremation ground.
Prodded further on whether he hadn't set an example in communal harmony at a time of strife, Rizwan opened up a bit.
"Outside India we are recognised simply as Indians. Some stupid people in our country and religions are trying to vitiate the atmosphere on the lines of Hindus and Muslims," he said.
"We are neither bothered about them nor affected by what they speak or do. We delete such people from our phones and minds. Some day they too will realise the importance of being an Indian."
Muhammad Irshad, a business associate of Rizwan, echoed the sentiment. He said a handful of "political people" among Hindus and Muslims were trying to destroy peace in the country.
"The majority of our countrymen don't want this to happen. They want to stay together. We are staying together and shall do so in future too," Irshad said.
Rizwan and his family have engaged priests to ensure that the 13-day shraddh rituals for Shah are observed correctly. They also plan to hold the shraddh bhoj on the 12th day.