Patanjali Covid-19 case study 'mystery'
Union ayush ministry serves notice to company for conducting trials without following protocol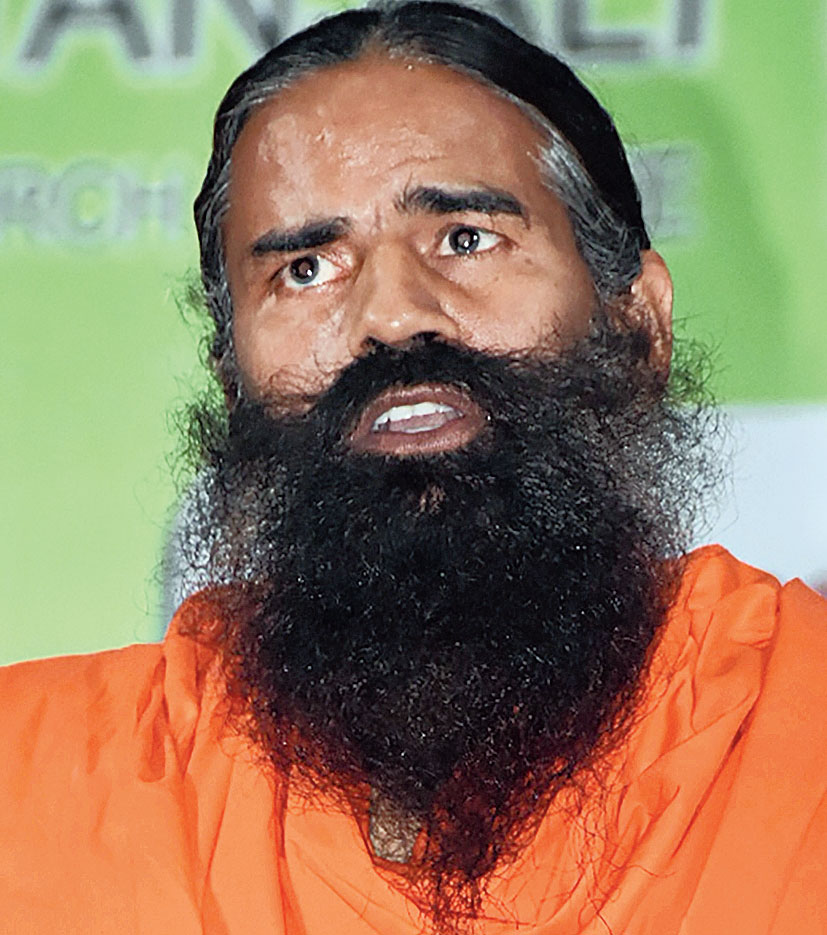 ---
|
Lucknow
|
Published 26.06.20, 03:44 AM
---
The Uttar Pradesh government is unaware when and how Ramdev's Patanjali Research Institute conducted "clinical case studies" and "controlled clinical trials" before claiming it had developed an ayurvedic cure for Covid-19.
After the Centre on Tuesday asked Patanjali Ayurved Limited to stop advertising Covid-19 remedies, the company had publicly claimed it had conducted case studies in "several cities including Delhi, Ahmedabad and Meerut". Meerut is in Uttar Pradesh.
"It's a matter of great concern that someone conducts such a sensitive study and clinical trial in the state and we are not aware of it," state ayush (ayurveda, yoga, unani, siddha and homoeopathy) minister Dharam Singh Saini told reporters in Lucknow on Thursday.
"Ramdev's firm should have taken permission from the Centre and the governments of Uttarakhand (where the company is based) and Uttar Pradesh before conducting such studies or trials."
Saini, however, didn't respond when reminded that the purported Covid-19 medicine — "Coronil" and "Swasari Vati" pills packed in a small carton and priced Rs 545 per 30-day dose — have already reached shops in Uttar Pradesh.
Shortly after the Union ayush ministry served the notice, Patanjali managing director Balkrishna had told a media conference in Haridwar on Tuesday that the company had followed every protocol while manufacturing the medicines.
"Acharyaji (Balkrishna) said that clinical case studies were done in several cities including Delhi, Ahmedabad and Meerut," a media release issued in Hindi at the time said.
"Hundreds of scientists of Patanjali Research Institute have worked... first on clinical case studies and later on controlled clinical trials, while following all the protocols of drug discovery to find a complete ayurvedic medicine for corona: Coronil and Swasari Vati."
Raj Kumar, chief medical officer of Meerut, said on Thursday: "We have no information about any such study, which can anyway not be conducted in a district without the CMO's knowledge."
M.L.B. Bhatt, vice-chancellor of the King George's Medical University, Lucknow, whom the state government has tasked with monitoring all Covid-19 research in Uttar Pradesh, said: "No such study or trial was done in the state."
A state health department official told The Telegraph: "We have found that some members of Patanjali had unofficially visited a quarantine centre in Meerut in April and given some ayurvedic medicines to the inmates. These people were kept there only because they had arrived from some other states, but none of them ever showed any symptoms of Covid-19."
On Wednesday, the Union ayush ministry had written back to Patanjali acknowledging receipt of the company's 11-page reply to Tuesday's notice, but did not make the reply public.
"Ministry will have the study documents verified for validation of the data of the research outcome," the acknowledgement letter said.
Balkrishna posted this letter on Twitter with a two-line comment in Hindi and English: "The end of the controversy of @moayush. The resolution of AYUSH controversy, finally!"
On Tuesday, the Uttarakhand government too had served a notice on Patanjali, asking how it could claim to have developed a Covid-19 cure when it lacked a licence to manufacture or sell such a medicine.
"We have served them with a notice under the Drugs and Cosmetic Act, 1940, on the charge of manufacturing, selling and distributing a medicine without a licence, and the Drugs and Magic Remedies (Objectionable Advertisements) Act, 1954, for publicising an unverified medicine. They are expected to reply within a week," Y.S. Rawat, the official in charge of Uttarakhand's ayurveda drug licence authority, said.