Pandits, Dogras, Sikhs underline diversity in call to end lockdown
Unconstitutional, cry 'stateless' subjects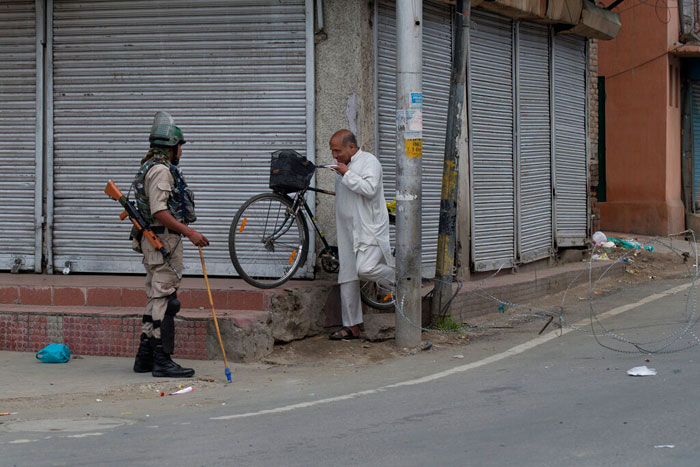 A Kashmiri man carries his cycle and crosses a temporary check point, with a paramilitary soldier standing beside it during curfew in Srinagar, Indian controlled Kashmir, on Wednesday, August 7, 2019.
AP
---
New Delhi
|
Published 10.08.19, 09:02 PM
|
---
Over 60 Kashmiris — all either Kashmiri Pandits, Dogras or Sikhs — on Saturday issued a statement condemning the unilateral and "unconstitutional abrogation of Article 370", the arrest of political leaders and the manner in which citizens of the Valley are being locked up in their own state.
They also said that a decision taken without consulting the people of the state could not be termed "legitimate".
They have called for an immediate end to the lockdown and release of all political representatives in "arbitrary and illegal detention", rejecting every attempt to divide the people on ethnic, cultural and communal lines.
Given the religious overtones the mainstream narrative on the Kashmir issue have taken, the signatories to the statement sought to underscore their distinctive identities as Kashmiri Pandits, Dogras and Sikhs belonging to the state.
Calling themselves the "stateless state subjects of the, now, erstwhile state of Jammu and Kashmir", the signatories have sought to remind the nation that Jammu and Kashmir chose to accede because of the "secular and democratic character of the Indian dominion".
Jammu and Kashmir, they pointed out, was the only princely state that negotiated the terms of its accession during the proceedings of the Constituent Assembly of India in 1949, consequent to which Article 370 came into existence without any opposition.
This being the circumstances under which Article 370 became part of the Indian Constitution, the signatories to the petition said: "We consider this move of abrogation of Article 370, made in stealth and using coercive means, to be unconstitutional and in violation of the historic promises made to the people of J&K by the Union of India."
The signatories include Air Vice-Marshal (retd) Kapil Kak, cardiologist Upendra Kaul, Kashmir Times editor Anuradha Bhasin and former bureaucrat P.N. Ganjoo.