Panchsheel gives way to Panchamrit
New pillars of foreign policy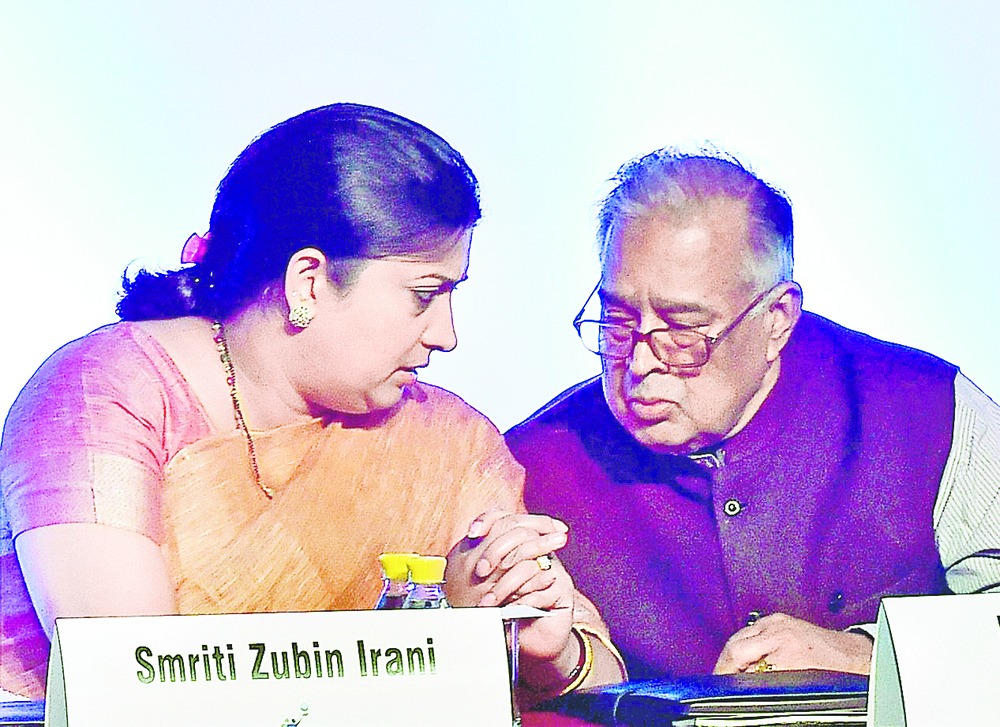 ---
Bangalore
|
Published 04.04.15, 12:00 AM
|
---
Bangalore, April 3: India made way for Bharat and Jawaharlal Nehru's Panchsheel for Narendra Modi's Panchamrit in the resolution on foreign policy adopted by the BJP's national executive this evening.
The four-page resolution, drafted by general secretary Ram Madhav and moved by Union minister M. Venkaiah Naidu, did not once use the word India. It was Bharat from start to end. The document was titled: Our national ambition is Bharat's rise as a strong and respected world power.
In keeping with the BJP's partiality to alliteration, the resolution began with listing the five cornerstones of the foreign policy as " samman" (dignity), "samvad" (dialogue), " samriddhi" (shared prosperity), "suraksha" (regional and global security) and " sanskriti evam sabhayata" (cultural and civilisational links).
"These five themes have become the Panchamrit, the new pillars of our foreign policy," it stated.
India's foreign policy so far has drawn from the doctrine of Panchsheel, enunciated by Jawaharlal Nehru. Its five principles were mutual respect for each other's territorial integrity and sovereignty, mutual non-aggression, mutual non-interference in each other's internal affairs, equality and cooperation for mutual benefit and peaceful co-existence.
Panchsheel was formally codified into a treaty that was signed in 1954 between India and China.
While Panchsheel approached foreign relations largely in a spirit of pacifism, Panchamrit is founded on an assumption that India is second to none in the global arena and can hold its own against others.
"The government has moved with speed and resolve on a scale rarely seen in our external engagement, to restore Bharat's position in international affairs, rebuild partnerships across the board and cross new frontiers in our foreign relations," the resolution stated.
It claimed the NDA government had on its own, "without being influenced by any third country", made the "geo-politics of hyphenation" irrelevant. In other words, it said, the world no longer couples India with Pakistan. "Our engagement has been characterised by independence of thought and action, and self-confidence that comes from our heritage and draws strength from it," the resolution claimed.
The Prime Minister's and the foreign minister Sushma Swaraj's engagement with 94 countries in 10 months proved there was "optimism about Bharat's emergence as an anchor of the global economy and as a leader in advancing peace and prosperity across the world", the resolution said.
India was described as the "pole star" ( dhruv tara) of the "democratic world". "Prime Minister Modi's strong belief in the shared future of our neighbourhood - 'Together we grow' - has resulted in several concrete measures that renewed that promise. The invitation to leaders of Saarc nations and Mauritius for the swearing-in ceremony of the new government was the first move," it said.
Given the feel-good tone of the document, it was no surprise there was no mention of Sri Lanka's tough line against Indian fishermen or the intrusions across the Line of Control with Pakistan, which have been higher in the past year than in the previous five years of UPA rule. Issues that await resolution with Bangladesh, such as the land boundary agreement or Teesta water-sharing, also did not find a place.
On Pakistan, the resolution iterated the official policy of "no compromise with terrorism" and engagement "only on such terms that reflect its (India's) national security and strategic interests".
On Modi's equation with the US, it said: "We have restored momentum in our strategic partnership with the US. Once described by Prime Minister Vajpayee as 'natural allies', the two countries had lapsed into a considerably slowed-down relationship in the last 10 years. Our Prime Minister's initiatives, coupled with President Obama's positive overtures, have led to a new energy in Bharat-US relations."
When BJP spokesperson M.J. Akbar, who briefed the media on the foreign policy resolution, was asked about Obama's swipes on the recent attacks on minorities in India during and after his January 26 visit, he refused to take the question.