P. Chidambaram 'too powerful' to be freed
'The petitioner is so powerful that witnesses do not want to be confronted in front of him and they fear him'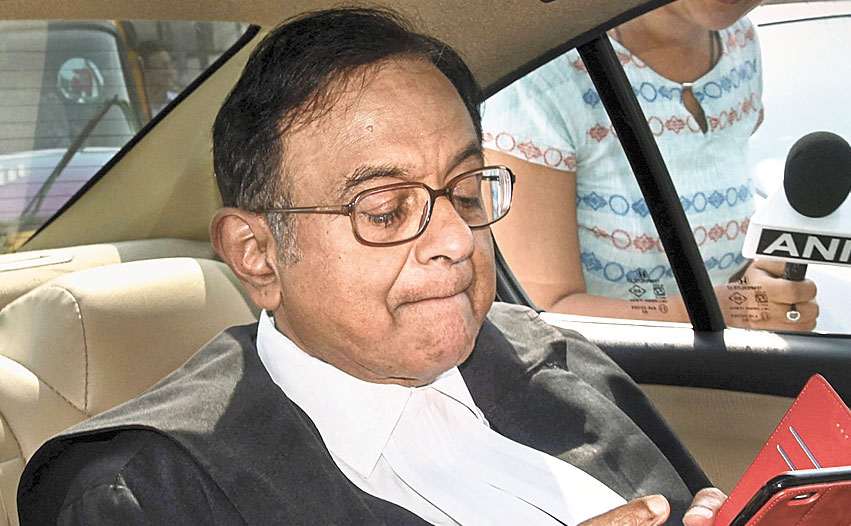 ---
---
The Enforcement Directorate on Thursday urged the Supreme Court to cancel former Union minister P. Chidambaram's bail plea, arguing that he was so "powerful" that his very presence would be intimidating for the witnesses who the agency would no longer be able to confront.
"The petitioner is so powerful that witnesses do not want to be confronted in front of him and they fear him. Investigation in the present case is undergoing and is at a very crucial stage…. We have documents to show that he wields substantial control over very crucial witnesses whether in our custody or not. He is too powerful," solicitor-general Tushar Mehta told a bench of Justices R. Banumathi, A.S. Boppanna and Hrishikesh Roy.
The bench, which is hearing the Congress veteran's appeal against the Delhi High Court order of November 15 dismissing his bail plea in the INX Media case, reserved its verdict. The judgment is expected to be pronounced next week.
Chidambaram's lawyers — Kapil Sibal and Abhishek Manu Singhvi — had on Wednesday extensively argued that their client was not involved in any grave offence and could not be equated with criminals like rapist-murderer duo Billa and Ranga.
On October 22, the apex court had granted Chidambaram bail in the case filed by the CBI but the ED continues to oppose his bail in the parallel case.Mehta argued that economic offences were grave in nature and affected the entire nation, and so the common man would lose faith in the judiciary if people like Chidambaram were granted bail.
The solicitor-general told the court that the agency was in possession of material that demonstrate that several benami properties were purchased by Chidambaram, indicating that he was involved in serious money-laundering offences.
"Economic offences are pre-meditated and not like murder, which is committed in the heat of the moment. They are committed in such a manner so that no trace is left. Everything was happening with the full knowledge of the petitioner. Shell companies were either created or shareholding pattern was changed.
"Those who were operating those shell companies were in touch with the petitioner. There are at least two individuals who acted as agents of the petitioner to obtain FIPB (Foreign Investment Promotion Board) approval not just for INX but also for other companies. They were just companies on paper and not doing any business," Mehta told the court.
Sibal dared Mehta to show the so-called communication the ED claims to be in possession of that point to Chidambaram's directly involved in the alleged money laundering or other allegations pertaining to the INX Media case.
"While Mr Chidambaram was outside he did not influence anyone, but he is influencing everyone while he is under detention!" Sibal added.