Opposition leaders express grave concern over communal violence
The parties question the silence of Prime Minister Narendra Modi for his failure to tame those who propagate bigotry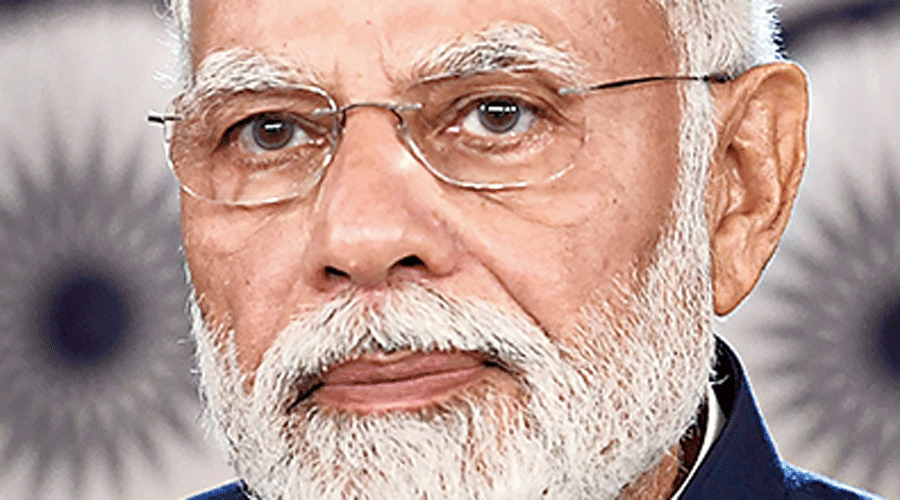 Narendra Modi.
File photo
---
New Delhi
|
Published 17.04.22, 01:31 AM
|
---
Several prominent Opposition parties on Saturday expressed grave concern over the burst of communal violence in the country, alleging Prime Minister Narendra Modi's silence was akin to official patronage of the divisive forces.
In a statement issued in the evening highlighting the toxic discourse and harassment of Muslims in several states, the Opposition leaders said: "We are shocked at the silence of the Prime Minister, who has failed to speak against the words and actions of those who propagate bigotry and those who, by their words and actions, incite and provoke our society. This silence is an eloquent testimony to the fact that such private armed mobs enjoy the luxury of official patronage."
Sources said the sudden spurt in violence in some states had a pattern, compelling the leaders of various parties to come to the conclusion that the situation spelt dire consequences for the country and that joint political resistance was called for.
Congress leader Sonia Gandhi wrote an article in The Indian Express newspaper in which she said: "An apocalypse of hatred, bigotry, intolerance and untruth is engulfing our country today. If we don't stop it now, it will — if it already hasn't — damage our society beyond repair. We simply cannot and must not allow this to go on."
She added: "We as a people cannot stand by and watch as peace and pluralism are sacrificed at the altar of bogus nationalism. Let us contain this raging fire, this tsunami of hate that has been unleashed before all that has been so painstakingly built by past generations is razed to the ground.
"Over a century ago, the poet of Indian nationalism gave the world his immortal Gitanjali of which perhaps the 35th verse has become the most celebrated and most quoted. Gurudev Tagore's prayer, with its seminal lines starting, 'Where the mind is without fear…' is all the more relevant and has heightened resonance today."
This was followed by the joint statement, signed by Sonia, NCP chief Sharad Pawar, Trinamul leader Mamata Banerjee, DMK president M.K. Stalin, CPM general secretary Sitaram Yechury, JMM chief Hemant Soren, National Conference leader Farooq Abdullah, RJD leader Tejashwi Yadav, CPI general secretary D. Raja, Forward Bloc leader Debabrata Biswas, RSP leader Manoj Bhattacharya, the Indian Union Muslim League's P.K. Kunhalikutty and the CPIML's Dipankar Bhattacharya.
The statement said: "We reiterate our collective resolve to work together to strengthen the bonds of social harmony that have defined and enriched India for centuries. We are extremely anguished at the manner in which issues related to food, dress, faith, festivals and language are being deliberately used by sections of the ruling establishment to polarise our society."
It added: "We are extremely concerned with the growing incidents of hate speech in the country by people who appear to have official patronage and against whom no meaningful and strong action is being taken. We strongly condemn the recent outburst of communal violence witnessed across several states in the country. We are deeply concerned, as reports indicate that there is a sinister pattern in the areas where these incidents have occurred. Incendiary hate speeches preceded the aggressive armed religious processions unleashing communal violence."
Resolving to fight the "poisonous ideologies" that divide people, the statement said: "We are extremely pained at the manner in which social media and the audio-visual platforms are being misused with official patronage to spread hatred and prejudice. We reiterate our firm conviction that our country will prosper only if it respects, accommodates and celebrates its many diversities in full measure. We appeal to all sections of the people to maintain peace and foil the sinister objective of those who wish to sharpen communal polarisation. We call upon all our party units across the country to independently and jointly work for maintaining peace and harmony."
Sonia had in her article wondered whether India had to be in a state of permanent polarisation, alleging that the ruling establishment clearly wanted citizens to believe that such an environment was in their best interest.
"Whether it is dress, food, faith, festivals or language, Indian are sought to be pitted against Indians and the forces of discord are given every encouragement — overt and covert. History — both ancient and contemporary — is continuously sought to be interpreted to promote prejudice, animosity and vengeance," she wrote.
"It is a travesty that instead of utilising our resources for creating a bright, new future for the country and engaging young minds in productive ventures, time and valuable assets are being used up in attempts to refashion the present in terms of an imagined past."
Recalling the claims about the Prime Minister's acknowledgment of India's multiple diversities, she said the harsh reality was that under his dispensation, the rich diversity that had defined and enriched Indian society for centuries was being manipulated to divide people.
She said: "The rising chorus of hatred, the unconcealed instigation of aggression and even crimes against the minorities is a far departure from the accommodating, syncretic traditions in our society. Shared celebrations of festivals, good neighbourly relationships between communities of different faiths, the pervasive intermingling of faith and belief in the arts, cinema and everyday life — of which there are examples by the thousands — are a proud and durable characteristic of our society through the ages."
Sonia said there was a plan to keep India in a state of permanent frenzy in order to ruthlessly stifle dissent and opposing opinion.