Opposition firm but helpless
Unanimity exists among the leaders that the Citizenship (Amendment) Bill should be opposed tooth and nail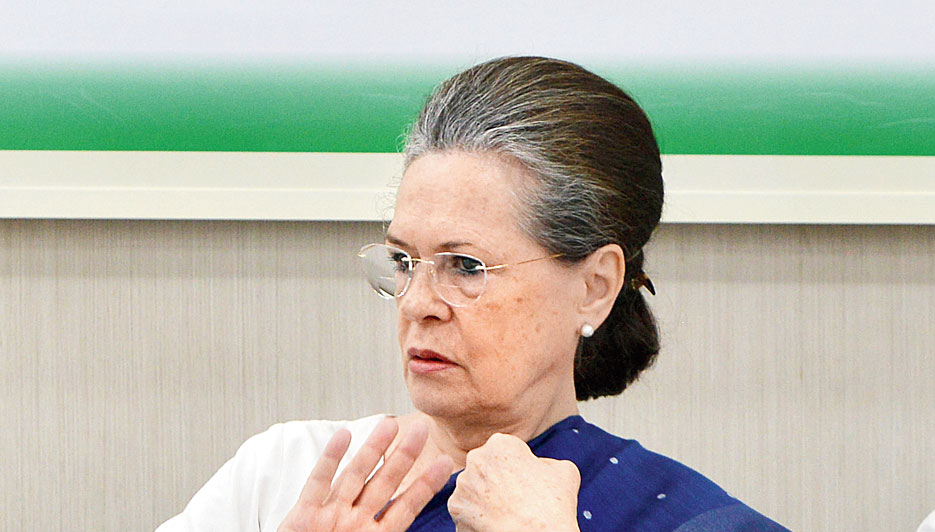 ---
---
A helpless Opposition is contemplating ways and means of blocking the passage of the contentious Citizenship (Amendment) Bill that is scheduled to brought in the Lok Sabha by Union home minister Amit Shah on Monday afternoon.
Congress president Sonia Gandhi called a strategy meeting on Sunday evening to discuss the party's response in Parliament. Unanimity exists among the leaders that bill — first passed in January this year before getting lapsed as was sent to a committee by the Rajya Sabha — should be opposed tooth and nail.
Sources said it was decided to offer a comprehensive critique of the bill in the Lok Sabha where the Opposition does not have the numerical strength to defeat the government and use every legislative device to block the passage in the Rajya Sabha.
"We will do whatever we can," one senior leader said, despite the realisation that the government had mustered the numbers to get the bill passed.
After the strategy committee meeting with Sonia, leader of Lok Sabha Adhir Chowdhary said: "We will oppose the CAB (the bill) because it is a violation of the Constitution, secular ethos, our culture and civilisation."
The Citizenship Amendment Bill seeks to grant citizenship to persecuted non-Muslim refugees from Pakistan, Bangladesh and Afghanistan.
The bill, which will introduce a religious basis for the first time in India's citizenship legislation, says Hindus, Sikhs, Buddhists, Jains, Parsis and Christians from these three countries shall "not be treated as illegal migrants" even if they had entered India illegally.
Congress leaders lament that even those parties which were in alliance with the BJP tried in the past to take independent positions on ideological issues but now there is complete surrender.
While the Shiv Sena, which has traditionally supported such a project on the question of citizenship, will most likely support the government, Congress leaders were anguished by the conduct of parties like Nitish Kumar's JDU and Naveen Patnaik's Biju Janata Dal as they have not yet formally abandoned their secular pretensions.
The Congress believes the Narendra Modi government was pushing this agenda to create newer tools of divisive politics. The Citizenship Bill, combined with the NRC (National Register of Citizens), had the potential to further intensify the anti-Muslim sentiments in the country. "This is indisputably being done for electoral purposes and to psyche up the nation for Hindu Rashtra. The RSS is moving towards its goal very fast after winning the 2019 election," a Congress leader said.
Lok Sabha MP Shashi Tharoor forcefully articulated these concerns in an interview with PTI on Sunday: "All of this makes it abundantly clear that this is merely a cynical political exercise to further single out and disenfranchise an entire community in India and in doing so, a betrayal of all that was good and noble about our civilisation. It will reduce us to a Hindutva version of Pakistan."
He hoped the Supreme Court would not allow such a blatant violation of the fundamental tenets of India's Constitution.
Asked about the Congress stand on the bill, Tharoor said: "Though I am not an official spokesperson for the party, I do believe that all of us in the Congress are clear that the CAB is not just an affront to the basic tenets of equality and religious non-discrimination that have been enshrined in Article 14 and 15 of our Constitution, but an all-out assault on the very idea of India."
He said: "India's freedom movement split on the issue of whether religion should be the determinant of nationhood and those who believed in that principle were the ones who advocated the idea of Pakistan."
Tharoor added: "The passage of this bill will mark the definitive victory of Jinnah's thinking over Mahatma Gandhi's. How ironic that it should be the stridently chauvinistic BJP that ensures the final vindication of Mohammad Ali Jinnah! The bill also goes against the historic legacy that Hindus were proud to lay claim to. Swami Vivekananda had famously told the World Parliament of Religions in Chicago in 1893 that he was proud to speak for a land that has always offered refuge to the persecuted of all nations and faiths'. We lived up to Vivekananda's values in giving shelter to Tibetan refugees, the Bahai community, Sri Lankan Tamils, and 10 million Bangladeshis — the largest refugee exodus in human history -- without ever asking about their religion."