Teachers unable to assess learners
Virtual classes unable to spark interest in school students
Teachers cannot assess if the learners have understood a concept or not during online sessions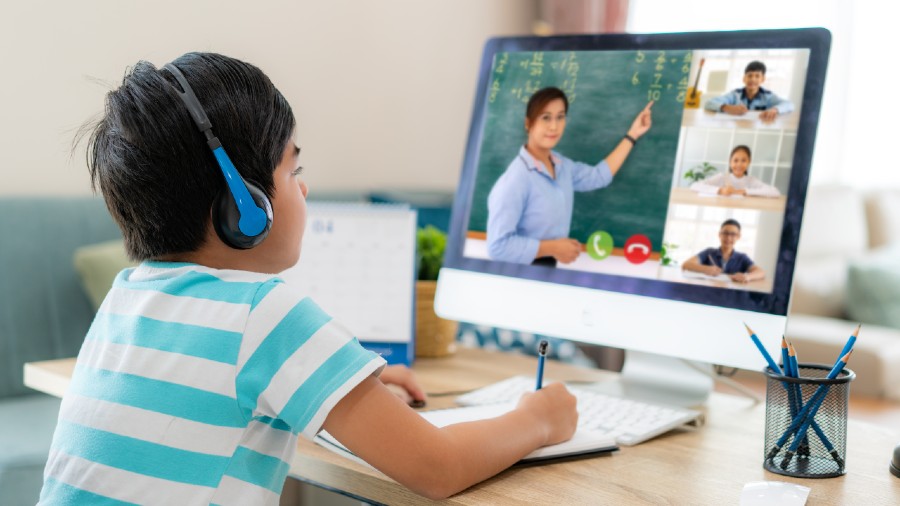 According to students, parents and teachers, the learning levels of most schoolchildren had declined over the last 16 months, with online education replacing in-person classes.
File picture
---
New Delhi
|
Published 01.08.21, 01:03 AM
|
---
Udhav Santa, 17, was packing at home on Monday. His residential school in Odisha had reopened after 16 months and he looked forward to classes and hostel life.
The tribal student of the Ekalavya Model Residential School in Nabarangpur, one of India's poorest districts, had scored 84 per cent in the CBSE Class X boards last year. He will take his Class XII board exams next year in physics, chemistry, mathematics, biology and English.
But for the boy from Dhanubanga Guda village, Nabarangpur, the excitement of returning to school was tempered with worry. He said the school's pandemic-induced closure had "severely" affected his learning, because online classes lacked the rigour and fun of the physical classroom while the home environment did not allow an unstinted focus on studies.
"I used to feel deeply curious about all the topics taught at school. But I could not sustain the interest after the school closed," Udhav said.
"At home you don't get the study environment. You somehow get involved in household issues, including the economic stress."
Udhav's parents don't earn enough from growing paddy, maize and vegetables to feed a family of five and also pay the Internet data charges for him to download the study material and videos the teachers send on WhatsApp.
"So I began working as a construction labourer (unlawful for a minor); sometimes I also worked on our farmland. My sister arranged for a second-hand Redmi 6 phone," Udhav said.
"My parents did not tell me to work but I realised their situation and started working. I spent my own money to buy data and books."
Udhav said five of his friends had dropped out of school after the closure of the hostel, where "everything was free".
"Five of my friends are working as labourers in Gujarat and Bangalore because of financial problems in their families. If their parents received good wages here, and if the hostel were open, they would not have dropped out," he said.
Students, parents and teachers told The Telegraph that the learning levels of most schoolchildren had declined over the last 16 months, with online education replacing in-person classes.
Sanjay Kumar Pradhan, a parent from Sonua in Jharkhand's West Singhbhum district, said his two daughters' education had suffered because the teachers were unable to clarify the students' doubts in a 30-minute online class.
"Both my daughters have three 30-minute classes a day. The teacher comes and delivers a lecture; there isn't much scope for discussion. I try to give them time but it's not always possible," Pradhan, who runs a mobile phone shop, said.
A teacher at a Delhi government school said that when physical mid-term tests were held last December, about 10 per cent students did not turn up. Those who did fared poorly.
"Only seven to eight per cent students scored over 60 per cent. In pre-Covid times, about half the students would score over 60 per cent. Learning levels have fallen sharply," the teacher said.
He said a standard complaint from the parents was that after attending online classes, the children used their phones to play online games or watch YouTube. They also spent longer hours watching TV at home.
"In our class, attendance is about 50 per cent. The rest keep their mobiles switched off. As for those that attend classes, you don't know if they have understood the lesson," the teacher said.
A Kendriya Vidyalaya Sangathan teacher said the parents of children enrolled in elite private schools monitored their education. But the parents of children studying in budget private or government schools left the education of their wards entirely to the institutions.
"The large proportion of children enrolled in budget private and government schools are not learning anything. Their parents are not chasing them. If a survey is done, this will be clear," he said.
However, the Centre appears in no hurry to either carry out a survey or work at a remedy, having apparently left the matter for the states to handle.
Ironically, it has cited the pandemic to postpone by a year the routine, three-yearly National Achievement Survey conducted by the NCERT to assess the learning standards of students of Classes III, V, VIII and X.
On Monday, Lok Sabha members Sushil Kumar Singh (BJP) and Sriniwas Dadasaheb Patil (NCP) had wanted to know: "(a) Whether there has been any attempt to gauge learning levels and learning loss due to the ongoing pandemic and if so, the details thereof; (b) if not, the reasons preventing the government in carrying out such exercise and whether the government has any plans to do so."
Union education minister Dharmendra Pradhan's written reply said: "Education (is on) the concurrent list of the Constitution and majority of the schools are under the domain of respective State and UT (Union Territory) governments. The department has shared a Covid action plan with the States and UTs which includes tracking of children and their learning levels.
"States and UTs have been advised to develop effective home learning programme which includes access to grade-appropriate textbooks; content identification and curation; content dissemination physically or through various platforms —WhatsApp, website, TV, radio; content engagement; assessment of learning and tracking and monitoring."
To another question, Pradhan said the National Achievement Survey — which was to be carried out in December last year — would be conducted in November this year.
As for Udhav, the forced familiarity with technology has helped him in one unexpected way. He and his friends have now started their own YouTube channel, Nitesh Video, which popularises tribal music and dance. The channel will bring in some revenue for them after it achieves 4,000 watch hours by viewers, Udhav said.