Onion adds zing to JMM poll recipe
JMM candidate for Ranchi Assembly seat, Mahua Maji, hit the streets of the capital wearing a garland of onions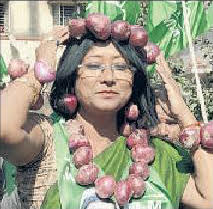 ---
|
Ranchi
|
Published 05.12.19, 07:36 AM
---
The Opposition has found a weapon against the ruling BJP in the onion prices that are going up faster than one can say 'inflation'.
The JMM candidate for Ranchi Assembly seat, Mahua Maji, on Wednesday hit the streets of the capital wearing a garland of onions.She is fighting against the BJP's C.P. Singh, the incumbent urban development minister.
Maji along with her supporters visited several parts of the constituency including Tharpakna asking people to vote for her, and she focused on women as her target voters.
'We are contesting the election on the basis of basic is- sues that have been affecting common people and the soaring price of onion is the most crucial one. Hence, today we decided to start campaigning with onions,' said Maji.
The onions did add zing to her campaign, with several onlookers smiling at the barb at the government.
'It is more than one month that the price of onion has kept on soaring and now it costs Rs 100 per kg,' Maji said.
'It has affected household budgets. Hotel owners are suffering loss because they can't increase the price of the food. Worst thing is that the price hike has taken place during the wedding seasonVoters of Ranchi expressed displeasure over the failure of the government to curb the price of the staple. 'The BJP and the entire government machinery is engaged in the election and nobody actually cares to check the price hike,' said Sabita Mishra, a homemaker. 'Controlling price is responsibility of the department of food civil supplies and consumer affairs. Funniest thing is that minister of the department, Saryu Roy, is contesting against chief minister Raghubar Das as a rebel. He is the same minister who in the past had intervened in such matters and used to set up government-run shops to control the price. I remember a couple years back the price of arhar dal had soared and he had taken effective measuresGinni Devi, another homemaker, said that a few weeks back Biscomaun, a cooperative society of Bihar, and National Agricultural Cooperative Marketing Federation of India Ltd had started selling onions at controlled prices in Ranchi and other parts of Jharkhand.
'I had brought onions from them but the stock exhausted. Now I am neither buying nor using onions to prepare vegetables. At frequent intervals we face problems due to the hike in the price of onion,' she said.
However, there were others who felt that the onion can't be a poll issue. 'Onions can't decide whom I am going to vote for,' said Shweta Pandey Mishra, also a Ranchibased homemaker.
'Price hike is an important issue that has affected middle and lower income groups of the society. I will vote for the party that can check price hike and bring overall development.'.