One lakh join peaceful march in Hyderabad
The protest, dubbed the 'Million March', was organised by an umbrella group of Muslim and civil society organisations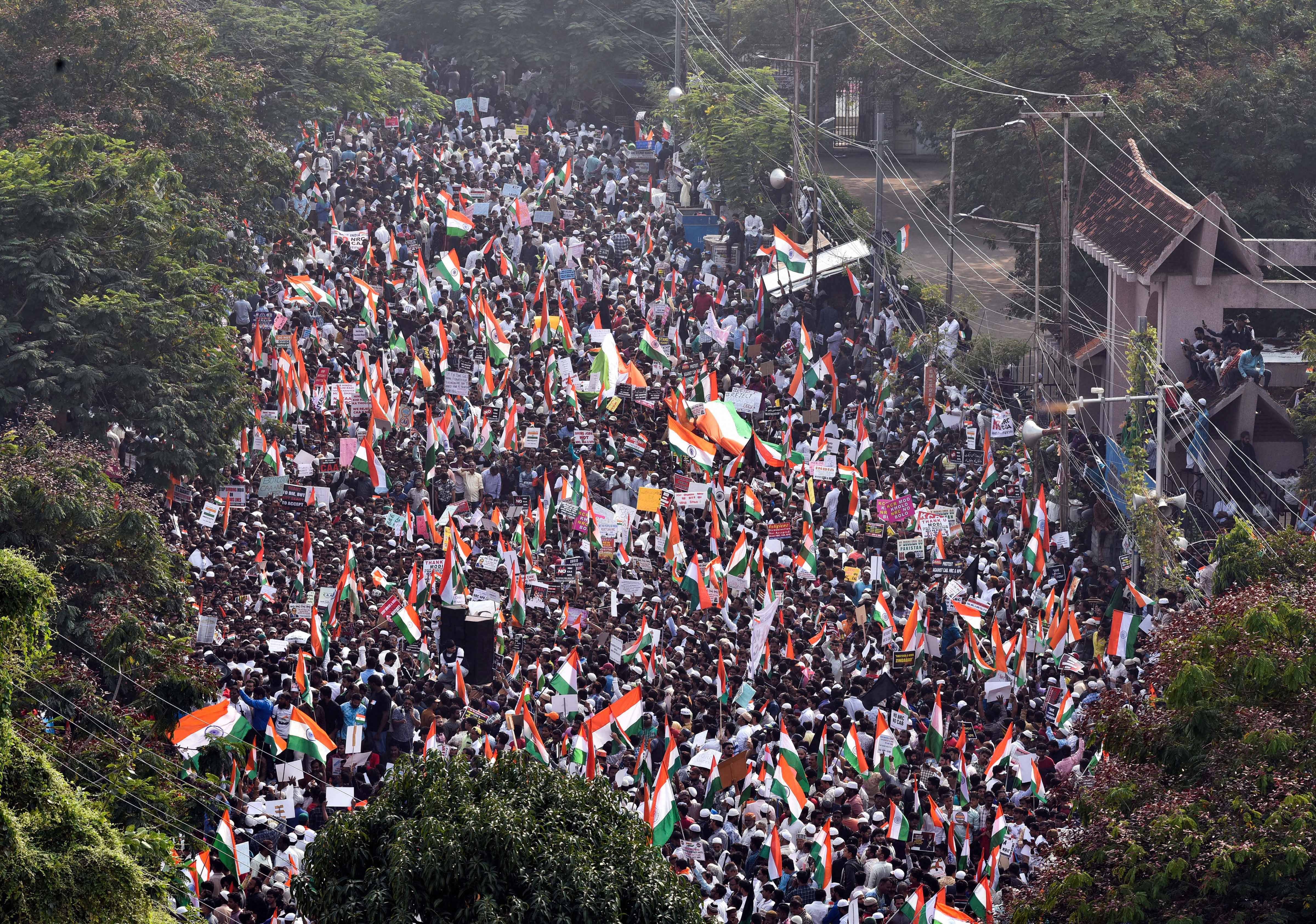 ---
---
Over 100,000 protesters, many carrying the Tricolour, marched peacefully in Hyderabad on Saturday, chanting slogans against the Citizenship (Amendment) Act.
The protest, dubbed the "Million March", was organised by an umbrella group of Muslim and civil society organisations. More than 40 per cent of Hyderabad's estimated population of nearly 70 lakh are Muslim.
Demonstrators were still pouring into the protest site late on Saturday afternoon, a Reuters witness said, despite police saying no march would be allowed and that permission had only been granted for a 1,000-strong gathering.
The protesters held placards carrying slogans such as "Withdraw CAA immediately" and "India's only religion is secularism".
The Reuters witness said the protest remained peaceful, and estimated that more than 100,000 people attended it.
Hundreds of men and women gathered at a rally in Bangalore, some of them accusing the Narendra Modi government of trying to divide India along communal lines to divert attention from an economic slowdown and job losses.
Before midnight on New Year's Eve, a call to action was sent on a private WhatsApp group — within the hour, dozens gathered in the centre of Hyderabad.
Police quickly dispersed the group and briefly detained six people, but for Syed Faheem — who formed the WhatsApp group — it marked another successful flash protest, inspired by tactics used by protesters in Hong Kong.
In Hyderabad, some protesters say it is impossible to secure police permission to hold demonstrations, forcing them to adopt new tactics.
"The objective is to get 30 minutes at one spot. Some people support us, others come and argue with us," said Faheem.
Hyderabad's police chief Anjani Kumar said people are being permitted to gather in areas such as sports grounds, but added: "We've not given permission for any rally because that affects traffic."
After police restricted protests in Bangalore, students at the IIM took inspiration from 2015 protests in Paris where shoes were put on display — in place of cancelled protests — to support action against climate change. Students also borrowed ideas from the 1975 protests against the Emergency in India.
"Police weren't letting us place placards with any messages, so we copied what the press did in 1975 and left blank placards," a student said. Generations later, when they ask us what we did when they came for the Muslims, I at least want to be able to say – 'We tried'," she said.