On the Mark on Mishra, not Trump
Facebook boss cites action on Delhi hate speech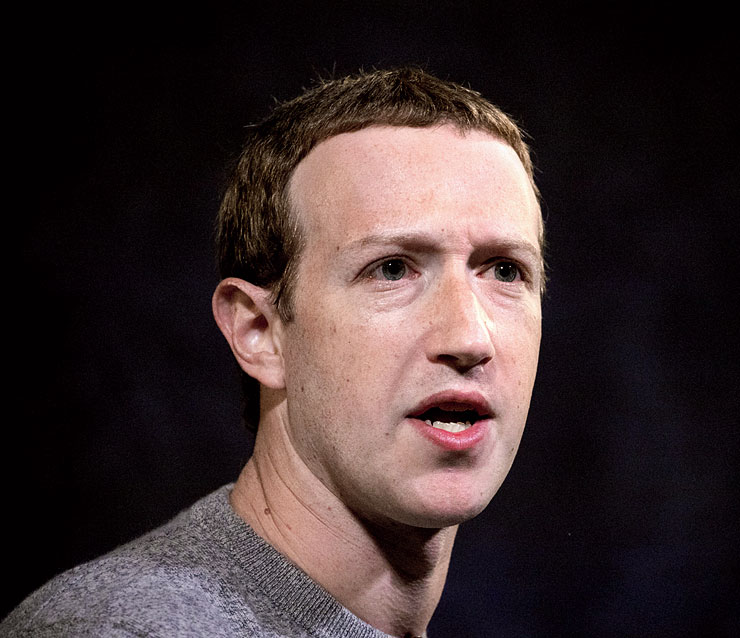 Mark Zuckerberg
(AP Photo)
---
New Delhi
|
Published 05.06.20, 10:19 PM
|
---
Facebook chief executive Mark Zuckerberg, under fire from within for tolerating US President Donald Trump's inflammatory posts against the backdrop of the recent protests in the country, has referred to the action the social media network had taken during the Delhi riots in February.
In an interaction with restive employees conducted over video chat software on Tuesday, Zuckerberg said while justifying his position on Trump's posts, according to a leaked audio: "You know, if somebody is actually going to encourage violence, I think in general, you just — you just don't want that content up. But our policies around incitement of violence, you know, have pretty — have some clear precedents right around if people have to be calling for violence or targeting specific individuals.
"There have been examples of government officials around the world, we've taken them down.… And there have been cases in India, for example, where someone said, 'Hey, if the police don't take care of this, our supporters will get in there and clear the streets.' That is kind of encouraging supporters to go do that in a more direct way, and we took that down. So we have a precedent for that."
Immediately before the Delhi riots started, BJP leader Kapil Mishra had delivered a provocative speech whose contents were similar to what Zuckerberg referred to during his question-and-answer session with Facebook employees angry with the inaction on Trump's posts.
Mishra, who unsuccessfully contested February's Assembly polls in Delhi on a BJP ticket, had been hauled up by the Election Commission of India for communal and incendiary remarks.
Minutes before the communal riots that claimed 53 lives began on February 23, Mishra had stood beside DCP (northeast) Ved Prakash Surya and addressed his supporters who had gathered to evict a protest at Jaffrabad against the Centre's new citizenship matrix.
Mishra had said: "The DCP is with us. I'm making one thing clear on all our behalf — we will hold our peace until Trump leaves. After that, if roads are not cleared out, we won't even listen to you (police)."
Trump had been visiting India at that time. Facebook had taken down a video of the speech that Mishra had uploaded.
Despite Delhi High Court's nudge, the police are yet to book Mishra.
Several Facebook employees have broken an omerta on Zuckerberg, and staged a "virtual walkout" — an online equivalent of stopping work — forcing the CEO to advance his weekend interaction with employees to Tuesday.
Although Twitter has taken various measures like flagging certain tweets of Trump for promoting violence and even disabling the President's campaign commemoration video on George Floyd, the African-American whose killing by a white police officer has sparked widespread violent protests, and Snapchat has decided not to promote Trump's account, Facebook has decided not to do anything about the leader's posts.
Unfazed by all the condemnation, the BJP's Mishra has now demanded that The Quint news portal be prosecuted for a podcast that questioned why killings similar to that of Floyd had failed to trigger similar protests in India.
During the Delhi riots, poultry seller Faizan died in hospital after being tortured along with four others by the police and made to sing the national anthem while they were writhing on the ground in pain.
While four Minneapolis policemen face murder charges for Floyd's death, none of the cops who tortured Faizan and the others have even been identified.