On government table: education for profit and repatriation
CII proposal in hand, Centre looks for ways to address complex problem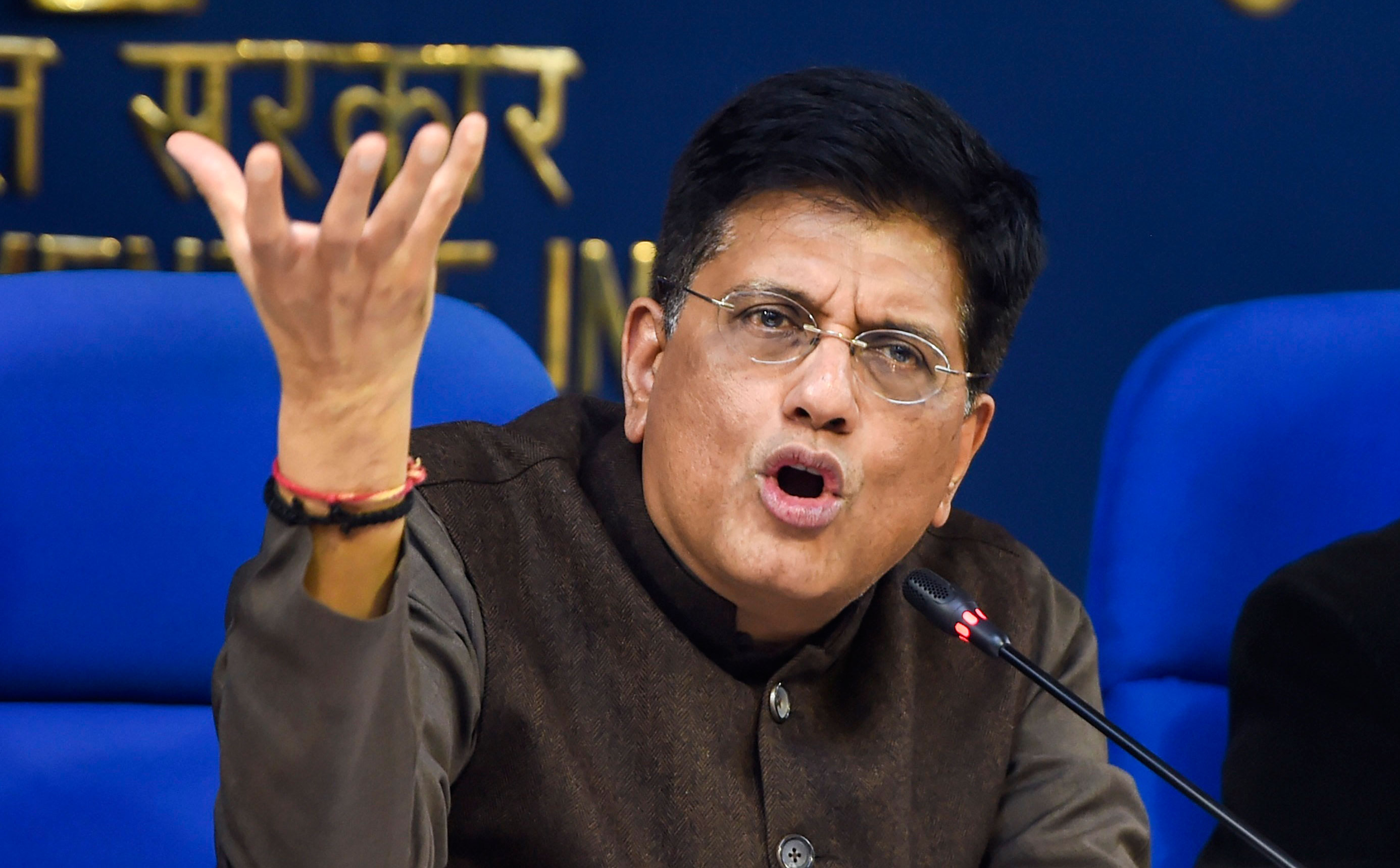 The Confederation of Indian Industry (CII) on Thursday submitted these proposals to commerce minister Piyush Goyal during discussions on attracting foreign institutions and more foreign direct investment (FDI) in education. Goyal too has agreed to the proposal.
(PTI)
---
New Delhi
|
Published 23.02.20, 07:44 PM
|
---
The Centre is considering recommendations to allow educational institutions to make profit, and foreign institutions that have invested in India to repatriate profits to their own countries among radical changes industry has suggested.
The Confederation of Indian Industry (CII) on Thursday submitted these proposals to commerce minister Piyush Goyal during discussions on attracting foreign institutions and more foreign direct investment (FDI) in education.
Education in the country has remained a not-for-profit sector with the provision that the surplus generated could be used for expansion of the institute concerned.
According to the model the CII has proposed, private universities can allow their campuses to be used by foreign universities to start operations on a small scale, such as a research centre or a laboratory.
The profit earned at that centre may be repatriated, the industry body has suggested.
The changes are easier said than done, considering the legal complexities, the opposition expected from the entrenched bureaucracy as well as unions and a deep-rooted propensity to view private investors in education with suspicion.
A government official said the urban development ministry was working on a scheme called Knowledge Cities, the educational equivalent of special economic zones.
The government, the official said, might try to facilitate the establishment of educational institutions in these Knowledge Cities where institutions would be free from existing rules and allowed to make and repatriate profits.
Sushma Paul Berlia, co-founder and chancellor, Apeejay Stya University, backed the idea of special economic zones for education. "Institutions operating in SEZs do not have to follow domestic rules such as a ban on repatriating profits," she said but added that much more needed to be done before inviting foreign institutions and then try and push in rules retrospectively.
"The solution to this problem could be to drop the mandatory requirement for a not-for-profit character," Berlia said.
But a section of educationists, however, believe the changes, if any, would only serve to improve the image of the private institutions concerned, helping them attract students in the name of the foreign institutions present on their campuses, but not contribute in any way towards achieving excellence.
"I think this is merely a case of kite-flying. Many leading foreign institutions have already set up their India offices and are into collaborative research with Indian institutions. This move, if at all it becomes a reality, would help the private institutions' image-building to get students away from public-funded institutions," said Professor R. Govinda, former vice-chancellor of the National Institute of Educational Planning and Administration (NIEPA).
Govinda said the demand for institutions charging high fees was falling in India. Private institutions, Govinda said, are already charging high fees and many of them have not been getting students.
The move to allow making profits for repatriation has gathered pace since Union finance minister Nirmala Sitharaman proposed in her budget speech for 2020-21 that FDI and external borrowing in education would be promoted.
The Centre has allowed FDI in education under the automatic route since 2002. This means, a foreign entity can directly invest in an Indian firm for education-related activity without the approval of the Reserve Bank of India or the government. The Indian firm is, however, required to report to the RBI within 30 days of receiving the FDI.
According to data released by the department for promotion of industry and internal trade, which comes under the commerce ministry, the cumulative FDI inflow in education was Rs 16,802.45 crore till September 2019.
This is a fraction of India's projected expenditure in education for 2019-20 — Rs 6.43 lakh crore, according to the Economic Survey for 2019-20.
Whatever FDI has come for education has been spent on related services like coaching, development of e-learning material and smart class training. Hardly has there been any FDI for setting up or expansion of institutions.
Global accountancy and consultancy firm PricewaterhouseCoopers (PwC) and the CII blamed it on a bar on making profits through education.
"Currently, all the educational institutions in India are promoted trusts or societies or Section 25 companies which are not-for-profit ventures, hence cannot accept FDI. The organisations spending on FDI expect repatriation of profit. The CII proposed to the commerce minister to bring suitable changes to the existing policies for profit-making and repatriation," Shalini Sharma, principal-education, CII, said.
Shilpa Gupta, executive director, PwC, said many foreign institutions were interested in setting up small-scale operations in private Indian institutions.
"The private institution may provide some space for the operation of the foreign institution. A share of the profit earned by the foreign institution may be given to the private institution and the remaining amount can be repatriated," Gupta said.
Sources said the proposal has found support from Pankaj Mittal, secretary-general, Association of Indian Universities, an organisation and association of major universities in the country.
Minister Goyal too has agreed to the proposal, according to people present at Thursday's meeting.
However, rules governing education are mainly dealt with by the human resource development ministry and its arm, the University Grants Commission, the higher education regulator.
H. Chaturvedi, alternate president, Education Promotion Society of India, an association of private institutions, contended that India would benefit by allowing repatriation of profits.
"The foreign institutions can do intensive research on healthcare, infrastructure and social sector issues. The results would benefit our population," Chaturvedi said.
An official of the UGC said various past judgments by the Supreme Court have prevented educational institutions in India from making profit for distribution among shareholders.
In the TMA Pai Foundation & Others versus State of Karnataka case, the court had in 2002 held that decisions on fees should be left to private institutions but said the objective of establishing educational institutions should not be to make profit.
The court allowed for generating a reasonable surplus, which may be used for expansion of the institution concerned.
The UPA government had made two unsuccessful attempts to allow foreign campuses in India. In 2010, then HRD minister Kapil Sibal had introduced the Foreign Education Providers Bill in Parliament but it could not be passed because of lack of consensus among parties.
In 2013, the higher education regulator had prepared the UGC (Establishment and Operation of Campuses of Foreign Educational Institutions) Rules, under which foreign educational providers were to be allowed to set up campuses as not-for-profit companies in India and award degrees. That too did not fructify.
In both the measures, repatriation of profit was disallowed.
"It is not so simple to allow profit-making and repatriation. Legislative measures like a new law would be required for this," the UGC official said.