On Delhi's campuses, farmers' outfit and Sainath explain agrarian crisis to students
Farmers' march to capital on November 29-30 to demand special session of Parliament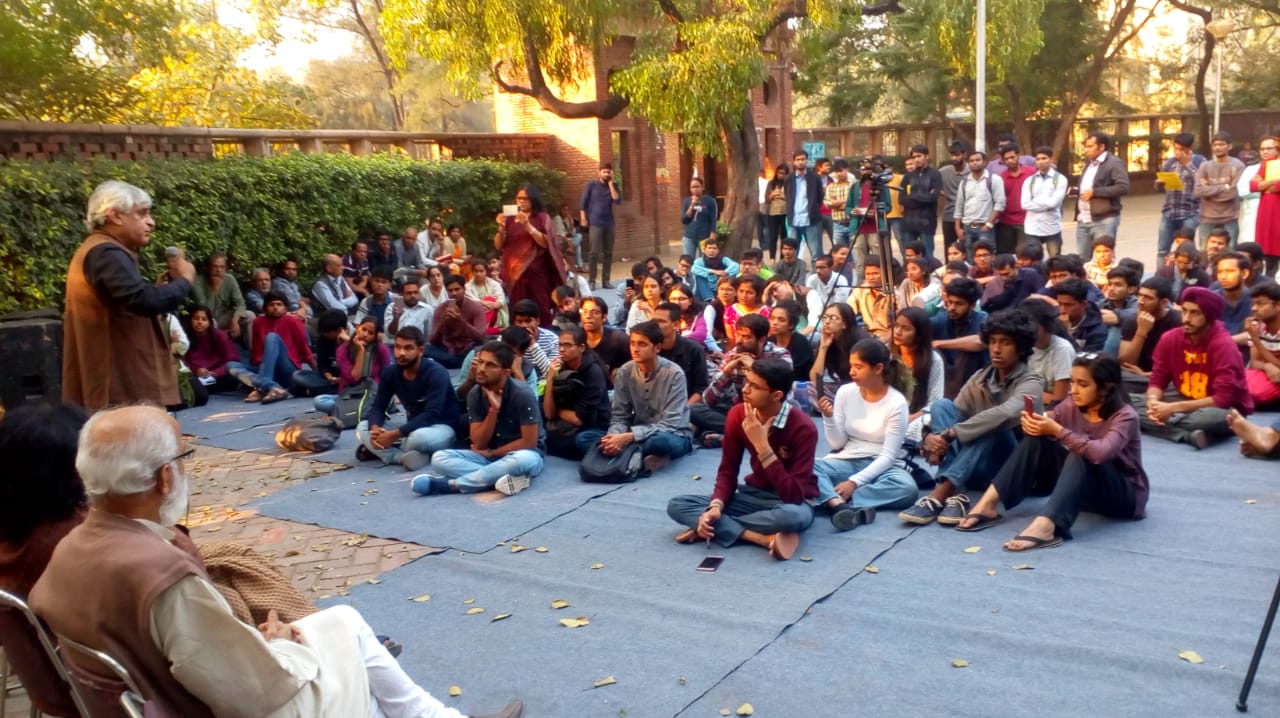 P. Sainath speaks to students at Delhi University.
Furquan Ameen
---
New Delhi
|
Published 28.11.18, 10:18 AM
|
---
A farmers' organisation along with P. Sainath, the award-winning crusader for agriculturists, has been visiting college and university campuses across the country, explaining how agriculture distress affects students.
The main mover behind the campus cluster meetings is the All India Kisan Sangharsh Co-ordination Committee, an umbrella organisation of 200 farmers' outfits, which wants to sensitise students to join the Kisan Mukti March in Delhi on November 29-30.
The farmers' march has coincided with elections in five states. Such marches have seen a surge under the BJP's rule at the Centre.
In one of the chaupal-like lecture sessions at Ambedkar University in Delhi, Sainath dissected the problems farmers face in rural India, which to most of his listeners was a world away from the urban college campuses. 
He addressed the students directly. "Thousands like you are facing the prospect of dropping out of college and universities or are being asked to leave their hostels. Their parents are farmers who are absolutely unable to pay their hostel fee or tuition fee or mess fee," he said.
"Everybody in the rural (areas) is not agrarian and everybody in the agrarian (sector) is not a farmer," Sainath told the small audience in an attempt to explain the inter-connectedness of rural professions and people.
"Take the village mistry. In most parts of the country, villages have two or three carpenter families for two three villages. The mistry earns his living by serving the farmer. And they earn their income 25 to 30 per cent in cash and the rest in food. If you are a mistry, you are serving 30-40 farmers in your village. If I'm a farmer, I'll pay you 25-30 per cent in cash, for the rest I'll give you so many kilos in genhu (wheat), so many kgs of rice. They have reported a significant number of deaths of carpenters in Nalgonda," Sainath said.
"Because if a farmer goes bankrupt, nobody is ordering the new bullock cart, nobody is ordering the new plough, nobody is even getting old tools retooled."
This is the pitch Sainath and the Kisan Sangharsh Co-ordination Committee have followed in Delhi University, Jamia Millia Islamia, St Stephens College and several other campuses. It is yet unclear what the students made of Sainath's words, though some seemed eager to know more about agrarian distress.
What is clear, however, is that the Kisan Sangharsh Co-ordination Committee has sensed an opportunity to cast the net wider after the Nashik-Mumbai farmers' walk in March, when a section of the middle class came out to support farmers under the banner of Nation for Farmers.
"From Punjab University to Gauhati University, several outreach programmes for students were conducted," Dinesh Abrol of the Kisan Sangharsh Co-ordination Committee said. "The first thing we wanted to do was to reach out to students in universities."
He expects around 1,000 students to join the march in Delhi.
The All India Kisan Sangharsh Co-ordination Committee wants a special, 21-day joint session of Parliament, dedicated entirely to discussing the agrarian crisis and related issues with testimonies of farmers shared on the floor of Parliament. The organisation aims to draw attention to two bills – the Farmers' Freedom from Indebtedness Bill, 2018, and the Farmers' Right to Guaranteed Remunerative Minimum Support Prices for Agricultural Commodities Bill, 2018 - that have been placed in Parliament and are awaiting discussion. They also want the role of women farmers, whose labour upholds the rural economy, to be recognised and acknowledged. 

Organisations such as the Student Federation of India and Youth4Swaraj (Y4S) that is the youth wing of Yogendra Yadav's Swaraj Abhiyan have been involved in spreading the message as well.
"We started a DU for Farmers campaign after Sainath's lecture at St Stephen's sometime after the summer vacations," said Shivam Kumar, a second-year student of economics and a member of Y4S. "Lectures were organised and there was a painting competition in Hansraj College. We conducted a signature campaign on the Vishwavidyalaya metro station and made the students understand that this farm crisis is going to affect them soon." Kumar hails from Bihar's Saharsa and is a farmer's son.
Kawish Reza, a second-year political science student and an SFI member who helped organise the Jamia meet-up, started following the issue after protests by Tamil Nadu farmers in Delhi. "A common hurdle that we face is that people associate any such march or rally with political intentions. They say that we are playing politics using the farmers' cause," Reza said.
Some of the students, however, claim to have no association with any party, like a group from St. Stephen's College. "None of us is politically inclined to any of these organisations. So, we thought that just because we are not part of any of these parties doesn't mean we cannot speak for a cause like this. Even if you are not politically inclined, you can still want to help the farmer of your country," said Evita Rodrigues, a BA political science and economics student from Stephen's.
At Ambedkar University on Monday, Sainath told the gathered students about the night before the farmers' rally at Azad Maidan on March 12. About 40,000 farmers had reached the suburbs of Mumbai the previous night, having walked 170 km in 38-degree heat. They were supposed to march to Azad Maidan the next morning.
Sainath said: "The marchers reached out to you guys, they reached out to students specifically. These poor, bedraggled, bleeding-feet marginal Adivasi farmers took a decision that night 'we will not march on 12th morning, we will march tonight'. Exhausted as they were, they said they would march this remaining distance at night in silence. Why? Because the next morning, lakhs of Mumbai's children were going to write board exams and the farmers didn't want to disrupt their sleep or the exams," he said.
"When I asked one of the women farmers why they did that, she said 'hamare bacche bhi exam likhte hain, jaante hain (our children also write exams)," he told the students.