On Amma turf, torn between legacy and loyalty
TTV is the new leader after Amma, but most people only recognise the two leaves: Theni trader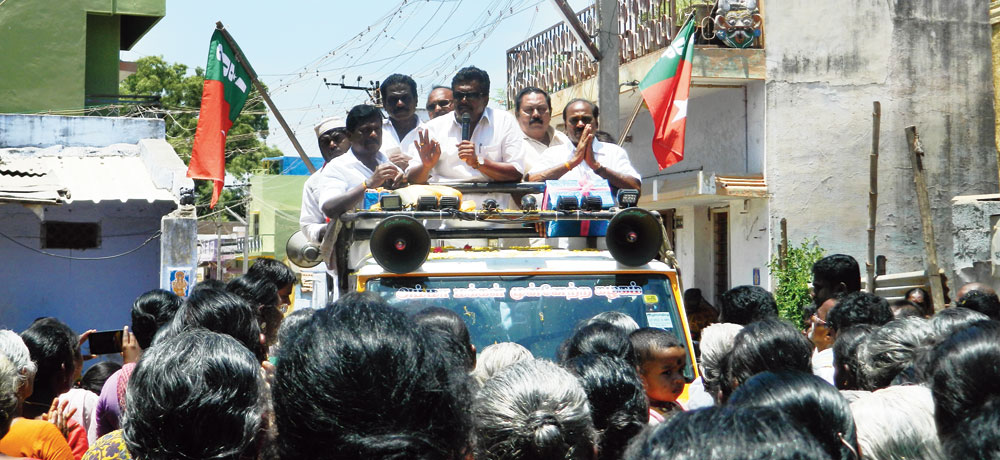 ---
Theni
|
Published 18.04.19, 02:14 AM
|
---
AIADMK rebel Thanga Tamilselvan asked a gathering of women: "Wasn't TTV Dhinakaran a good MP?" The crowd in Theni's Thevar-dominated suburb Karuvelnayakapatti — plagued by leakage of sewage into the drinking water supply — replied loudly in the affirmative.
Tamilselvan — a disqualified MLA of Andipatti Assembly segment in Theni — is the AMMK candidate for the Theni Lok Sabha seat. Andipatti, previously represented by former chief ministers J. Jayalalithaa and MG Ramachandran, and the Periyakulam Assembly seat — under which Karuvelnayakapatti is — also have simultaneous bypolls on April 18. Their MLAs were disqualified for siding with the AIADMK-faction led by now jailed Jayalalithaa aide V.K. Sasikala that became the AMMK last year.
The AMMK is now led by her nephew Dhinakaran, who became the first Independent to win a bypoll in Tamil Nadu by getting more than half the votes polled in Chennai's Dr Radhakrishnan Nagar — the last seat held by Jayalalithaa — in 2017. He was also elected MP from Theni in 1999.
"Why did PM Modi campaign for OPS's (O. Panneerselvam's) son here? Is his son a senior BJP leader? He campaigned because he knows the AIADMK will lose and OPS will join the BJP," Tamilselvan said at the gathering.
Thevars, a backward caste of agrarian landlords in south and central Tamil Nadu, have traditionally voted for the AIADMK, but now find themselves torn between habit and loyalty. OPS's son P. Raveendranath Kumar is the AIADMK candidate for Theni. His main opponent is the Congress' EVKS Elangovan — a former Union minister and grandson of Dravidian ideologue Periyar EV Ramasamy — who is a Balija Naidu, another influential community here.
"After Amma (Jayalalithaa) died, AIADMK leaders are only busy taking care of their families. They have aligned with Modi under whose regime the value of crops have fallen, and we are denied our subsidy on cooking gas. AIADMK has mortgaged us to the BJP. Our national leaders were Nehru, Indira amma, Rajiv Gandhi and now we want Rahul. In Tamil Nadu, our leaders were MGR and Amma. Today, our hope is TTV," said Mahalakshmi, who listened to Tamilselvan say: "Everyone becomes an MLA or MP with the hope of becoming a minister, and doing well in life. But once they win elections, shouldn't these leaders fix your water problems, and get you the government schemes that is your right? For asking these questions, Chinnamma (little amma, read Sasikala) is in jail."
With the party chain of command broken, the AIADMK's social contract with the three Thevar castes — Kallars, Maravars and Agamudayars — is also in peril. Sasikala and Dhinakaran are Kallars. OPS — then CM who rebelled against Sasikala in 2017 — is a Maravar, and has made remarks in rallies that has angered Kallars.
The AMMK is not registered with the Election Commission yet, and obtained a common symbol — gift box — for its candidates after a Supreme Court order. Since it isn't registered, all expenses are credited to the candidates, who cannot by law spend more than Rs 70 lakh per Lok Sabha seat, and Rs 28 lakh per Assembly seat. Hence, the AMMK doesn't hold large outdoor rallies, and relies on smaller indoor meetings and campaign vans.
"TTV is the new leader after Amma, but most people only recognise the two leaves (the AIADMK poll symbol)," said Selvakumar, a trader in Theni. "In some villages, other parties have prevented his entry. If he succeeds despite this, he will become the AIADMK. This time, we don't want to get involved in the Thevar clash and EVKS is a good neutral candidate. AIADMK would have done better had it not aligned with the BJP which is discredited due to the weak economy."
The AIADMK needs to win at least six of the 22 bypolls to remain in the majority. In seats across the state, this paper found AMMK candidates attracting AIADMK loyalists. In Theni, however, the new party is more than a vote-cutter.
Andipatti-based handloom weaver Kotai Mani echoed a complaint of artisans and parents across the country: GST ruined his business, and his educated son cannot find a job.
"Congress should come and set right what the BJP has done. But Tamilselvan is the one whom we turn to for help," said cloth trader Nizamuddin. "I see WhatsApp messages that we Muslims must vote for Congress to protect our secular democracy. I am confused whether to go to with EVKS, whom we respect, or TTV, whom we love."
The Social Democratic Party of India, seen as a pro-Muslim group, is an ally of the AMMK. Both Saliyar weavers and Muslims are communities the Congress is banking on, but polarisation may see split between Thevars spill over to other communities here too.
Political workers were scarcely visible on the last day of campaigning on Tuesday, but poorer voters this paper spoke to claimed that Rs 2,000 was being offered for every vote.
"Our children need jobs, and we need ration cards without harassment. We don't want bribes," said Sakuntala, a coconut seller.