Need for hospitalisation low
Omicron: Only 3.6 per cent patients require hospitalisation, say docs
A citywide survey suggests that 90 per cent of Delhi's people have already been infected by SARS-CoV-2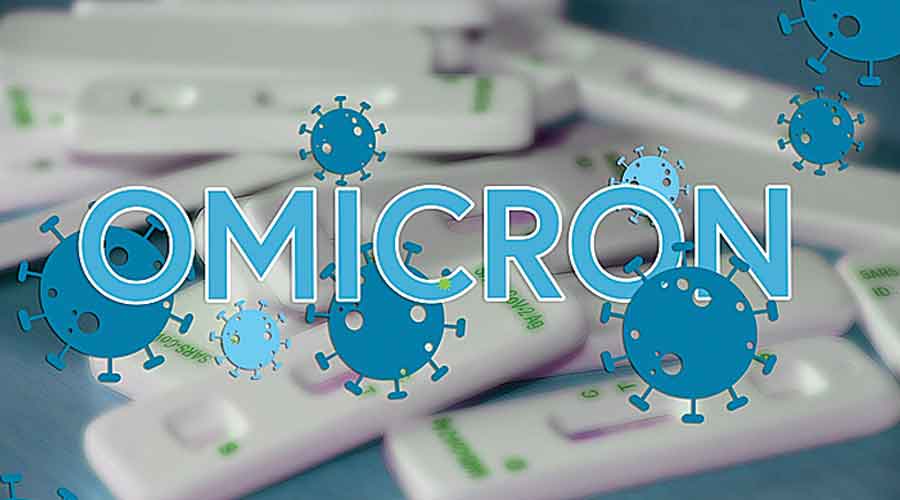 88 per cent of omicron-infected patients have been fully vaccinated with two full doses
---
New Delhi
|
Published 15.01.22, 01:45 AM
|
---
Neither prior Covid-19 infection nor full vaccination protects people from infection by omicron, but only 3.6 per cent patients require hospitalisation, Delhi government doctors said on Friday, releasing India's first epidemiological study on the fast-spreading variant.
The study, albeit based on a limited sample of patients, is the first to quantify breakthrough infections and decreased rates of hospitalisation among omicron-infected patients in the country, doctors at the Institute of Liver and Biliary Sciences (ILBS), New Delhi, said.
Their findings have also established that omicron was already in community circulation in Delhi in December — days after South Africa alerted the world about the variant — and underline the limited impact of airport screening.
The ILBS study was published on Friday in medRxiv, an online archive for research papers, but is not peer-reviewed yet. 
"Omicron spread like a fire out of control — I was surprised because a very large proportion of Delhi's population had prior infections and we had very good vaccination coverage," said Ekta Gupta, head of clinical virology at the ILBS who led the study.
A citywide survey had suggested that 90 per cent of Delhi's people had already been infected by SARS-CoV-2, the virus that causes Covid-19, by the time the country's second wave — driven by the delta variant — had receded in July-August.
Gupta and her colleagues sequenced the genomes of 264 Covid-19 positive samples from five districts across the national capital and found 82 patients had omicron infections. The other 182 patients were infected by the delta variant. The 264 patients had tested positive between November 25 and December 23, 2021.
Seventy-two (88 per cent) of the omicron-infected patients had been fully vaccinated with two full doses of either Covishield or Covaxin. Another patient had received two doses of the Moderna vaccine and a third dose of Covaxin.
Only three (3.6 per cent) among the omicron-infected patients required hospitalisation, and each had other underlying health conditions such as diabetes or high blood pressure. None of the hospitalised omicron-infected patients required intensive care.
In contrast, the hospitalisation rates during the earlier Covid-19 waves in India had ranged between 20 and 23 per cent.
The lower hospitalisation rates documented in Delhi are in line with observations in South Africa and other countries that have already experienced omicron-driven waves.
But health experts have cautioned that omicron infections, while linked to lower hospitalisation rates, could yet overwhelm healthcare resources wherever the sheer numbers of cases rise beyond the capacity of local hospitals.
India on Friday documented over 264,000 new Covid-19 infections. Even at a 3.6 per cent hospitalisation rate, that implies an additional demand overnight of over 9,500 beds. 
The ILBS study also found that 32 of the 82 omicron-infected patients had either a history of foreign travel or were contacts of cases. The other 50 patients had neither travel nor contact history.
The study also documented clusters of cases within families — 38 infections in 14 families. But at least 20 patients from seven families had neither travel nor contact history, implying they had acquired omicron in the city through community transmission.
Herd immunity poser
Public health researchers believe immune responses generated by prior Covid-19 infection and full vaccination or both would help shield people from severe disease even though they cannot avert the infection by omicron.
"The speed at which omicron has spread even in a city like Delhi puts a question mark on whether we can build herd immunity — if more omicron-like variants emerge," Gupta said.
Herd immunity assumes that when a very large fraction of the population has already acquired immunity through either vaccines or the natural infections, the epidemic stops because the virus does not get enough chances to spread from person to person.