Omicron: Experts turn spotlight on vaccine inequity
Scientists have cautioned for months that the longer the coronavirus gets the chance to infect people and cause disease, the greater the risk of new variants emerging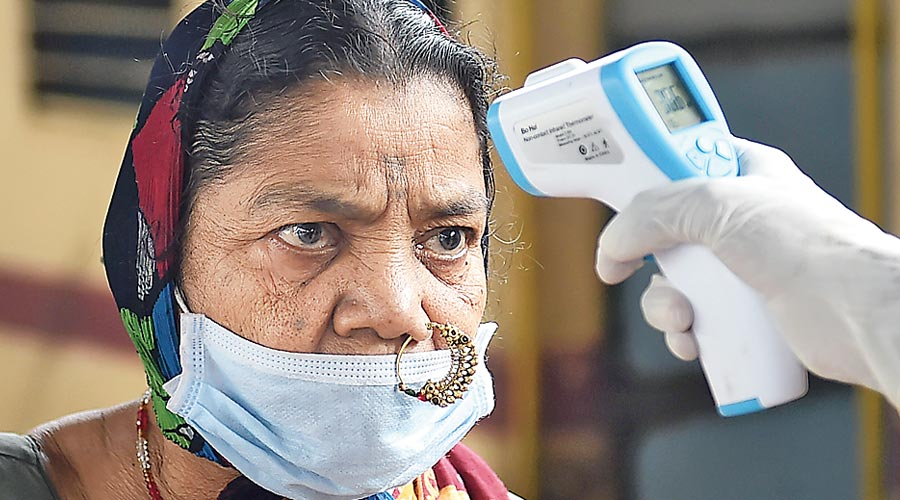 A passenger's temperature is checked at Dadar railway station in Mumbai on Tuesday.
PTI
---
New Delhi
|
Published 01.12.21, 03:10 AM
|
---
The emergence of the fast-spreading coronavirus variant named omicron has prompted sections of doctors and scientists to turn the spotlight on vaccine inequity through social media posts decrying what they describe as "vaccine hoarding" by some rich nations.
They have also criticised the travel bans imposed by many countries against South Africa and its neighbours, saying they will hurt national economies and, as one researcher in South Africa put it, will also be tantamount to punishing the messenger.
Public health researchers underline that while omicron was first spotted in Botswana and has spread fast in South Africa over the past three weeks, it has also turned up in 16 other countries in Australia, Europe, North America and Asia.
"It is unfair to ban just African countries. That smacks of racism, especially when rich countries have done so little to support the African continent during this crisis," said Madhukar Pai, Canada Research Chair in epidemiology and global health at McGill University in Canada.
Pai and other health researchers have for months expressed concern about vaccine inequity resulting from what they describe as short-sighted policies that have made it difficult for poor countries, including most of Africa, to access vaccines.
Among the nearly eight billion Covid-19 vaccine doses administered worldwide so far, only 235 million have been in Africa. Only 25 per cent of South Africa's population had been fully inoculated with two doses until November 28.
Scientists have cautioned for months that the longer the coronavirus gets the chance to infect people and cause disease, the greater the risk of new variants emerging. "It is simple biology — if we allow the virus to infect millions of people, new variants will emerge," Pai said.
Australia, Canada, the European Union, New Zealand and the UK have bought enough doses to vaccinate all their citizens three to six times over, while most less wealthy nations still seek to secure their first doses, three health experts had written in August in the British Medical Journal.
India and South Africa had last year proposed to the World Trade Organisation that intellectual property rights should be temporarily waived on medical tools required to fight Covid-19, including vaccines. But vaccine makers and many rich countries are opposed to the proposal.
The ongoing inequity is "a direct consequence of commercial greed and political self-interest", Fatima Hasan, director of the Health Justice Initiative in South Africa, Gavin Yamey, professor of global health at the Duke University in the US, and Kamran Abassi, executive editor of BMJ, wrote in the commentary.
Australia, Brazil, Canada, France, Germany, Israel, Japan, the UK and the US are among countries that have either banned flights or barred entry for most travellers from Botswana and South Africa and some other African countries.
Some scientists are worried that the travel bans could impede research efforts to understand the implications of omicron, a variant with a large set of worrisome mutations that has stirred fears of reinfections and vaccine ineffectiveness.
"By losing commercial airplanes, we lose access to (imports of) important reagents, medicines, vaccines," Tulio de Oliveira, director of South Africa's Centre for Epidemic Response and Innovation, posted on Twitter on Tuesday. "But also lose the most important exports such as gold, diamond, citrus, (and) wine which sustain our struggling economy."
Oliveira and his colleagues had last week alerted the world about the fast-spreading new variant two weeks after its detection in Botswana. Experts have commended the speed at which the Botswana and South African researchers analysed infection trends and cautioned the world.
The ban on commercial flights to South Africa could mean 75 per cent of cargo would be lost, Oliveira said, expressing concern that the country may soon run out of reagents — chemicals used in diagnostic tools and genomic sequencing. "It will be evil if we cannot answer the questions the world needs about omicron due to the travel ban," Oliveira tweeted.
India's travel restrictions include testing for Covid-19 all passengers who arrive from so-called "at-risk" countries and imposing home quarantine on those negative and testing 5 per cent of all passengers from other countries. "This is a measured response — not a full ban on flights or travel," said Anurag Agrawal, director of the Institute of Genomics and Integrative Biology, New Delhi.
Some researchers have cautioned that travel bans discourage data sharing of genome sequences of SARS-CoV-2, the virus that causes Covid-19. Several SARS-CoV-2 variants have emerged over the past year, including the delta strain that fuelled India's second wave and has spread worldwide.
Francois Balloux, professor of computational systems biology at the University College, London, said border closures "are vile and won't stop any variant arriving, but they slow the spread of a new wave". But, he tweeted, "an unintended side effect of such a punitive response may be to disincentivise global (SARS-CoV-2) surveillance or at least make then think twice before sharing data."