Odisha gears up to face cyclone
It is likely to make landfall in Puri district on Sunday noon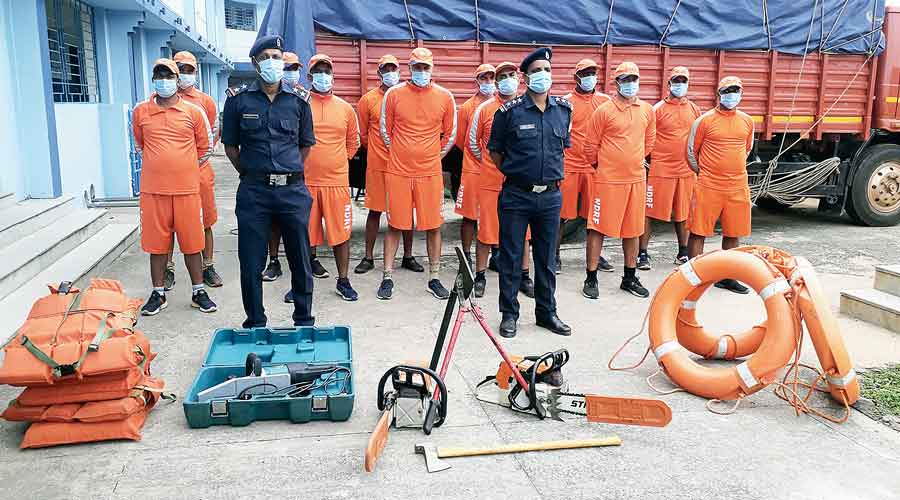 ---
Bhubaneswar
|
Published 04.12.21, 01:12 AM
|
---
Odisha is geared up to face Cyclone Jawad which is likely to make landfall in Puri district on Sunday noon. It will then make a recurve and move towards Bengal.
The district administration of Puri, which is yet to recover fully from the large-scale devastation caused by Cyclone Fani in May 2019, has taken all steps to minimise the possible damage from Jawad.
As a precautionary step, it has cancelled the ongoing Konark Festival and International Sand Art festival. Both the festivals began on December 1 on Konark beach and are scheduled to conclude on December 5.
The state government has also cancelled the Sunday holiday of its employees and asked them to stay alert at their respective headquarters.
The cyclone lay centred 360km south-southeast of Vishakhapatnam, 470km south-southeast of Gopalpur and 600km south-south west of Paradip on Friday afternoon.
It is likely to move northwestwards, intensify further and reach west-central Bay of Bengal off north Andhra Pradesh-south Odisha coasts by Saturday morning.
Thereafter, it is likely to recurve north-northwards and move along the Odisha coast reaching near Puri around Sunday afternoon. Subsequently it is likely to continue to move north-northeastwards along coastal Odisha towards West Bengal coast," said a media release by the IMD.
IMD director-general Mrutyunjay Mohapatra told reporters: "The cyclone, after touching the landmass near Puri, will make a recurve and is likely to move towards Bengal. However, by that time, the intensity of the cyclone will weaken. There will be heavy rainfall in the coastal belt including Puri, Jagatsinghpur, Gajnam, Gajapati, Kendrapara, Bhadrak and Balasore."
Mohapatra said: "As there is a new moon (Amabasya) on December 4, high astronomical tides will hit the landmass. The height of the tide is generally two metre to four metres. Because of the new moon, the height of the astronomical tide will be around 5 metres."
However, he advised people not to panic as Jawad will not be as severe as Fani. "The wind speed will be around 100 to 120 km and it's not a very severe cyclone."
During the very severe cyclone, the wind speed is above 120km and touches 160km," Mohapatra said.
Meanwhile, as the cyclone inched closer towards the coast,  rain started in many parts of coastal Odisha including Bhubaneswar.
Getting a feedback from the IMD, the Special Relief Commissioner P.K. Jena said the cyclone was expected to reach close to Puri around December 5 (Sunday) noon.
Jena said, " As per the IMD's forecast, the cyclone may just brush the Puri coast  or it may slightly enter the landmass. We are prepared for a possible landfall in Puri or Jagatsinghpur."
Puri district collector Samarth Verma told reporters, "As per the IMD report, Puri district is likely to witness heavy rainfall upto 200mm.  Considering this, the evacuation process from the low lying areas has begun and we will complete the process by Saturday afternoon. We are working towards a zero casualty mission. Nearly 100 pregnant mothers have been evacuated to safer places. No tourists will be allowed to visit the sea beach. All the fishermen who had gone deep into the sea , have returned, as per the report of the fishery department."
National Disaster Response Force (NDRF), Odisha Disaster Rapid Action Force and fire service personnel are being deployed in the vulnerable areas of the coastal Odisyha. Officials maintained that around 270 to 280 teams will be deployed for the search and rescue  operation.
Around 23 rescue teams including NDRF and ODRAF have been deployed at vulnerable points in Puri district alone.
Verma said, " As a precautionary measure, we have cancelled the ongoing Konark beach festival and sea sand beach festival. "
What is a matter of worry for the state government is that  paddy crop already harvested is lying in  the field and lakhs of farmers are yet to take them to safer places.