Odisha: Apindra Swain elated after Pope gets Pattachitra
Paintings of Raghurajpur village in Puri district get a global platform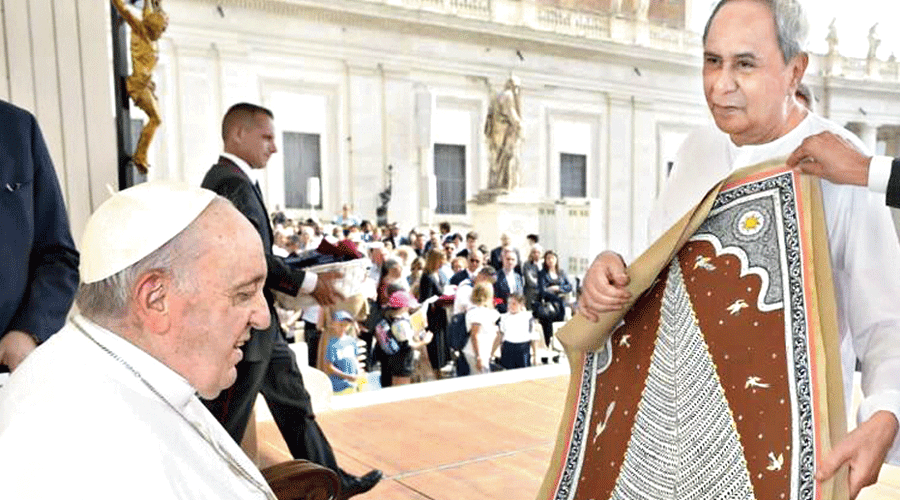 Naveen Patnaik presents a Pattachitra made by Apindra Swain to Pope Francis on Wednesday.
The Telegraph
---
Bhubaneswar
|
Published 24.06.22, 01:03 AM
|
---
Apindra Swain of Raghurajpur village in Puri district, an expert in various types of paintings, was a much-elated man after chief minister Naveen Patnaik presented his Pattachitra painting, a unique traditional cloth-based scroll painting to Pope Francis, the head of the Catholic Church, in Vatican City on Wednesday.
 This art form is known for its intricate detail, natural colours and mythological themes. It shows the unique expertise of the skilled crafts persons of Odisha.
Swain, 40, told The Telegraph, "Thanks to Naveen Patnaikji for giving the Pattachitra of Raghurajpur a global platform. My work has been acknowledged." Swain sold this Pattachitra to a government official at Rs 12,000 in January this year.
About his work, Swain said: "It took me nearly 20 days to complete it. I have used acrylic with traditional colour to ensure that the colour does not fade easily. The painting depicts the
Tree of life — how life sparkles with all the trees,
animals, and birds surrounding us. To do a painting, an artist sometimes takes even a month. There is a lot of pain and a lot of hard work in creating a piece of art. My wife Jhumi and two sons also
help me." "I must thank my late Mother Saiba Swain for making me learn traditional painting art. Though I have studied only up to Class VII, the knowledge that I have acquired over the years is now paying dividends. It gives me a sustainable livelihood. I always try to find a new path for this traditional art form and work on modern artifacts like kettles, and bottles and experiment with the changing the art form like incorporating calligraphy within Pattachitra."
The most significant feature of this heritage craft village, located about 15km from Puri, is that there are about 160 houses in the village with almost every resident an artisan.
All of them have acquired skills from their forefathers. Every house is filled with art and crafts and talented artists. The village is divided into two streets, with a temple in the middle.
"We have different kinds of artisans. But a majority of us are Pattachitra painters. We also make traditional masks, stone idols, papier mache, sculptures, and wooden toys," said another artist, Mitu Swain, adding that some of the village artisans have won national awards for their exceptional work. This form of art goes back to 5th Century BC.
Every day nearly 100 to 200 tourists from different parts of the country and abroad come to our village. They purchase the Pattachitra and other form of art from the village members. "Every member earns Rs 15,000 to Rs 20,000 per month. We lost many valuable paintings during cyclone Fani that wreaked havoc in 2019. Later the Covid related shutdown made our life miserable. Now the market is opening up," said Mitu Swain.
The Pattachitra paintings are made on a piece of cloth known as Patta or a dried palm leaf, which is first painted with a mixture of chalk and gum. Over the prepared surface, colourful and intricate pictures of various Goddesses, Gods, and mythological scenes with ornamentation of flowers, trees, and animals are drawn. Mostly it depicts the love of Lord Krishna and Radha.
In 1998, The Indian National Trust for Art and Cultural Heritage (INTACH) did two-year research and this village was chosen for being developed as the first heritage village and crafts village in the same year.
Later they fine-tuned the skills of the villagers by relearning traditional techniques and implementing them in their artworks. They have also learned how to prepare plaster made of lime, sand, jute, molasses, lentils, curd, casein, and local herbs such as Triphala and bel. The Raghurajpur Pattachitra paintings on saris especially the Sambalpuri saree are also in great demand.