Opposition turns the heat on Centre
NSO Group's India client will be revealed soon: Chidambaram
Government will brazen out allegations of snooping till name surfaces, says ex-home minister, tweets many posers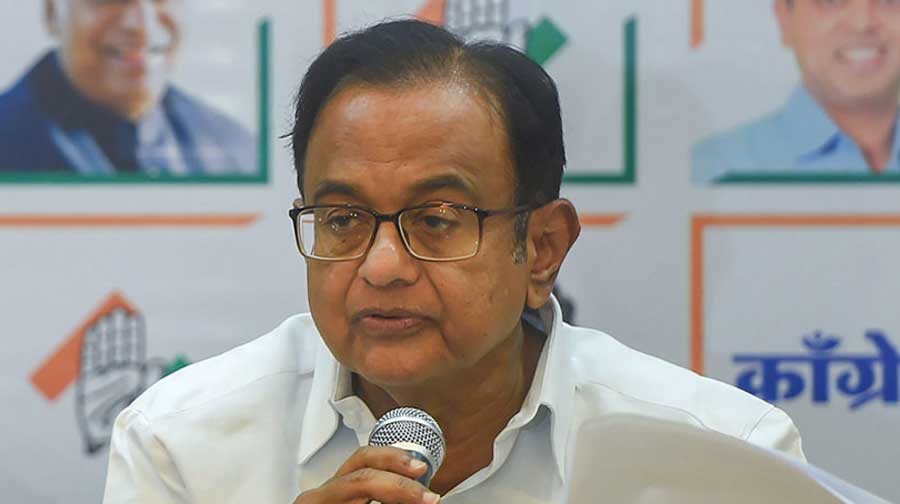 ---
Published 27.07.21, 11:18 AM
|
---
The government would brazen out the allegations of snooping until it is known who the "Indian client" of Israeli firm NSO Group's Pegasus spyware was and that name would be revealed soon, senior Congress leader P Chidambaram said on Tuesday.
The former home minister said that based on investigations by an international group of journalists, news portal 'The Wire' has reported that there was "an Indian client of the NSO Group".
Last week, an international media consortium reported that over 300 verified mobile phone numbers, including those of two ministers, over 40 journalists, three opposition leaders besides scores of businesspersons and activists in India, could have been targeted for hacking through the Pegasus spyware of the NSO Group.
The government has been denying all Opposition allegations in the matter.
"Who was the 'Indian client'? Was it the government of India? Was it an agency of the government? Was it a private entity?" Chidambaram asked in a tweet.
"I am certain the client's name will be revealed soon. Until then, I suppose the government will brazen out the allegations of snooping," he said.
Amid reports that French President Emmanuel Macron spoke with Israeli Prime Minister Naftali Bennett on the Pegasus snooping allegations, Chidambaram had attacked the Centre on Monday, too, saying the only government that was "unconcerned" over the issue was that of India.
The parliamentary panel on information technology led by Congress leader Shashi Tharoor is likely to question top government officials, including those from the home ministry, later this week on Pegasus snooping allegations, according to sources.
The Pegasus scandal has created ripples all across the country with the non-BJP ruled states continuously attacking the Centre over snooping allegations.
On Monday, Bengal Chief Minister Mamata Banerjee announced the nation's first commission to probe the Pegasus snooping allegations, shortly before setting off for Delhi on a five-day trip during which she will meet Prime Minister Narendra Modi and several Opposition leaders.
Bengal's two-man commission of inquiry will be made up of the retired Supreme Court judge, Justice Madan B. Lokur, and the former Chief Justice of Calcutta High Court, Justice Jyotirmay Bhattacharya. It has to submit its findings and recommendations within six months from Monday.
Under its terms of reference, the commission is to ascertain whether any interception occurred; identify the state and non-state actors involved, if any; determine the mechanism used for the alleged hacking; find out whether Pegasus or any other spyware was used; examine the information collected, altered, stored or used; and gather the details of how people were affected.