Not sponsored by govt? Not welcome
She was put on a flight to Dubai after 4pm as a "deportee" with her passport being held by the crew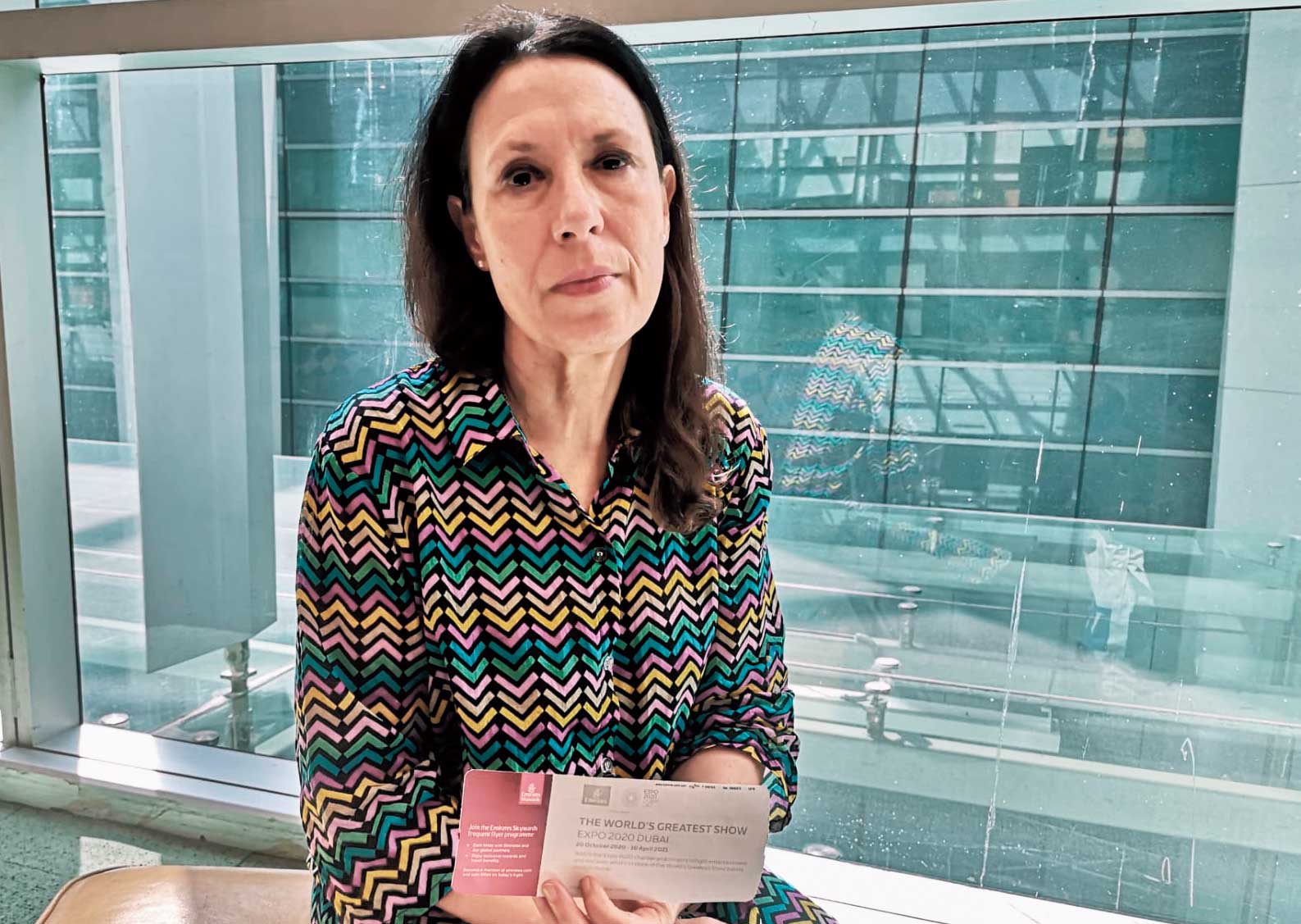 Debbie Abrahams at Delhi airport on Monday. This photograph was given to the Associated Press (AP) by Harpreet Upal, an aide accompanying the British MP
---
New Delhi
|
Published 17.02.20, 08:45 PM
|
---
Debbie Abrahams, British MP and chairperson of the All Party Parliamentary Group on Kashmir, was deported from New Delhi on Monday for not having a valid visa, a claim she contested on the basis of the year-long valid e-visa issued to her in October.
Abrahams, a member of the Labour Party which has been particularly critical of India's Kashmir policy in recent months, arrived at Delhi Airport on an Emirates flight around 8.50am and was told by immigration officers that her visa had been rejected.
She was put on a flight to Dubai after 4pm as a "deportee" with her passport being held by the crew, according to a report in the British newspaper, the Mirror.
The deportation took place less than a week after the Centre organised a conducted tour of European envoys in Kashmir.
Abrahams put a statement out from the airport in the early afternoon about being denied permission to enter India.
A Union home ministry source said: "The UK MP was informed in advance that her e-visa had been cancelled and she had no visa when she landed at IGI airport." No explanation was offered on why the e-visa was cancelled.
A spokesperson for the British High Commission said: "We are in contact with the Indian authorities to understand why Deborah Abrahams MP was denied entry to India. We provided consular assistance to her whilst she was in New Delhi Airport."
Communicating through Twitter, the MP contested the Indian claim that she did not possess a valid visa to visit India and that she had been told in writing to apply for a regular visa. "I'm sorry but that just is not the reality," she tweeted in response to New Delhi's claims.
Earlier in her statement, the MP said: "Along with everyone else, I presented myself at the immigration desk with my documents, including my e-visa, had my photograph taken and then the official looked at his screen and started shaking his head.
Abrahams added: "Then he told me my visa was rejected, took my passport and disappeared for about 10 minutes.
"When he came back, he was rude and aggressive shouting at me to 'come with me'. I told him not to speak to me like that and was then taken to a cordoned off area marked as Deportee Cell. He then ordered me to sit down and I refused. I didn't know what they might do or where else they may take me, so I wanted people to see me. He disappeared again when I rang my sister-in-law's cousin, Kai, who I was meant to be staying with. Kai got in touch with the British High Commission…."
According to Abrahams, the immigration officials were not able to tell her why her e-visa — which was valid till October — had been revoked. Neither, according to her, did they "seem to know" if she could apply for visa on arrival. Visa on arrival is not available for British citizens.
Abrahams represents the Oldham East and Saddleworth parliamentary constituency which has a sizeable Pakistani population.
Responding to some of the criticism that came her way through the day, the Labour MP tweeted: "I became a politician to promote social justice & human rights FOR ALL. I will continue to challenge my own government & others while injustice & abuse is unchecked."
Political scientist and director of the Centre for Contemporary South Asia at Brown University in the US, Ashutosh Varshney, tweeted: "Yet another sign of bad diplomacy. That critics of govt policy can't enter India is wrong, both at the level of principle and pragmatism. It sends the wrong message about free speech. And it won't stop people from criticizing what they find unacceptable."
New Delhi's display of ire was not confined to the British MP. India issued a strong demarche to Turkey for President Recep Tayyip Erdogan's critical remarks on Kashmir from Pakistani soil during his visit to Islamabad last week, stating that such developments "have strong implications for our bilateral relationship".
India also rejected UN secretary-general Antonio Guterres's offer to mediate on Kashmir with Pakistan, insisting that there is no scope for third-party mediation.