Nodeep Kaur calls for united action against state repression
She said her arrest and that of many others speaking up for the farmers and the marginalised is a sign that the government is running scared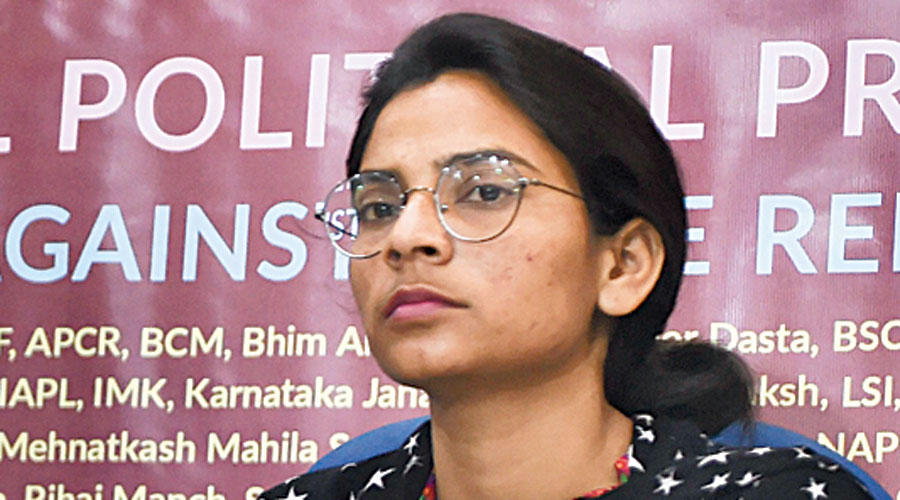 ---
---
Labour activist Nodeep Kaur, who was released from jail last week, on Monday called for united action against state repression, adding that her arrest and that of many others speaking up for the farmers and the marginalised is a sign that the government is running scared.
Addressing a news conference in the national capital from the platform of 36 organisations jointly fighting state repression, Nodeep said while she was happy to be free and grateful for the support she got not just in India but from across the globe, the struggle is far from over.
"True victory can be claimed only when these farm laws are repealed, when men and women earn equal wages, and when workers have the right to raise their voice against oppression and inequality without fear or threat,'' the young activist said, drawing attention to the plight of Shiv Kumar, president of the Mazdoor Adhikar Sanghathan, who is still in prison and has allegedly been tortured. His medical report submitted in court showed fractures and broken toenail beds.
Speaking on the charges levelled against her, Nodeep said the police are accusing her of trying to organise labourers in the Kundli Industrial Area near the Singhu border protest site of farmers.
"Is it a crime to organise workers to demand what is their due? If workers ask for their wages, is it extortion?'' she said, referring to the charge of extortion against her.
"The way the government is using different laws against activists and bringing cases against them shows how frightened they are of people who stand up to them. Whoever — Dalit, Muslim, Sikh or Adivasi — raises their voice against the government is called names and branded. Cases are filed against them under stringent laws. It shows that the State is scared of people who protest and distribute pamphlets, including a girl like me,'' she said.
Even on Monday, as she addressed the news conference inside the Press Club of India, two bus-loads of riot police were stationed outside.
Referring to the charge that she and her co-accused had intended to attack the police, Nodeep asked if that were so, "Then why were we protesting outside the gates of a company demanding wages for the workers? All we had in our hands were the sticks on which our flags were tied.''
Earlier, Shiv Kumar's father Rajbir too addressed the media and said he has not been allowed to meet his son since his arrest on January 16. Choking on his words, the elderly man said he got a fleeting glimpse of his son once and there were signs of torture. A medico-legal examination report submitted to the Punjab and Haryana High Court last month states that he had faced custodial torture at the hands of the police.
Nodeep's call for combined action came hours before the Samyukta Kisan Morcha — the joint platform of farmers organisations spearheading the movement against the farm laws — was to meet central trade unions on Monday evening to chalk out a joint programme of action. The trade unions are also agitated over the proposed sale of public sector companies and new labour code that is likely to come into effect from April 1.