Parallel drawn with Rhea Chakraborty victimisation
No incitement in 'toolkit' content, says Justice Deepak Gupta
The assessment strikes at the root of the sedition charge levelled by Delhi Police against the young climate activist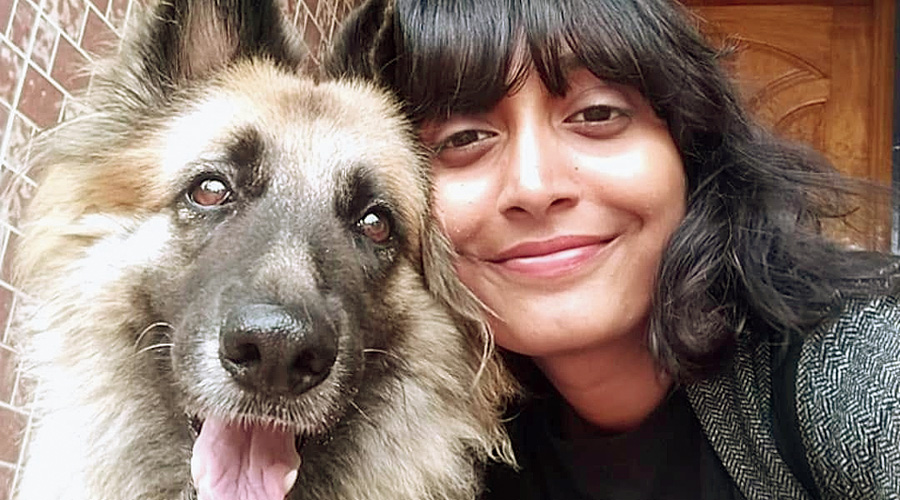 ---
---
None of the contents of the toolkit linked to Disha Ravi and available in the public domain is an incitement to violence, former Supreme Court judge Deepak Gupta has said.
The assessment strikes at the root of the sedition charge levelled against the young climate activist by Delhi police who arrested her from Bangalore over the weekend.
Although the Supreme Court had upheld the sedition law (Section 124A of the Indian Penal Code) in 1962, its application was limited to acts involving intention or tendency to create disorder, or disturbance of law and order, or incitement to violence.
Justice Gupta told The Telegraph on Tuesday: "Now specifically coming to this young lady, this Disha Ravi case, what I have read from the toolkit… that part of which is available on the public domain, all that it says is 'we should all get together, have a social war on social media and target the government, create a Twitter storm against the government and then on the 26th (January) we will all move to Delhi and then come back to the border'.
"Now, none of them is an incitement to violence, I would say. At best, you can say Section 144 CrPC (prohibition on gathering of five or more persons at a place) was applicable in Delhi on that day (January 26) and you have violated Section 144, but it is not an incitement to violence. I don't find any link (of the toolkit schedule) to the Red Fort incident or anything."
Violation of Section 144 can entail a maximum punishment of three years in jail but police usually take violators into custody and release them after a few hours. Section 124A can send a convict to prison for life and usually the suspects are not given government jobs until they are cleared of the charge.
Justice Gupta, who had spoken on the issue on NDTV on Monday, pointed out to this newspaper that the misuse of the sedition law was not confined to any particular dispensation.
"It is not this government alone; in West Bengal, there was a cartoon and the person was arrested. There was some challenge to the PDS system in Chhattisgarh and the person was arrested. There is a growing misuse of the defamation law, the sedition law and the UAPA (Unlawful Activities Prevention Act) to stifle the voice of dissent," he said.
"Basically the idea is people get scared and they don't speak up because nobody wants to go to jail. Some (governments) indulge in more, some indulge in less, but all of them indulge… almost all of them indulge….
"In 99 per cent of the sedition cases filed, they all end up in acquittal or discharge. Or the police do not file the chargesheet till three months or six months and the person goes home," he said.
Justice Gupta said that unfortunately even after Independence, instead of abolishing the sedition law, it was made harsher during the term of then Prime Minister Indira Gandhi by amending the provision to make it a cognisable offence.
It was a non-cognisable offence under the British Empire. Under a non-cognisable offence, a person can be arrested by the police only under a warrant from a judicial magistrate, unlike a cognisable offence where a cop can pick up a person and put him in the cell in the name of arrest.
"In England, Australia, etc, it is abolished, but we continue with it. In the past five to six years, there has been an exponential increase in sedition cases. In my view, it is only an attempt to instil fear that if they talk against the power that be, we will take action," Justice Gupta said.
Magistrate's duty
Justice Gupta said it was also the duty of the judicial magistrate before whom an accused is brought to see that the allegations made by the police were not taken as the gospel truth.
"That is why they go on Sunday before a duty magistrate who is not involved with the case at all," Justice Gupta said.
He was alluding to a practice of the police arresting a person during the weekend and seeking remand from the duty magistrate who may not have all the materials before him. On a weekday, a suspect has to be produced before a regular judicial magistrate who can scrutinise the materials placed before him minutely.
Rhea parallel
The former judge drew a parallel between the victimisation of the young climate activist and actress Rhea Chakraborty.
Justice Gupta said Disha was being declared guilty and branded an anti-national by sections of the media and others, much like Rhea had been after the death of actor Sushant Singh Rajput.
"You kept a person behind bars for two days, three-five days, 10 days, 15 days, 20 day, a month. How do you return that or make up for the person's lost liberty? There are channels and channels and in the news media she (Disha) is already like Rhea Chakraborty. This girl has already been proclaimed to be guilty and an anti-national. Just because we disagree, a person disagrees with the government, does not make that person anti-national," Justice Gupta said.
"They can always be patriots. Two patriots can always have different points of view on how the government should function," the former judge said.
Dissent
"In my view, dissent is an essential part of democracy. If there is no dissent, there is no vibrant democracy. In a democracy, there has to be arguments, debate… otherwise, we will live in a stagnant society," Justice Gupta added.
He said the Supreme Court or the high courts could not be expected to suo motu intervene in such matters as it was for the aggrieved citizen to approach the judiciary.
"In every case, the Supreme Court cannot intervene. Either somebody has to intervene or move the court. Disha Ravi has become a celebrated case. But when a poor villager is arrested, nobody bothers. So I don't think this is a case where the court can take suo motu notice," he said.
Justice Gupta said that "on the larger context, when the matter comes up for bail or for other reasons, the Supreme Court should look into these aspects and, may be, lay down the law and guidelines on how and where they can be arrested".
Arrest-happy
The former Supreme Court judge, known for his forthright views on citizens' personal liberty, expressed concern at the growing trend in the country to arrest citizens for every petty offence even when there is no requirement under the law.
"There is another tendency, which I find that now arrest has become the first thing. A person has to be arrested not to punish him, but because at this stage of investigation, it is only the police that believe the person might have committed an offence," Justice Gupta said.
"They are presumed to be innocent till proven guilty. So till that time, you don't have to arrest everybody. If they cooperate with you, if you find that there is no chance of their absconding or running away, if you find that they are giving you computers or whatever you want, why should you arrest them? Why should you arrest them?" he asked.