Aw! Trophy bike is upstaged
All eyes on non-rider Bobde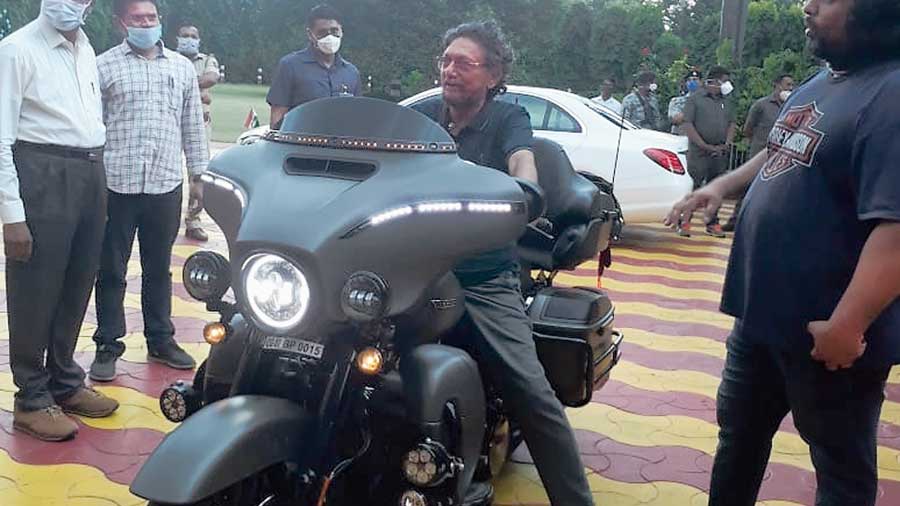 ---
---
A picture of a motorbike enthusiast trying out a Harley-Davidson would normally earn a casual glance from the uninitiated and a nod of approval from the HOG (Harley Owners' Group) rather than set off a social media storm.
Except when the rider happens to be the Chief Justice of India and the bike is registered in a name matching that of the son of a BJP politician from Nagpur, home to the RSS headquarters.
To cap it all, Justice S.A. Bobde, 64, clicked on Sunday evening while mounted on the bike, was wearing neither a helmet nor a face mask.
The picture was taken outside the Nagpur Raj Bhavan, where the judge had gone to attend a tree plantation programme.
"No Mask, No helmet…. No social distancing.
Of course he can do it, he is above law, he is the one who delivers it," wrote a Twitter user.
"Hon'ble Chief Justice of India on his bike but with a wrong message," said another.
Among the critics was advocate and civil rights activist Prashant Bhushan, who tweeted: "CJI rides a 50 lakh motorcycle belonging to a BJP leader at Raj Bhavan, Nagpur, without a mask or helmet at a time when he keeps the SC in lockdown mode denying citizens their fundamental right to access to justice!"
He was alluding to the Supreme Court conducting hearings through videoconferencing since March 24 despite the Bar's demands to reopen the courts for normal proceedings.
Harley-Davidsons, the most fabled of motorbikes, on an average cost about Rs 5.5 lakh but the price can go up above Rs 50 lakh.
Sources close to Justice Bobde dismissed the charges, saying he did not ride the two-wheeler.
"On Sunday, a Harley-Davidson executive was demonstrating the bike on the road outside Raj Bhavan. On a request from him, Justice Bobde just sat on it to get a feel of the bike. There was no need for him to wear a helmet," one of the sources told The Telegraph.
He said the CJI was wearing a mask but had removed it to give the photographer a better view. Nor did the judge know who the bike belonged to, the source said. "Unfortunately, some people have all the time in the world to make a mountain out of a molehill," he said.
The bike, carrying the number CGO-7BP-0015, is registered in the name of Rohit Sonbaji Musale, according to Vahan, the national database on vehicle registration status. Sonba Musale, a BJP politician from Nagpur who had unsuccessfully contested the 2014 Assembly polls from Saoner, has a son named Rohit Sonbaji Musale.
"Justice Bobde was neither concerned nor aware whose vehicle it was," another source said.
He said the CJI, due to retire on April 23 next year, was keen on acquiring a new motorbike to ride post-retirement.
Senior advocate Rakesh Dwivedi said the CJI had done "nothing wrong by sitting on a bike that, it turns out, belongs to the son of a BJP leader who contested elections in 2014".
"That doesn't mean he is aligned to the BJP. This is too far-fetched. As for not wearing a mask, just taking it off for a photograph doesn't indicate any breach of protocol," Dwivedi said.
Not all the social media comments were critical, either. Some praised the judge's "swag level"; others described him as "stylish and suave".
"Never get so busy making a living that you forget to make a life," posted a user who goes by the name Dolly Parton.
"I like ppl who love life. No false pretensions. No false sense of protocol," tweeted Vivek Tankha.
Sources said that before becoming a judge, Justice Bobde used to ride two bikes: a Royal Enfield Bullet and a Jawa. As a Supreme Court judge, he used to ride motorbikes incognito in Lutyens Delhi before becoming CJI.