Nitish Kumar takes on Niti Aayog for presenting Bihar in poor light
The report put the state govt in an awkward position as the CM and health minister had been often highlighting the massive strides made in medical infrastructure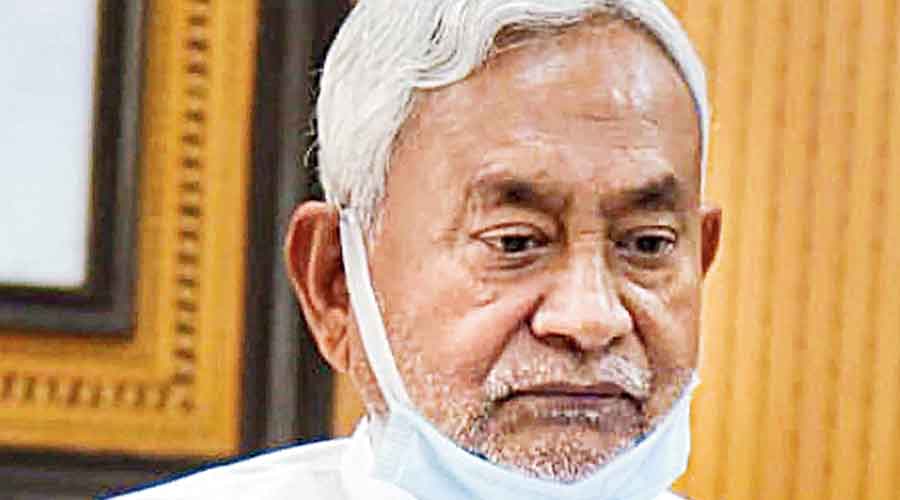 ---
Patna
|
Published 05.10.21, 01:06 AM
|
---
Bihar chief minister Nitish Kumar on Monday slammed the Niti Aayog for its surveys which presented the state in a poor light claiming that they did not factor in various aspects before arriving at conclusions and hence failed to give a true picture.
Nitish also promised to raise the issue at the next meeting of the Niti Aayog, which deliberates and formulates sustainable development policies for the country. The state government is also going to write to the think tank to convey its objections.
"If you (Niti Aayog) are considering the entire country to be equal then it is a surprising thing. You must know that Bihar is at the third position among the states in population after Uttar Pradesh and Maharashtra, and at the 12th position in terms of area. The population density here is the highest in the country," Nitish told mediapersons on the sidelines of his Janata Durbar.
"How will you compare Bihar with Maharashtra? The poorest with the richest state? Is this the way to understand anything? Do you know how much Bihar has progressed in health services since 2006 when just 39 people visited the block hospital (primary health centre) in a month but now around 10,000 are treated there every month? We are introducing new technologies to treat people wherever they are," Nitish added.
The chief minister went on to claim that while Bihar has progressed a lot in the health sector, Niti Aayog was just a newcomer with people who were novices.
One of the immediate reasons behind Nitish's outburst was the Niti Aayog's report on "Best practices in the performance of district hospitals" in the country released last week. It revealed that Bihar with just six hospital beds per one lakh population was at the bottom in the hospital bed to population ratio among the states. The report also highlighted a severe scarcity of doctors and nurses in the state.
The national average is 24 hospital beds per lakh population, slightly more than the Indian Public Health Standards 2012 guidelines to have at least 22 beds per lakh people. Puducherry is at the top of the rankings with 222 beds per lakh people.
The Niti Aayog report put the Bihar government in an awkward position as Nitish and health minister Mangal Pandey had been often highlighting the massive strides made in medical infrastructure and health services in the state. Both the leaders had to scurry for cover when mediapersons bombarded them with questions on the issue. It also provided heavy ammunition to the Opposition, which went hammer and tongs against the NDA government.
"These people (Niti Aayog) do not know various aspects and tell similar things for the entire country. We are going to write to it that whatever has been published is not proper. We are treating people for free, giving medicines to so many of them. You cannot arrive at conclusions without paying attention to such work," Nitish asserted.
Nitish, who heads the National Democratic Alliance (NDA) government in the state, expressed doubts over the way Niti Aayog conducted its surveys.
"I do not know through whom and how Niti Aayog gets its work done. If I get a chance to attend its next formal meeting, I will tell them that there should be a method of assessment and you should know the basics. You should club the backward states together to compare. Similarly, the rich states should be put in another group," he argued.
The chief minister also pointed out how the state had topped in Covid-19 vaccination by administering 33 lakh doses on Prime Minister Narendra Modi's birthday on September 17 and followed it with over 30 lakh doses administered on Mahatma Gandhi's birth anniversary on October 2.
"Our aim was to administer 35 lakh doses on Bapu's birth anniversary. Heavy rains lashed the state, yet 30 lakh people came to take the vaccine," he said.
Nitish also highlighted how Bihar has progressed at a fast pace and registered double-digit economic growth every year continuously for around a decade since 2009.
"You should know these things to arrive at a correct assessment, but if you take anything just like that, pull out figures from somewhere, then its not an actual study. I will raise these things also at the Niti Aayog meetings," Nitish added.
Bihar has around 12,000 government hospitals and health centres in the state, including 36 district hospitals, 67 referral hospitals, 54 sub-divisional hospitals, 533 primary health centres (PHCs), 9,949 sub-centres and 1,393 additional PHCs.
However, several problems are plaguing the health facilities, including inadequate number of doctors, their absence from duty, lack of ambulances and hearses, dogs resting on hospital beds, waterlogging inside hospital buildings, wards and operation theatres, middlemen on the prowl in hospitals, misbehaviour with doctors, hospital staff, patients and their kin, poor nursing and scarcity of medicines and diagnostic facilities, among others.