Nitish Kumar seeks larger OBC quota
Advocating the need for a caste census across the country to assess the population of different castes, Nitish said it would be helpful in deciding the reservation given to them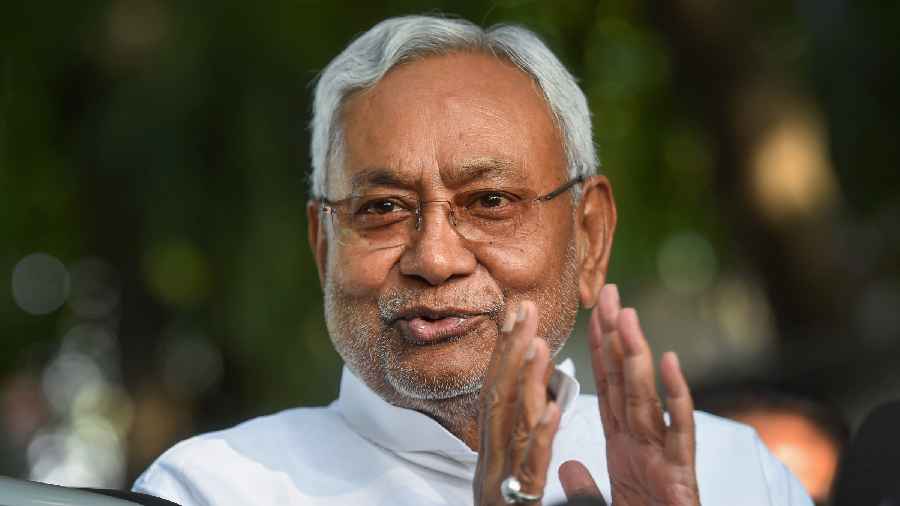 Nitish Kumar
File picture
---
Patna
|
Published 09.11.22, 02:51 AM
|
---
Bihar chief minister Nitish Kumar on Tuesday backed reservation for the backward castes proportionate with their population across the country and called for raising the 50 per cent cap on quotas for Scheduled Castes, Scheduled Tribes and Other Backward Castes. 
"The SCs and the STs are given reservation according to their population, but the OBCs and Extremely Backward Castes (EBC) are unable to get reservation according to their population within the 50 per cent limit for quotas. This limit should be raised. It will be a good thing," Nitish said.
The chief minister and Janata Dal United leader was talking to journalists on the sidelines of the 15th foundation day celebrations of the Bihar State Disaster Management Authority in Patna.
Advocating the need for a caste census across the country to assess the population of different castes, Nitish said it would be helpful in deciding the reservation given to them.
"It is necessary to assess all the castes in the country and find out their population so that help can be given to them accordingly. We have been seeking this since the beginning," he added. \
Pointing out that the Bihar government was already conducting a caste census after the Centre rejected the demand for a countrywide exercise to enumerate all castes, the chief minister asserted that the economic condition of the people would also be assessed as part of the caste census so that the government could provide help to the poor belonging to any caste or religion. 
"It will be the best thing if such a caste census is conducted all over the country and the 50 per cent cap on reservation is raised," Nitish said. He welcomed the Supreme Court ruling in favour of 10 per cent reservation for Economically Weaker Sections (EWS) among the unreserved castes.
Nitish's demand could have extensive political ramifications at a time several states are in the queue for Assembly elections over the next one year, followed by the Lok Sabha polls in 2024. 
Political experts believe Nitish and other national Opposition leaders could use the demand for population-proportionate reservation to targeted castes to counter the kamandal (religion-based) and jingoistic politics propagated by the BJP.
Nitish quit the National Democratic Alliance (NDA) and joined the Grand Alliance to form a new government in Bihar in August this year. The new ruling coalition now consists of the JDU, Lalu Prasad's Rashtriya Janata Dal (RJD), Congress, the Left parties and the Hindustani Awam Morcha Secular.
Since his latest switch, Nitish has been favouring a broad-based united Opposition to counter the BJP at the Centre. 
He has met or spoken to almost all non-NDA leaders, including Sonia Gandhi. Many believe Nitish could be eyeing a shot at the Prime Minister's post in the next general election.
On Tuesday, Nitish stressed the need to create awareness and alertness among people, including school students and government officials, about disasters, their mitigation and relief.