Nirmala Sitharaman and Piyush Goyal: Dream team worthy of Nobel
Sitharaman waffled when asked if the current economic slowdown was because of cyclical or structural factors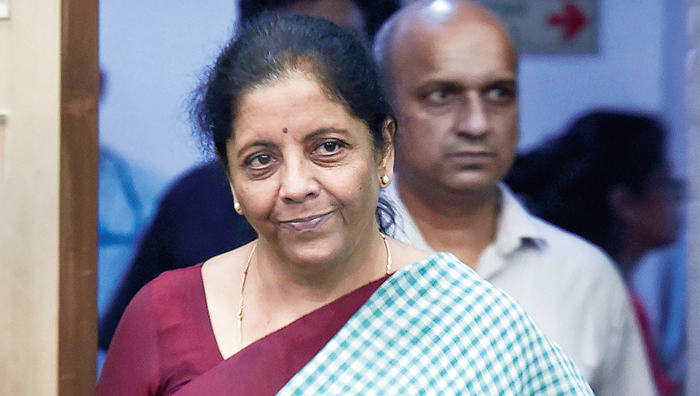 "It may be both, may not be both; may be partly one or may be partly the other," Sitharaman said. "I'm not getting into that at this stage. I don't have the luxury of sitting and looking at which way it is going."
PTI
---
New Delhi
|
Published 19.10.19, 12:52 AM
|
---
Finance minister Nirmala Sitharaman asserted again that India continues to rank as the "fastest-growing economy in the world" even as she continued her war of words with former Prime Minister Manmohan Singh who had advised the Narendra Modi government to stop blaming the UPA regime for all the troubles that bedevil the economy.
"I wish it (GDP growth) could grow faster. I'll make every effort to make it grow faster. But the fact remains that it is still one of the fastest-growing economies too. But that's not going to make me complacent," Sitharaman told reporters in Washington DC ahead of the annual meetings of the IMF and the World Bank.
On Thursday, Singh had said: "Before one can fix the economy, one needs a correct diagnosis of its ailments. The government is obsessed about somehow trying to fix blame on the opponents. In the process, it is unable to find the solutions that revive the economy."
Subsequently, Sitharaman riposted during her interaction in Washington DC: "I'm not spending any time at this stage to analyse."
Sitharaman waffled when asked if the current economic slowdown was because of cyclical or structural factors — an issue on which there has been fierce debate among economists.
"It may be both, may not be both; may be partly one or may be partly the other," Sitharaman said. "I'm not getting into that at this stage. I don't have the luxury of sitting and looking at which way it is going."
The Union finance minister conceded that the economy wasn't growing as fast as it once did. "It's not 8 per cent. It's not seven. It's come down to six and so on…. But I don't want to underestimate the potential that India is showing even in this adverse circumstance," Sitharaman said.
The Indian economy slowed to a six-year low at 5 per cent in the first quarter ended June 30.
A fortnight ago, the Reserve Bank of India forecast growth in the second quarter (July-September) at 5.3 per cent. In August, the central bank had slashed its full-year growth forecast to 6.1 per cent from 6.9 per cent, fanning fears that the Indian economy could record its slowest rate of growth since the 5.5 per cent recorded in 2012-13.
"I respect Dr Manmohan Singh for telling me not to do the blame game. But recalling when and what went wrong during a certain period is absolutely necessary to put it in context, now that I'm being charged that there's no narrative at all about the economy," the finance minister said.
Sitharaman turned reticent when asked if she would stick to the promise in her budget, presented in July, to cap the fiscal deficit at 3.3 per cent of the GDP. "I'm not reviewing it now," she said in a terse reply.
"At this stage, I do not want to allow that (the fiscal deficit) to worry me. I'm more keen on tackling the issues that industry wants me to address."
She refused to confirm growing speculation that the Modi government would cut personal income tax rates as well after trimming the basic corporate tax to 22 per cent under pressure from industry. "You will get to know if there is any decision," Sitharaman said.
She reaffirmed that India would become a $5-trillion economy under the present government as it adopts more and more policy measures.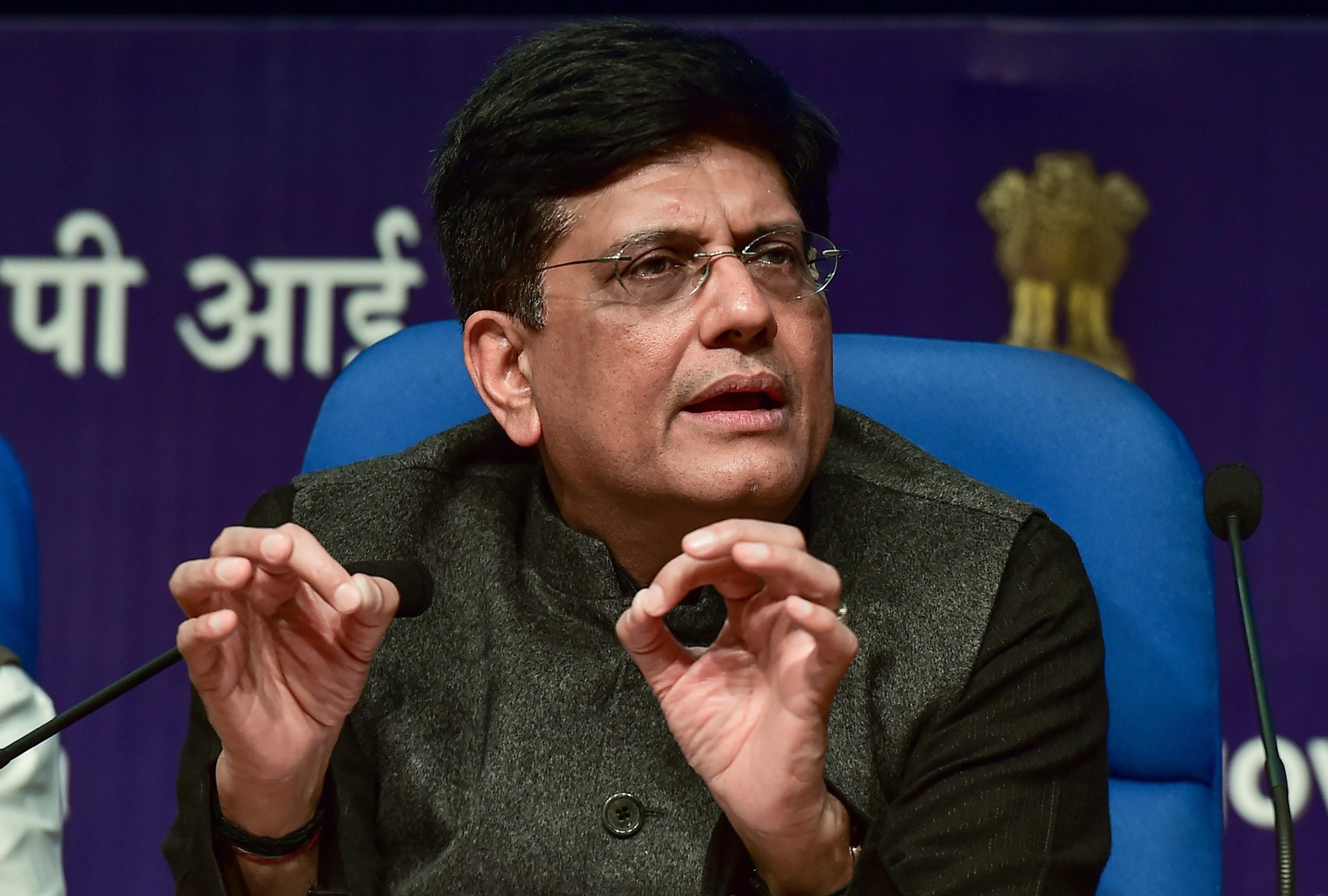 Congrats, but...
Union minister Piyush Goyal, who had credited Albert Einstein with discovering gravity, has raised the bar by showing how to congratulate Nobel winners.
"I congratulate Abhijit (Vinayak) Banerjee for winning the Nobel prize. You all know that his thinking is totally Left-leaning," PTI quoted Goyal as saying in Pune on Friday. "Banerjee supported Nyay (the poverty alleviation scheme promised by the Congress) and people of India rejected his ideology."
Goyal said it was a matter of pride that an Indian won the Nobel prize. "But it is not necessary to agree with what he says and especially when the people of this country rejected his suggestion, there is no need to accept what he thinks," the minister added.
On Monday, after the Nobel prize announcement, Banerjee had said: "The Indian economy is going into a tailspin…. There is an enormous fight going on in India about which data is right and the government has a particular view… all data that is inconvenient to it is wrong…. But, nonetheless… I think even the government is increasingly recognising that there is a problem."