NGO says Disha Ravi arrest an attempt to criminalise dissent
Campaign for Judicial Accountability and Reforms has alleged Delhi police's special cell had violated all norms and procedures of the CrPC and the Constitution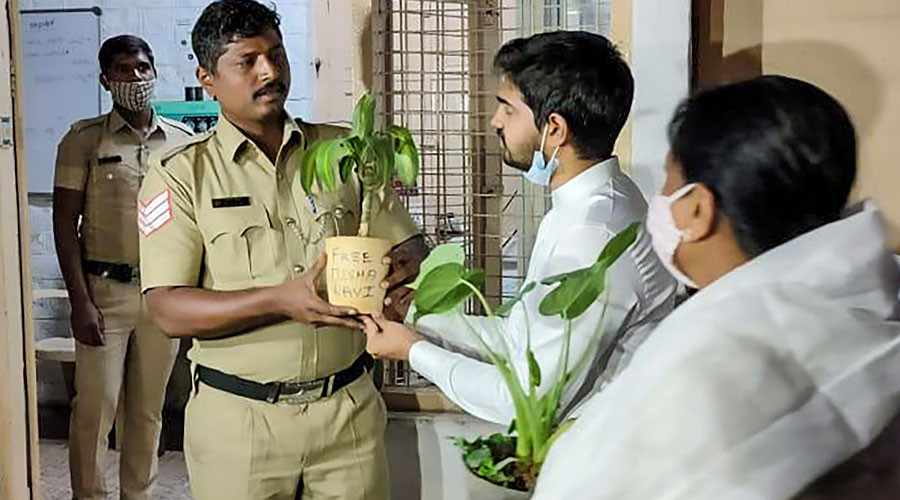 Friends and relatives of 21-year-old climate activist Disha Ravi requesting policemen to intervene and look into the matter of the former's arrest by Delhi Police cyber cell, following her alleged role in spreading a toolkit related to the farmers' protests, in Bangalore on Sunday, Feb. 14, 2021.
PTI
---
New Delhi
|
Published 16.02.21, 02:12 AM
|
---
The NGO, Campaign for Judicial Accountability and Reforms (CJAR), on Monday termed the charges on 22-year-old climate activist Disha Ravi as "absurd" and an "attempt to criminalise dissent" as it condemned her arrest as "illegal" and in violation of the Constitution and procedures prescribed under the Code of Criminal Procedure (CrPC).
In a statement issued here, the NGO has alleged that the Delhi police's special cell had violated all norms and procedures of the CrPC and the Constitution while arresting Disha from her home in Bangalore. 
"The allegations against her are absurd to say the least and are an attempt to criminalize dissent and protest. Further, Delhi police have failed to follow any of the guidelines laid down by the Supreme Court in Arnesh Kumar v State of Bihar (2014) when it comes to arrest," it said.
In the 2014 case, the apex court had clearly laid down that it would be a contempt of court if the police arrested any person for offences which entail a punishment upto seven years, unless such an arrest was essential.
"Being 'arrested' from Bengaluru, she should have been produced before the competent court in Bengaluru for obtaining transit remand since she is being moved between states, but was not. She was instead produced before the Duty Magistrate in Patiala House Court in Delhi — by no means the 'nearest magistrate' as required by clause (2) of Article 22," the statement said.
Article 22 prescribes various safeguards before a person is arrested and sent to either police or judicial custody.
"She also did not have an opportunity to seek appropriate legal counsel. These actions of Delhi police have made a complete mockery of the 'procedure established by law' in depriving Disha Ravi of her right to life and liberty. Such illegal actions by Delhi police would amount to a kidnapping under the pretence of law," the statement added.
The NGO also recorded with "deep disappointment the complete abdication of duty by the Duty Magistrate in Patiala House Court".
According to the organisation, magistrates have an important constitutional role to play under Article 22 to ensure that any detention by the police is strictly in accordance with the law and procedure. "However, the concerned Magistrate has performed their task in a mechanical manner that has resulted in a serious violation of human rights. Such an attitude among the judiciary renders the valuable right under Article 22(2) a virtual nullity and must be deprecated in the strongest possible manner. Such behaviour is regrettably common and requires judges and police being answerable and accountable for treating matters of life and liberty in a routine and casual manner," the statement said.
It added: "We therefore call upon the authorities to immediately release Disha Ravi from illegal detention and take disciplinary action against the concerned officers. Failing which we call upon the Delhi High Court to take immediate, suo motu cognizance of the illegal detention of Disha Ravi and release her, and initiate disciplinary action against the Duty Magistrate who has performed their constitutional duty in a casual and desultory manner."
We call upon courts and judicial authorities across the country to properly sensitize and train magistrates in the performance of their constitutional duties."