Rahul Gandhi sends preliminary reply to Delhi Police notice on his 'sexual assault on women' remark
He (Gandhi) said he needs some time and will give us the information which we have asked for, say police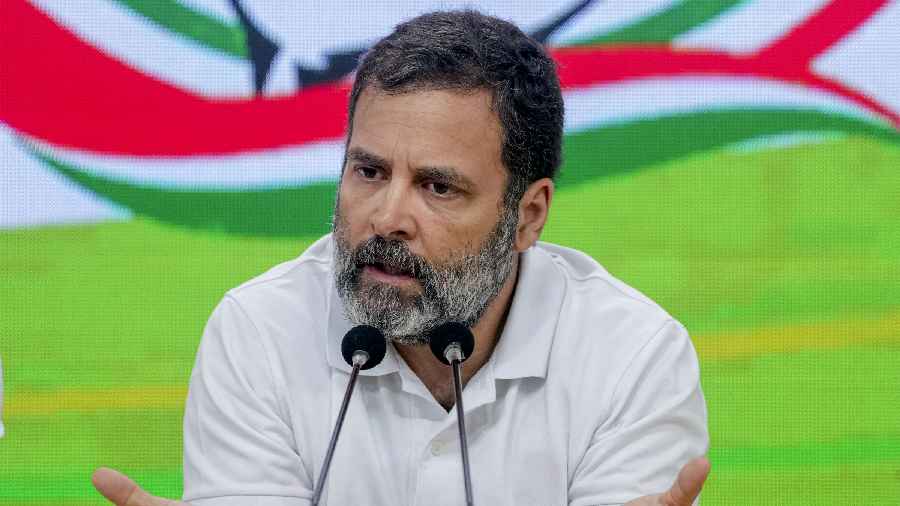 Rahul Gandhi
File picture
---
New Delhi
|
Published 19.03.23, 04:51 PM
|
---
Congress leader Rahul Gandhi Sunday sent a four-page preliminary reply to the Delhi Police's notice about his "women still being sexually assaulted" remark made during the Bharat Jodo Yatra while questioning the process adopted by the authorities and a sudden urgency after a 45-day delay.
The Congress leader gave the 10-point reply hours after a Delhi Police team knocked on his doors for the third time in five days. He also sought eight to 10 days to give a detailed response to the questions posed by Delhi police over his January 30 remarks, the sources said.
The police team headed by Special Commissioner of Police (Law and Order) Sagar Preet Hooda arrived at Rahul Gandhi's 12, Tughlaq Lane, residence around 10 am and was able to meet the Congress leader after two hours, officials said, adding the team left around 1 pm.
Hooda said the team held a meeting with Gandhi. "He (Gandhi) said he needs some time and will give us the information which we have asked for," Hooda said, adding the police today served a notice which has been accepted by Gandhi's office "and if questioning needs to be done then we will do it. We're trying to get details from him so that justice can be given to victims".
"Rahul Gandhi said it was a long yatra and he met many people and needs time to compile it. He has assured us that he will give the information soon and we will begin our proceedings as soon as we receive the information," the Special CP said.
According to the police, Gandhi stated in Srinagar during the Bharat Jodo Yatra that "I have heard that women are still being sexually assaulted", and since the Yatra had passed through Delhi also, they wanted to ascertain if any victim had approached the Congress leader here so that they can initiate a probe into the matter.
"The police had asked him to give details of these victims so that security could be provided to them," an official said.
Sending a preliminary reply a little before 4 pm, Gandhi termed the police action "unprecedented" and asked whether this had anything to do with his position taken both inside and outside Parliament on the Adani issue, sources said.
According to them, Gandhi also asked what was the urgency on the part of the Delhi Police in making two visits in as many days after an initial gap of 45 days after he made his speech in Srinagar.
The former Congress chief, the sources said, asked whether any other political party, including the ruling party, has been subjected to such kind of scrutiny or questioning over their political campaigns.
Police, on March 16, taking cognisance of social media posts, had sent a questionnaire and asked Rahul Gandhi "to give details about women who approached him regarding sexual harassment". In response, Congress said, "We will respond to the notice in due course in accordance with law."
The Congress attacked the Centre and said: "A government rattled by Shri Rahul Gandhi's questions on PM Modi and Adani's relationship hides behind its police. 45 days after Bharat Jodo Yatra was completed, Delhi Police has, via a notice, sought details of women who met him and spoke about harassment and violence they may have faced."
"We will respond to the notice in due course in accordance with the law. This notice is yet another proof of a government in panic and their latest salvo to weaken democracy, women empowerment, freedom of expression and role of the opposition," it said in another tweet.
Today again, the Congress condemned the Delhi Police's move and said, "'Bharat Jodo Yatra' and Rahul Gandhi ji gave women a safe platform to share their problems and pains. This shameful act of the Delhi Police proves that PM Modi is nervous about our questions on the Adani case. Our courage has been strengthened by such antics, we will continue to take answers."
Assam CM Himanta Biswa Sarma, however, countered and asked the Congress that if Rahul Gandhi will not give the names of the victim women then "how will they get justice"
Congress chief Mallikarjun Kharge said all this "tamasha" was being done only to harrass Rahul Gandhi and he or the party would not be cowed down by such things.
Addressing a joint press conference at the AICC headquarters here, party leaders Ashok Gehlot, Jairam Ramesh and Abhishek Singhvi said the move was a clear case of "vendetta, intimidation and harassment" in order to create an atmosphere against the former Congress chief.
Gehlot asserted that the central dispensation was setting a bad example by registering cases on statements of opposition leaders made during political campaigns, adding that the BJP leaders could face similar action over remarks made in states not ruled by it.
BJP spokesperson Sambit Patra said Gandhi should provide the information sought by the police so that the victims can get justice.
He said the police should have information about incidents claimed by Gandhi and that is why the Delhi Police has followed the legal procedure to meet the Congress leader for details.
He took a swipe at the Congress, saying the party is now crying that "democracy is in danger" over the lawful action by the police.