National Education Policy will produce job creators: Modi
The PM dedicated the NEP to the ideals of Babasaheb Bhimrao Ambedkar who had advocated affordable and accessible education for all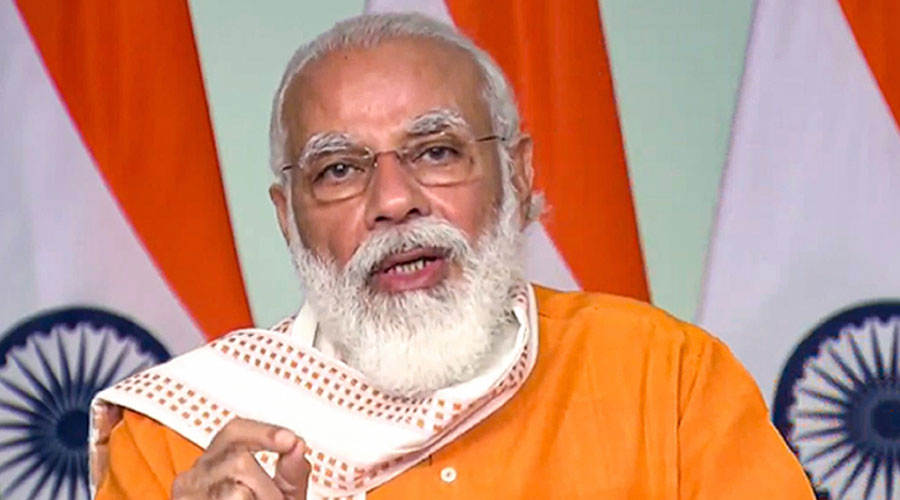 Prime Minister Narendra Modi addresses students at the Smart India Hackathon 2020 grand finale, through video conferencing, in New Delhi.
PTI
---
New Delhi
|
Published 02.08.20, 02:51 AM
|
---
Prime Minister Narendra Modi on Saturday hailed the National Education Policy (NEP) for promoting an interdisciplinary approach that would allow students to pursue subjects across streams and said it would make youths "job creators" instead of job seekers.
Addressing students on the grand finale of a hackathon, Modi dedicated the NEP to the ideals of Babasaheb Bhimrao Ambedkar who had advocated affordable and accessible education for all.
"The education policy stresses on making job creators rather than job seekers. In a way it makes an effort to change our approach and mindset. The focus of the policy is to enable the youths to decide if they want to pursue jobs or service, or become an entrepreneur," Modi said, on  the stress on vocational training.
Inter-disciplinary study will enable students pursuing mathematics to also opt for music to fulfil their aspirations, Modi said.
"There are no limits to discovering something new. Human history has many examples of stalwarts who have excelled in diverse areas. Be it Aryabhata, Leonardo da Vinci, Helen Keller, Gurudev Tagore. Now, we have done away with some traditional boundaries between arts, science and commerce. If someone is interested, they can learn maths and music together, or coding and chemistry together," he said.
This will ensure the focus is on what the students want to learn rather than what they are expected to by society, he said.
He also appreciated the proposal for multiple entries and exits in academic programmes. Students will enjoy the advantage of an "Academic Bank of Credit", which will store all the credits (points) acquired. These can be transferred and counted while awarding the degree.