Narendra Modi's asking rate: 8% economic growth
The survey said the efforts to crank up the economy would depend crucially on the government's ability to ensure a sustained "virtuous cycle" of savings, investment and exports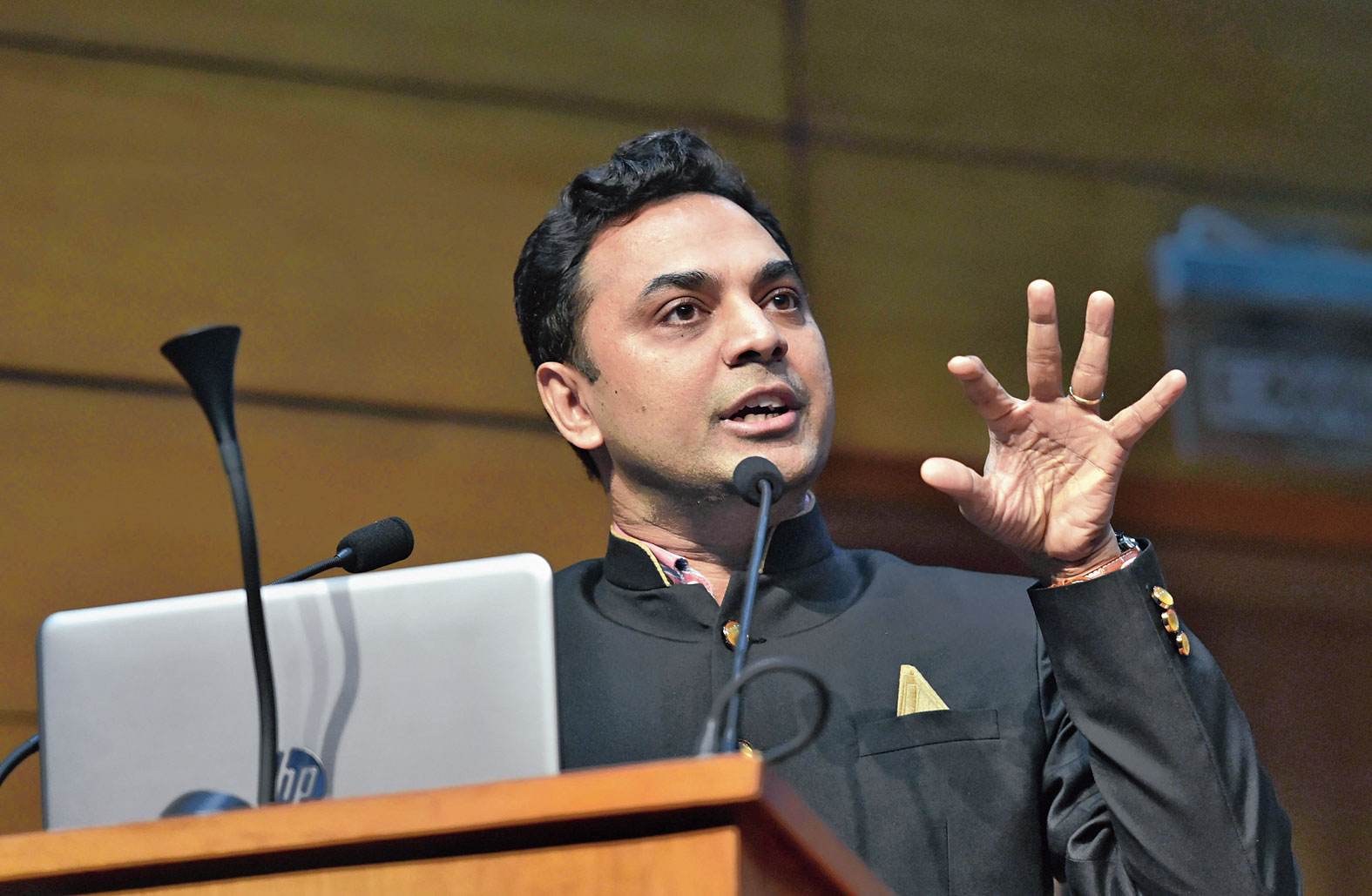 Chief economic adviser Subramanian.
(PTI)
---
New Delhi
|
Published 05.07.19, 01:28 AM
|
---
The Indian economy has been projected to grow at 7 per cent in the current financial year, slightly faster than the 6.8 per cent growth in 2018-19 which was the slowest in the past five years.
But it needs to grow at a pacier 8 per cent if the Narendra Modi government hopes to achieve its stated goal of doubling the size of the economy to $5 trillion by 2025, said the Economic Survey for 2018-19, which was tabled in Parliament by finance minister Nirmala Sitharaman a day before she presents her maiden budget.
The challenge for the Modi government will be to kick-start a faltering economy that had recorded an average growth of 7.5 per cent since 2014 but stuttered in the fourth quarter of 2018-19 (January-March) when real GDP growth tumbled to a mere 5.8 per cent.
The survey said the efforts to crank up the economy would depend crucially on the government's ability to ensure a sustained "virtuous cycle" of savings, investment and exports.
The report said: "Exports must form an integral part of the growth model because higher savings preclude domestic consumption as the driver of final demand. Similarly, job creation is driven by this virtuous cycle. While the claim is often made that investment displaces jobs, this remains true only when viewed within the silo of a specific activity. When examined across the entire value chain, capital investment fosters job creation as production of capital goods, research and development and supply chains generate jobs."
"The growth in the economy is expected to pick up in 2019-20 as macroeconomic conditions continue to be stable," chief economic adviser Krishnamurthy Subramanian told reporters.
This belief is predicated on the assumption that private investment will kick in as banks ratchet up their lending cycle, consumer demand will start to spike, wage incomes will rise dissipating agrarian distress, and the household savings rate will start to climb from a lowball 17.2 per cent in 2017-18.
"I have not been able to figure out what measures they are suggesting to really step up savings in the economy. Unless the savings go up, you will not be able to really accelerate investment to GDP ratio," said Sunil Sinha, principal economist with India Ratings & Research.
The survey said "downside risks to consumption remain. The extent of recovery in the farm sector and farm prices will decide the push to rural consumption, which is also dependent on the situation of monsoon." It added that some regions were expected to receive less than normal rainfall, which could hurt crop production.
Big idea on 'dwarfs'
The big idea in this survey is to end the phenomenon of "dwarfism" in Indian industry — characterised by the reluctance of small firms to grow — by weaning them off perverse policy incentives through the application of an age-defined sunset clause.
Dwarfs — defined as firms employing less than 100 workers — dominate the Indian economy and hold back job creation, the survey said. These dwarfs account for half of all the firms in organised manufacturing by number but their share in employment is only 13.3 per cent. Their share in net value added (NVA) is a minuscule 4.7 per cent even though they occupy half the economic landscape, the survey added.
The solution, it said, is to focus incentives only on infant firms — entities that are less than 10 years old — with "appropriate grand-fathering of the existing pattern of incentives to micro, small and medium enterprises".
The survey called for labour reforms and argued that the existing laws also created a "perverse incentive" for firms to remain small.
It flagged the idea of increasing the retirement age in a phased manner as the country confronted the prospect of an ageing population. Population growth in India has slowed from an annualised 2.5 per cent in 1971-81 to 1.3 per cent in 2010-11. It is below 1 per cent in states like Bengal, Punjab, Maharashtra, Odisha, Assam and Himachal Pradesh.
The survey argued for lowering the cost of capital. "A cross-country comparison shows that the cost of capital remains quite high in India, which affects investment prospects in the country. We also need a tax policy that will encourage investment."
Is everything okay with the economy? 
What do the figures in the Economic Survey suggest? Devadeep Purohit finds out