Hyderabad: Narendra Modi targets 'one-family parties' at BJP rally
Prime Minister takes potshot at Telangana chief minister K. Chandrashekar Rao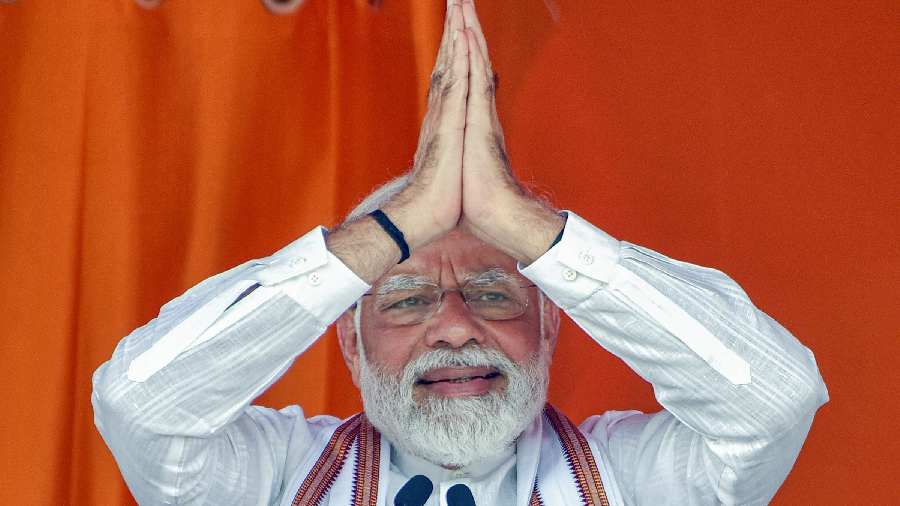 Narendra Modi.
File photo
---
New Delhi
|
Published 27.05.22, 01:57 AM
|
---
Prime Minister Narendra Modi described family-based parties as the "biggest threat to democracy" at a BJP rally in Hyderabad on Thursday as his government completed eight years in power.
Modi spent the day in Hyderabad and Chennai, capitals of the southern states of Telangana and Tamil Nadu, both ruled by "dynastic parties". One big hole in Modi's electoral career has been the BJP's failure to dominate south India.
The Prime Minister's target at the Hyderabad rally was Telangana chief minister K. Chandrashekar Rao. Modi didn't name anyone but said the "struggle for Telangana was not just for one family to rule using all possible tactics".
He was alluding to the Rao family's utter dominance over the new state, which was carved out of a united Andhra Pradesh in 2014 after a long struggle.
The Prime Minister said: "The country has seen — and now the people of Telangana are witnessing — how, when parties devoted to one family come to power, then its members turn into faces of corruption."
He said the BJP wanted to turn Telangana into a "technology hub".
After addressing the party rally in Hyderabad, Modi spoke at an event to mark 20 years of the Indian School of Business. In Chennai, he laid foundation stones for various development projects.
While the BJP has succeeded in pushing the Nehru-Gandhis and the Congress to the margins in vast swathes of the country, it has failed to expand its influence in south India beyond Karnataka. Many of the states that have held out — such as Telangana, Andhra Pradesh and Tamil Nadu — continue to be ruled by so-called dynastic parties.
Sources suggested that this was a reason behind the renewed campaign by Modi and the BJP against "family parties".
"These family parties do not care about the poor and think only about their own development. Their politics is focused on how members of a single family can stay in power and loot as much as they can," Modi told the Hyderabad rally.
He alleged that BJP workers were being targeted in Telangana.
Encouraged by a measure of success in recent civic polls and a by-election in Telangana, the BJP has launched a determined campaign to secure a foothold in the state, looking to replace the Congress as the principal Opposition.
Modi took a swipe at Rao over his "superstition" while claiming that he himself — and even monk turned Uttar Pradesh chief minister Yogi Adityanath — were men of "science and technology".
"I believe in science and technology. I congratulate Yogi Adityanath, who is a saint but doesn't believe in superstitions," Modi said.
He recounted how he and Adityanath had, as chief ministers of Gujarat and Uttar Pradesh, defied popular belief that visiting certain districts caused electoral defeat.
"We have to save Telangana from superstitious people," the Prime Minister said.
The BJP plans to celebrate the Modi government's eighth anniversary from May 30 to June 15, to be marked by an outreach drive. The first Modi government had taken oath on May 26, 2014, and the second on May 30, 2019.