Narendra Modi stays silent, Nadda slams Opposition parties
Over the past week, religious processions taken out by Hindutva outfits during Ram Navami and Hanuman Jayanti have led to communal violence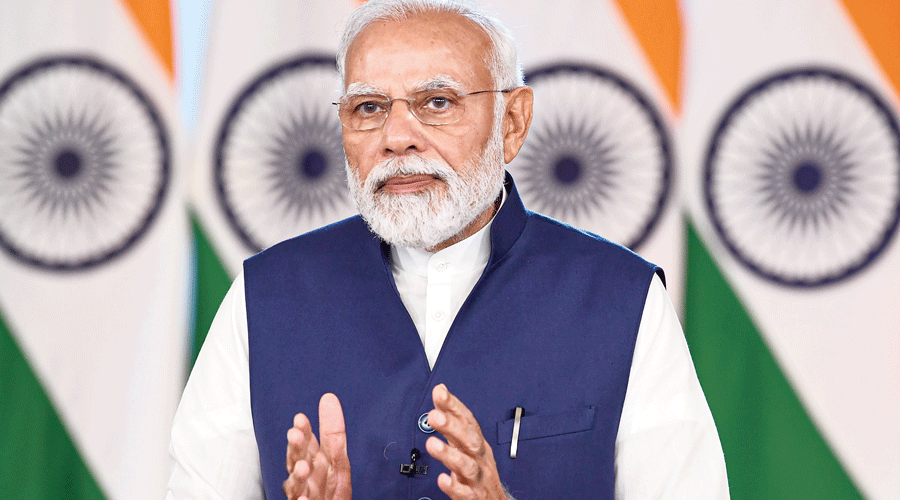 Narendra Modi.
File photo
---
New Delhi
|
Published 19.04.22, 01:33 AM
|
---
BJP president J.P. Nadda on Monday called the Opposition parties "rejected and dejected" as he attacked their joint statement expressing concern over the rise of communal violence in the country.
Several prominent Opposition parties had in a joint statement on Saturday evening expressed concern over the systematic rise in communal violence across several states and expressed shock over Prime Minister Narendra Modi's silence over it, alleging that it amounted to "official patronage" to the armed mobs.
While Modi continued with his silence, the BJP president responded with a statement addressed to "fellow Indians" that made no mention of the recent communal violence across states. Instead, Nadda hit out at the Opposition, recalling the past communal riots.
"The tried, tested, or I should say dusted and rusted approach of vote bank politics, divisive politics, and selective politics is no longer working," Nadda said, claiming that under Modi "India is being empowered and is getting the wings to rise further". He accused the "rejected and dejected" Opposition parties of resisting this development thrust and termed the Opposition's joint statement an attack on the nation's spirit.
"In the last few days, we have seen these parties come together yet again in letter (whether in spirit too, time will tell) in which they have waged a direct onslaught on the spirit of our nation…," he said.
Over the past week, religious processions taken out by Hindutva outfits during Ram Navami and Hanuman Jayanti have led to communal violence across several states.
Nadda, however, turned a blind eye to these incidents and went back in history. "In November 1966, then PM Indira Gandhi opened fire on sadhus sitting outside Parliament who had marched towards Delhi with the demand of banning cow slaughter in India," the BJP chief said in his statement, listing many more riots that took place under the Congress government.
He termed the communal violence bill brought during the UPA government as most "most horrific" and said it "stooped to new lows of vote bank politics". He referred to the political violence in Bengal and Kerala to slam the Opposition for raising finger at the BJP.
Finally, Nadda used the BJP's victory in the recently concluded Assembly polls in five states to tell the Opposition that it should serve as an "eye-opener for those who thrive on vote bank politics".
"The Opposition should introspect why the parties that ruled the nation for so many decades have been confined to the margins of history now," he said, urging the Opposition to embrace what he called "politics of development".